[et_pb_dcsbcm_divi_breadcrumbs_module hide_homebreadcrumb="off" homebreadcrumbtext="Home" separator="sep-raquo" hide_currentbreadcrumb="off" homebreadcrumborientation="left" _builder_version="3.8″ fontsbreadcrumbs_font="Lato||||||||" fontsbreadcrumbs_text_color="#000000″ fontsbreadcrumbs_font_size="15px" fontsbreadcrumbs_line_height="16px" fontsseperator_font="||||||||" fontsbreadcrumblinks_font="||||||||" fontsbreadcrumblinks_text_color="#2567cf" custom_margin="25px|||" custom_margin_phone="30px|||" custom_margin_last_edited="off|desktop" custom_css_main_element="font-family: Helvetica Regular;" disabled="on" global_module="3641″ saved_tabs="all"][/et_pb_dcsbcm_divi_breadcrumbs_module]
Gonzaga Bulldogs vs. San Francisco Dons Pick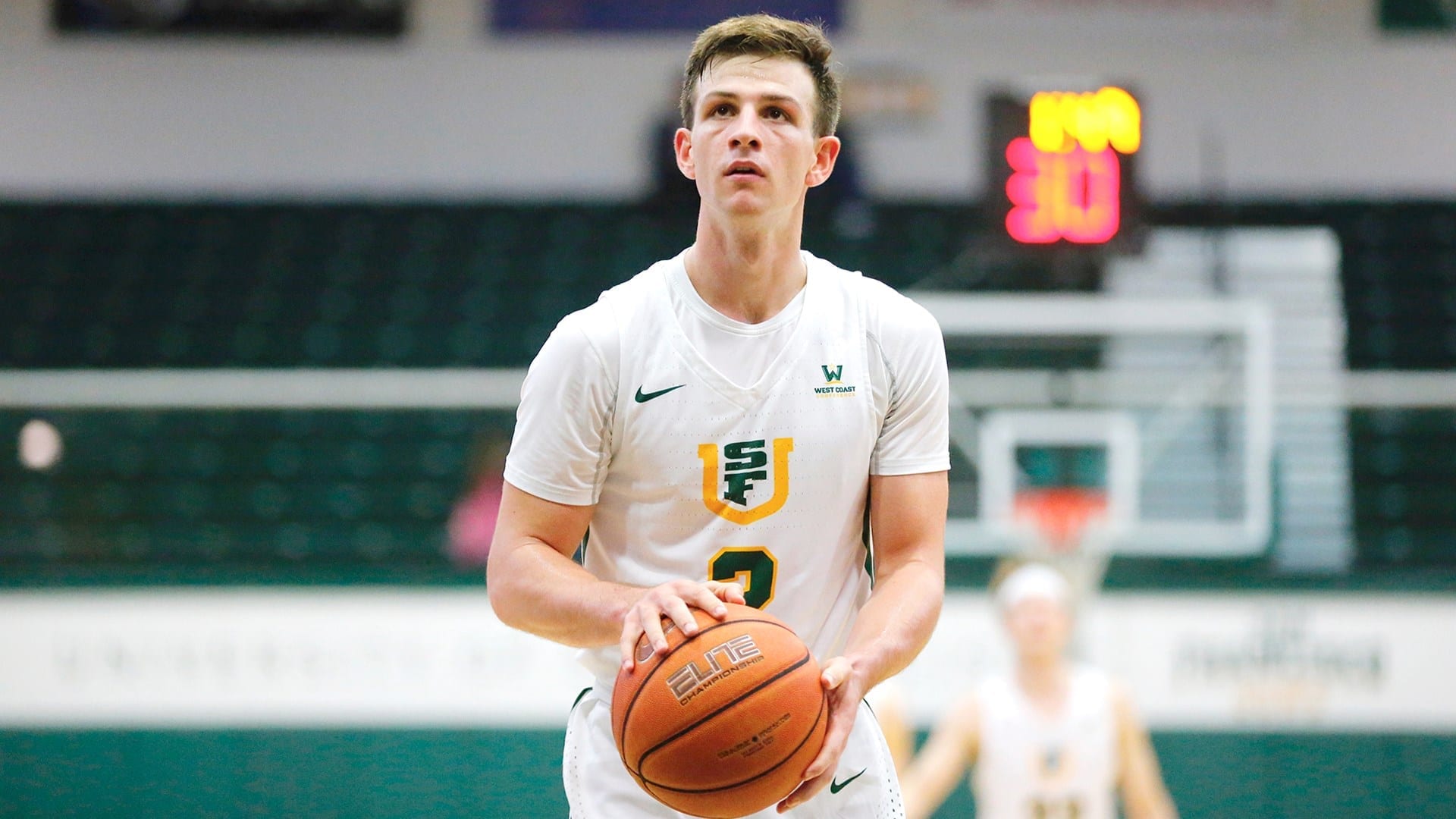 Gonzaga Bulldogs (15-2 SU, 13-4 ATS) vs. San Francisco Dons (14-2 SU, 8-5-2 ATS)
When: Saturday, January 12, 2019 – 10 PM ET
Where: War Memorial Gymnasium, San Francisco
TV: ESPN2
By: Dan Jamison, College Basketball Handicapper, Predictem.com
Point Spread: GONZ -8.5/SF +8.5
Total: O/U 150.5
Last Time Out: Gonzaga routed Pacific 67-36; San Francisco edged Pepperdine 72-69.
Scouting the Bulldogs:
Gonzaga was already playing fantastic defense in its past six games, and the Bulldogs took that to a new level by routing Pacific and holding the Tigers to just 36 points in the win. A large part of that was because Pacific is a team that doesn't score much unless it gets to the free throw line, but Gonzaga has played outstanding defense as of late, holding each of its past six opponents under 55 points. San Francisco marks the first real chance for the Bulldogs to show if that improved defense is for real or if it's the product of playing a much softer schedule now that the Bulldogs have entered West Coast Conference play.
Related: Duke vs FSU College Basketball Pick 
Scouting the Dons:
How good is San Francisco, really? The Dons have a glittering record to this point, but they haven't played much of anyone to this point in the season. San Francisco does have wins over both California and Stanford, both of which are usually great wins, but the Golden Bears and the Cardinal are a combined 12-18 so far this season, and the Dons haven't played anyone of note other than Buffalo, a game they lost. San Francisco does look like a much better team than it's been in years past behind the play of point guard Frankie Ferrari, who averages 13.3 points and 5.7 assists per game, but it's still anyone's guess as to how much of that is legitimate and how much is because of a weak schedule.
X-Factor:
Nerves. This is the biggest game that San Francisco has played in years, and it's going to have a big crowd to back it up. However, only one of these teams is used to playing in big games. While the Dons have toiled in relative obscurity, the Bulldogs play televised games against big-name opponents on a regular basis, and they're not going to be scared by the prospect of playing one in their conference. San Francisco, on the other hand, has never played on a stage like this before. If the Dons come out nervous, the Bulldogs will run them straight out of the gym.
Gonzaga will Cover if:
The Bulldogs can get good shots. San Francisco's defense has been a strength all season, and the Dons hold their opponents to just 45.2 percent from inside the arc. However, San Francisco hasn't seen an offense like Gonzaga's at any point this season. If Gonzaga plays its game and gets the kinds of looks it normally does, it's going to have a good chance to roll past another opponent.
San Francisco will Cover if:
The Dons can avoid turning the ball over. It's not a coincidence that Gonzaga has forced 20 or more turnovers in each of its past four contests and has won all four of them by 35 points or more. San Francisco is a relatively solid ball-handling team, but the Dons also haven't seen an opponent that plays defense anywhere near as well as Gonzaga does, making this a major test for Ferrari. If he makes the right decisions with the ball, San Francisco has a chance. If he gets overwhelmed, this upset bid won't last long.
Dan's Pick to Cover the Spread:
The experts say that this is supposed to be the year that San Francisco lands an at-large bid and ends a 20-year absence from the NCAA tournament. That might happen when all is said and done, but that doesn't mean the Dons are ready to compete with Gonzaga. The Bulldogs are just too deep and too talented for their WCC foes, and the gulf between them seems as wide as it's ever been.
Gonzaga is playing excellent college basketball right now at both ends of the floor, and San Francisco's pillow-soft schedule simply hasn't provided the Dons with enough preparation to stand up to a team of Gonzaga's caliber. Truth be told, I still haven't seen enough from San Francisco to suggest that it's NCAA-worthy, let alone capable of playing with and taking down a Gonzaga. The Dons' glittering record, however, is going to entice more than a few people into backing them in this game, and that creates an opportunity. Gonzaga's line will be a few points lower than it should be because of people looking at San Francisco's record, and that's when it's time to jump on the Bulldogs. Trust Gonzaga to land the cover and show that it's still the team to beat in the WCC.
TIRED OF YOUR CREDIT CARD NOT WORKING AT SPORTSBOOKS? IT WILL AT BOVADA + GET A 50% BONUS!