Duke vs FSU Pick & Prediction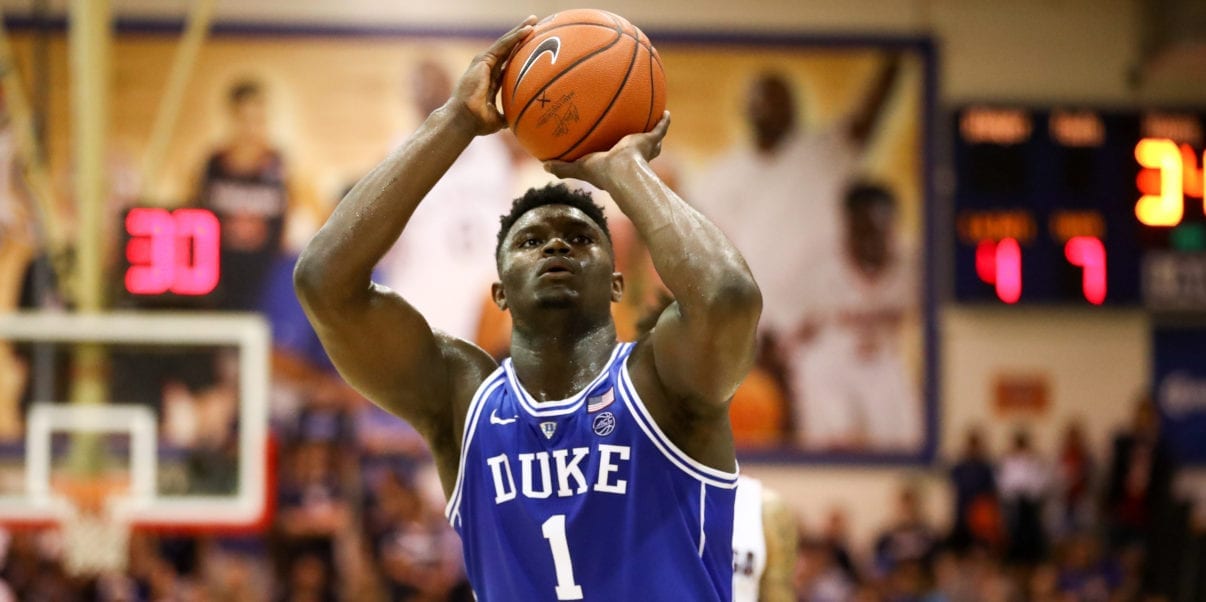 #1 Duke Blue Devils (13-1, 10-4 ATS) vs. #13 Florida State Seminoles (13-2, 5-9-1 ATS)
When: Saturday, January 12th, 2019 – 2:00 pm ET
Where: Donald L. Tucker Center – Tallahassee, FL
TV: ESPN
By: Kyle Cash, NCAA Basketball Handicapper, Predictem.com
Point Spread: DUKE -7/FSU +7
Total: 156
Welcome to ACC play, college nerds! In this Saturday's afternoon showcase, we have the #1 Duke Blue Devils visiting the #13 Florida State Seminoles. In their last game, Duke dismantled the Demon Deacons behind a 30-point, 10-rebound, 5-assist from some no-name guy called Zion Williamson. The most GIF-able star in all of basketball became the first freshman in Duke history to post those numbers, and the Blue Devils are starting to head towards peak media content. Meanwhile, the Seminoles shook off a nasty loss to the perennial badass Virginia Cavaliers to dispatch Jim Larranaga's Miami squad behind a whopping 41 points from the Noles' bench. The Cameron Crazies opened earlier today as an 8-point favorite, GTbets currently offers Duke at -7 points with the total set to 156. Over 154.5 -115 can be had at 5dimes. Let's see if Zion can enter the Matrix in this one, shall we?
On the Road to Minneapolis
Hark! Do thine own two eyes deceiveth? Doth the Duke Blue Devils dare partake in the dreaded undertaking of…a road game? Gasp! The day is finally here. The Duke Blue Devils are finally playing in a true road game out of their state, and I, for one, am glad that now we can really see what they are made of. Zion Williamson has the highest PER in NCAA history, RJ Barrett looks like James Harden 2.0, and Cam Reddish has a vast collection of untapped potential just waiting to be wasted by the Orlando Magic – but are they really that good? Until I see them play in a game versus a collection of 8,000 half-coherent co-eds in the feared Donald L. Tucker Center in Tallahassee, I'll have to withhold my praise.
Now that we've gotten all of our "talking head" speak out of the way, let's break down just exactly how absurd this Duke team is. Ken Pomeroy listed them as 2nd in Adjusted Offense and 3rd in Adjusted Defense. Newsflash: that's good. Their efficiency margin is above 33, among the highest in the last five years. Its compatriots? Last year's championship Villanova team and the 38-1 Kentucky Wildcats who very nearly went undefeated. Most Duke teams of this decade have been gifted offensively, and this year is no exception. But with position-less defense and Zion lurking like an alley-way killer for highlight-reel blocks, the Blue Devils' defense is the real X factor of their impending tournament run. This may get very exciting very soon.
KC Chiefs Host LA Rams - Free Playoff Pick
What do you need to know about Duke to feel comfortable backing them? When you have three of the five most talented freshmen in the country, you just kind of roll the ball out and say, "go." The Dukies can score in any scenario on any level of the basketball court, and that's probably what they'll do. If their defense is anything above satisfactory, it's going to be a quiet night in Tallahassee.
F-U from FSU
My lasting image of Leonard Hamilton is and forever will be his hypothesis that an Elite Eight game in which his team was down by 4 with 11 seconds left was "already over." In a world where college basketball players miss as many free throws as they do biology labs, it's a wild proclamation that almost assuredly is not backed by statistics. So sorry, Noles fans – I don't think you have a good coach.
But outside of his flub, the program has been revitalized under his guidance. With a balanced roster led by senior guard Terance Mann, FSU poses an interesting threat to the Cameron Crazies. Duke's roster is top heavy, and with Cam Reddish really struggling to find his footing, they severely lack outside shooting. Zion will make a stray three-pointer or two, but would you rather have him chucking from 22-feet away or doing 360-tomahawks in the lane? That's what I thought. If FSU can get an early lead and force Duke to make adjustments, they might be able to catch the nation's best off-guard. The Blue Devils' have already shown shaky chemistry issues in their loss to Gonzaga, and if the Seminoles can create a civil war within the construct of Duke's roster, they may be able to just stand back and watch Duke implode. When Duke loses, America wins – never forget that.
Best Bet
Curveball! Welcome to The Prestige of this article. I showed you something ordinary (a sports writer gushing over Duke's talent), did something extraordinary (implied that Florida State may win), and then brought it all full circle in a mystifying fashion. In case you've been living under a rock, the Duke Blue Devils house a collection of talent that we've probably never seen in college basketball. This is the UConn women's team of men's basketball; Geno Auriemma is blushing at the amount of top-end talent that Coach K has enticed into his domain. Florida State is a solid team, and it wouldn't blow my mind if they gave Duke a scare. But this isn't the game that Duke blows. Rest assured that Duke's day of reckoning is coming (February 9th at UVA, perhaps?), but it is not this day. Blue Devils by a billion.
Final Score Prediction: Duke 84 – Florida State 62