Houston Cougars vs. Oregon Ducks Pick 11/22/19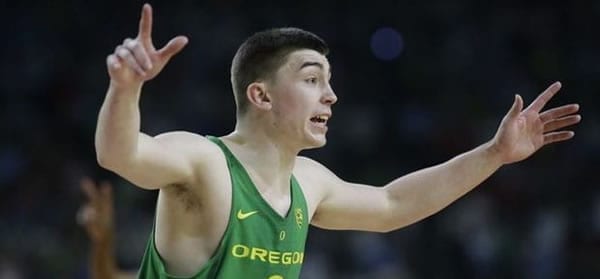 Houston Cougars (2-1 SU, 1-2 ATS) vs. Oregon Ducks (4-0 SU, 3-1 ATS)
When: Friday, November 22, 9 p.m. EST
Where: Matthew Knight Arena, Eugene, Ore.
TV: Pac-12 Network
Point Spread: HOU +7.5/ORE -7.5 (SportsBetting.ag)
Total: O/U 137
Last Time Out:
Houston beat Rice 97-89 on Tuesday; Oregon handled Texas-Arlington 67-47 on Sunday.
Scouting the Cougars:
This isn't the squad that Kelvin Sampson had a year ago, and it's showing up in the early games. So far, the Cougars have managed two wins and lost one at the buzzer, and Sampson made it clear that he expects the Cougars to make mistakes early on in the season. That's just what comes when trying to replace what Houston lost from a season ago and not having capable replacements at the ready.
Quentin Grimes is a capable, talented leader at the guard position, but it's going to take time for him to get used to directing the offense and figuring out how best to take advantage of his teammates' strengths. After all, Grimes is only a sophomore and is playing with his second college team in as many seasons after being a top scorer for Kansas last year. The "one piece" who saw significant time in the Oregon game last year is Nate Hinton, who scored 17 against the Ducks as a freshman. Otherwise, Houston is a young team that is very much in transition and has its goals firmly focused on getting things figured out in January.
More Picks: Colorado St. at Wyoming CFB Pick 11/22/19 >>>
Scouting the Ducks:
Oregon was picked to win the Pac-12, and so far, the Ducks look very capable of doing precisely that. Oregon has always been a great defensive team under Dana Altman, and the Ducks kicked that into high gear in their most recent game, when they held Texas-Arlington to what was a school-worst shooting percentage. The Mavericks then came out and pushed Gonzaga in a close match, showing that what the Ducks did to them was the mark of a fantastic defensive effort.
What makes Oregon really dangerous is that it can score pretty well as well. Payton Pritchard has been excellent as a senior, averaging 20.3 points and 6.3 rebounds per game. Anthony Mathis averages 14.3 points per game, and he's proven a fine fit as a grad transfer. In short, this team is a lot further along than it was even last year.
X-Factor:
Revenge. This is the problem with playing home-and-homes: they can turn into a mess when the team that traveled the first time lost and then gets a chance to host the next season. In Houston's case, this is an even worse situation for the Cougars to face because they're walking into a matchup with an Oregon team whose best player didn't play particularly well in this matchup last year. Pritchard managed just eight points on 3-for-13 shooting, and the chances are that he hasn't forgotten that trip to Texas. If he's on and ready to even the score, it could be a long night.
Houston will Cover if:
The Cougars can get Grimes to take that next step and learn to look for his teammates to help him out. Grimes is still learning how to direct Sampson's offense, and once he masters it, the Cougars will be a difficult team to beat. Beating Oregon without staying under control on offense, however, is borderline impossible, so Grimes has to calmly find his passing lanes and make them lead to easy baskets.
Oregon will Cover if:
The Ducks keep playing the type of defense that has earned them a 4-0 start. Oregon doesn't have to do anything too fancy here in order to get the kinds of results it seeks. The Ducks have a solid program that is built on tough defense, just like it always has been under Dana Altman. Oregon has to be sure to get Pritchard going and take advantage of the Cougars' inexperience. The sooner Pritchard takes over, the easier Oregon's task will be.
Dan's Pick to Cover the Spread:
I don't think anyone in green and gold has forgotten about this game. This was the contest that launched the Cougars into the national spotlight a year ago, and while both teams made the regional semifinals last season, there's little doubt that Oregon wants to even the score and get itself on track to have great success in the Pac-12 this year.
Houston's best chance in this game is that Oregon gets caught looking ahead to a matchup with Seton Hall, but that's still five days away and unlikely to get the Ducks' attention until after they've dealt with the Cougars. Give me Oregon here.