[et_pb_dcsbcm_divi_breadcrumbs_module hide_homebreadcrumb="off" homebreadcrumbtext="Home" separator="sep-raquo" hide_currentbreadcrumb="off" homebreadcrumborientation="left" _builder_version="3.8″ fontsbreadcrumbs_font="Lato||||||||" fontsbreadcrumbs_text_color="#000000″ fontsbreadcrumbs_font_size="15px" fontsbreadcrumbs_line_height="16px" fontsseperator_font="||||||||" fontsbreadcrumblinks_font="||||||||" fontsbreadcrumblinks_text_color="#2567cf" custom_margin="25px|||" custom_margin_phone="30px|||" custom_margin_last_edited="off|desktop" custom_css_main_element="font-family: Helvetica Regular;" disabled="on" global_module="3641″ saved_tabs="all"][/et_pb_dcsbcm_divi_breadcrumbs_module]
Indiana Hoosier vs. Michigan State Spartans Pick 2/2/19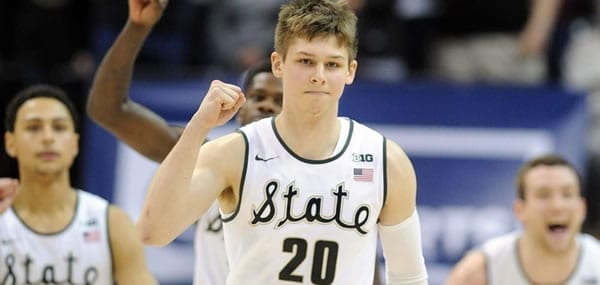 Indiana Hoosier (12-9, 7-13 ATS) vs. No.6 Michigan State Spartans (18-3, 16-5 ATS)
When: Saturday, February 2nd, 2019 – 6:00 pm ET
Where: Breslin Center – East Lansing, MI
TV: ESPN
Point Spread: IND +14.5/MSU -14.5 (Bookmaker)
Total: 142.5
To be fair, this was bound to happen eventually. I had a blistering hot start to the week, and much like the Philadelphia weather, I've gone ice cold. I don't think that anyone has ever been simultaneously as upset with James Harden and Charles Matthews as I am right now. That's the peril of sports gambling, I guess. For the record, three top-25 teams played on the road last night, and all three lost. When there's a polar vertex ripping through the Eastern seaboard, there's bound to be some crazy shit going down. Blame Mother Nature.
Let's lick our wounds and move forward into a fantastic day of Saturday hoops. Conference play is really starting to heat up, and I can already smell rivalry week coming around the corner. Tonight, we get to check out an interesting match-up between the Indiana Hoosiers and the Michigan State Spartans. After ripping through the easy portion of their schedule, the Hoosiers have now lost 7 consecutive games in a row, including upsetting losses against Nebraska, Northwestern and Rutgers – none of whom would be considered good on anyone's scale. Meanwhile, the Spartans suffered their first conference loss of the season at the hands of Purdue and received the news of Josh Langford's season-ending injury. That's a tough 1-2 punch. Despite the loss, MSU comes into the game as 14.5-point favorites over the visiting team with the total set to a pretty 142.5 points. Get it on, got to get it on, no choice but to get it on, mandate get it on.
Get all of our daily CBB basketball betting previews by visiting >>> Free NCAA Basketball Picks
Romeo, Romeo, Where for Art Thou Romeo?
Indiana's Mr. Basketball has done nothing but validate his five-star rating during his freshman campaign, but the results have been mixed at best. The real problem is that Romeo Langford showed up a few years too early. Archie Miller, brother of notorious FBI enemy Sean Miller down in Arizona, needs some more time to establish his recruiting territory and figure out the proper avenues to wire money to high school kid's accounts (allegedly). While Romeo is the stepping stone back to Big Ten relevance, he is most likely not long for the college basketball world, and Archie is going to have to continue to drop bags of cash off at other elite Indiana basketball players' houses (again – allegedly). Fear not, Hoosiers fans – your day in the sunshine is coming back soon.
Until that time, Indiana is going to have to deal with a surprisingly good Michigan State team. Josh Langford's absence is a big one, but the real threats are Cassius Winston and Nick Ward. The latter is going to be a legitimate problem for the Hoosiers. Michigan State ranks second in the country in rebounds per game and first in the Big Ten in offensive rebounding. Juwan Morgan is an essential piece of Indiana's puzzle, but he's going to have to battle Ward, Xavier Tillman and Kenny Goins on the glass, and fouls will be a real concern. In order for Indiana to topple the big bad Spartan, it's going to have to be Romeo Langford's coming out party. Cassius Winston, (despite establishing himself as an impressive guard in the college basketball world, does not possess the raw talent that resides within Romeo. If Langford can get lathered up and draw attention to himself, there may be more room for guys like Robert Phinisee to knock down some open threes and send Michigan State into a tailspin. It all begins and most likely ends, with Romeo. Let's hope he doesn't drink any poison.
Super Bowl Betting: Open an account and be betting in minutes!
Michigan State: Back on Top
I know that praising Tom Izzo is not a novel concept, but god damn he is good at what he does. I think he might actually be better at coaching guys who aren't elite talents. Last season, Izzo possessed two NBA lottery-level players in Jaren Jackson Jr. and Miles Bridges, and he proceeded to play them out of position to placate Nick Ward's ego for six straight months, and the Spartans suffered for it. While Bridges toils away in the dungeons of rookie hell that Charlotte has built, Jaren is…actually thriving, playing next to another center while working as the forward. Damn it. Izzo strikes again.
Without any real superstars, the Spartans have taken a by-committee approach to the season. Having a team comprised of primary upperclassmen is an outdated line of thinking. John Calipari's head would roll if you tried to put a senior into his starting five. If it weren't for Josh Langford's foot, MSU would have three players currently averaging 15 points or more. To topple the Hoosiers, the Spartans will, ironically, need their young guys to step up. Izzo directly called out freshmen Aaron Henry and Gabe Brown, and it's an area of weakness that the Hoosiers may be able to exploit.
But the Spartys are a top-10 team for a reason, and it's evident when you dig into their statistics. They are top-50 in the country in points scored, total rebounds, field goal percentage (top 10) and 3-point percentage. This is an efficient, smart basketball team, and it's run by one of the best point guards in Winston and best coaches in Izzo. Even Ken Pom fancies them as the third best team in the country, and 6th in both offensive and defensive rating. We'll have to see how Langford's injury impacts them against a rival Big Ten team, but if they can manage his absence without any hiccups, heads are going to roll in this game. Hoosier heads.
Best Bet
There's almost nothing that indicates that Indiana has even a puncher's chance in this game. I think that we tend to look more at the name of the university rather than the talent that the team possesses sometimes. The casual bettor would see a 14.5-point spread in an Indiana-Michigan State game and think, "14.5 points? Is Victor Oladipo hurt or something?" You know – dumb people like that. But the Predictem.com readers are not ordinary bettors. They are the elite. They are the galaxy brain of the sports gambling world, and no one is more galaxy brain than Kyle Cash. A 14.5-point spread is a hefty task for any team, but Michigan State has the firepower to pull it off. More importantly, East Lansing is as hostile of an environment as they come, and it's very possible that the Spartans kick the Hoosiers down into an infinite abyss. But I think that this team is still getting used to life without Langford, and they'll have to adjust to life against Langford on the fly. In the Langford-bowl, I'm riding with Romeo in what could possibly be his coming out party. At the very least, I think the Hoosiers put up a fight. Feel free to disparage me when Cassius Winston and Nick Ward blow the doors off of them.
Final Score Prediction: Michigan State 81 – Indiana 75