Kansas Jayhawks vs. Texas Tech Red Raiders Pick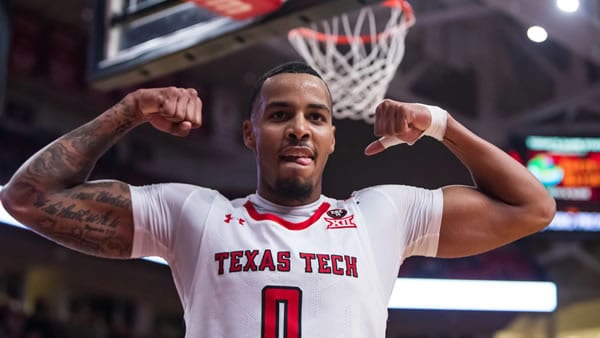 Kansas Jayhawks (6-1 SU, 2-4 ATS) vs. Texas Tech Red Raiders (6-1 SU, 4-3 ATS)
When: Thursday, December 17, 7 p.m.
Where: United Supermarkets Arena, Lubbock, Texas
TV: ESPN
Point Spread: KU +2/TTU -2 (MyBookie - Receive a 100% real cash bonus on your first deposit of $100 to $300! Must use bonus code PREDICT100)
Total: O/U 132.5
Last Time Out:
Kansas blasted Omaha 95-50; Texas Tech beat Texas A&M-Corpus Christi 77-57.
About the Matchup:
If the offensive explosion against Omaha was for real, we'll find out pretty quick, as Kansas goes up against a Texas Tech team that's played defense on another level this season. The Red Raiders are allowing just over 51 points per game, and they've held three of their past four opponents in the 40s. Kansas has no problem playing a defensive game, but the Jayhawks haven't seen anyone quite like this in 2020.
Then again, these two teams have tended to be a bit of a surprise when they've gotten together. In seven of their past eight meetings, the teams have gone for at least 140 points. Will this be the defensive battle that people expect, or will these Big 12 rivals surprise everyone again?
Scouting the Jayhawks:
Don't read too much into Kansas' explosion against Omaha. The Mavericks couldn't hit anything against the Jayhawks, which made it relatively easy for Kansas to do whatever it wanted at both ends of the floor. However, against Creighton, the Jayhawks' shooting issues popped up again, as Kansas barely survived because it shot just 39.4 percent from the field.
The one saving grace for Kansas is that it's actually hitting pretty well from behind the 3-point arc, as 39.9 percent of the Jayhawks' deep shots are dropping, and three of Kansas' five starters shoot better from beyond the arc than inside it. That says Kansas knows what it's doing on the perimeter, but the Jayhawks have a real problem with shot selection inside the arc. Kansas isn't going to beat itself with turnovers, but the Jayhawks can and will beat themselves by taking poor shots and allowing the opponent to come up with the board. If Marcus Garrett can get out of the funk he's in, it would be huge for Kansas.
Scouting the Red Raiders:
Mac McClung remains a top talent when it comes to scoring, but he's done a nice job of adapting to Chris Beard's defense-first system as opposed to shouldering the load the way he did at Georgetown. McClung still leads his team in shots made and attempted, but 73 shots aren't significantly more than the 56 Kyler Edwards has taken this year.
What's become clear is that Texas Tech can put up points when the situation calls for it, but for the most part, the Red Raiders are focused more on getting into the heads of the opposition with tough defense. When things are going well for Texas Tech, it's always been a situation where the whole is greater than the sum of its parts, in large part because it's rather hard to get good players to come to west Texas (except McClung). But stars really aren't that important when teams are shooting just 35.5 percent against you, a number that's really only comparable to Arkansas among power conferences that haven't been ravaged by COVID. Given that Texas Tech is built around taking the air out of the game, a low shooting percentage by the opposition plays right into the Red Raiders' hands.
DEPOSIT $25, GET $50 FREE AT INTERTOPS! (MUST USE BONUS CODE ROOKIE200)
X-Factor:
Rebounding. It's not really emphasized that much for these teams, but it will be critical in this game because rebounding does allow a team to dictate the tempo. This game is likely going to come down to who's going be able to force their opponent to step out of its comfort zone, and the way to dictate the tempo of a game like this is to take and hit good shots.
Given that both teams have shot 44 percent from the floor this year, that means there will likely be plenty of rebounds available at both ends of the court. Whichever side is able to hold its opponents at or below its season shooting percentage will take a long step toward getting a win here and establishing itself as Baylor's chief competitor in the Big 12.
Kansas will Cover if:
The Jayhawks can step up their shooting. Kansas hasn't really shot the ball well, and Marcus Garrett really isn't shooting the ball at all when the game is in doubt. Kansas needs to get more out of its bench while Garrett steps up his assertiveness. Shooting 1-for-5 from the field just isn't going to get it done against a team that knows how to lock down the other and force them to come up with a new plan. If Garrett isn't getting the job done from the field, it's hard to see how Kansas can win against an opponent like this.
Texas Tech will Cover if:
The Red Raiders can keep taking the air out of the ball without getting caught by the Jayhawks. Texas Tech's game has proven very effective against everyone except a good Houston squad, and Kansas hasn't seen a squad that plays like this one in 2021.
The main thing that Texas Tech has to do is limit the shot totals in this game. Kansas took 71 shots in the win against Omaha, and that's way too many for what the Red Raiders prefer. Texas Tech is at its best in low-scoring games, and if they can keep the shot totals in the 50s, this game opens up for them. If this game turns into a track meet, it greatly favors Kansas.
Dan's Pick to Cover the Spread:
A small point spread isn't enough to scare me off from taking Texas Tech here. The Red Raiders have won with defense all year long, and great defense almost always beats great offense, especially at home.
Plus, this is no ordinary defense. Only Houston has cracked 60 points, and that was in large part to Texas Tech getting nothing from its offense and allowing the Cougars to win the game at the free-throw line. I don't think Kansas is ready for this challenge, and I'll take the Red Raiders to cover the small chalk here. Bet your Kansas/Texas Tech pick for FREE by taking advantage of a 50% real cash bonus at the sportsbook with the BEST live betting platform on the web, that gives rebates on ALL your bets; whether they win or lose and that offers FAST hassle-free payouts, oftentimes within 6-8 hours! —> Bovada Sportsbook!
Get $60 of FREE member picks & predictions
(NO commitments. NO Credit Card. NO Salesman.)