Kentucky Wildcats vs. Auburn Tigers Prediction ATS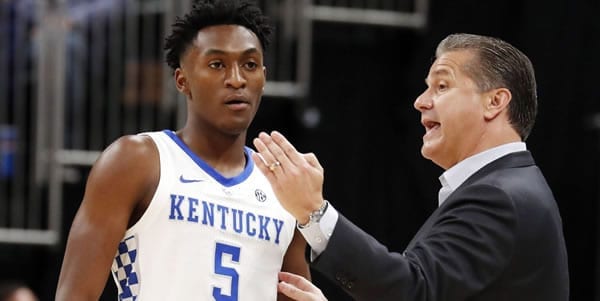 Kentucky Wildcats (16-4 SU, 9-11 ATS) vs. Auburn Tigers (18-2 SU, 9-11 ATS)
When: Saturday, February 1, 6 p.m.
Where: Auburn Arena, Auburn, Ala.
TV: ESPN
Point Spread: UK +3/AUB -3 (Best Basketball Lines)
Total: O/U 142
Last Time Out:
Kentucky handled Vanderbilt 71-62; Auburn escaped Mississippi 83-82 in double overtime.
Scouting the Wildcats:
Kentucky flirted with disaster in the first half of its win over Vanderbilt, which led by double digits before the Wildcats battled back to win by nine and hand the Commodores their 25th straight loss in the SEC. This time, falling behind by a large margin would be very ill-advised, as Auburn features a much better defense than Vanderbilt and can bury Kentucky early if the Wildcats try to repeat the way they played against the Commodores.
The way to avoid that is to get a good performance out of Nick Richards that doesn't include a pair of quick fouls. In the win over the Commodores, Richards picked up a couple of quick fouls and was lost for most of the first half, which allowed Vanderbilt to build a double-digit lead before the big man got back in the game. Kentucky is at its best when it has Tyrese Maxey scoring from outside and Richards cleaning up inside, and when that equation doesn't add up, the Wildcats usually don't win.
More Picks: Super Bowl LIV Picks & Prop Bets >>>
Scouting the Tigers:
Auburn found itself in the same predicament as Kentucky in its most recent game, as the Tigers faced an Ole Miss team that they had no business losing to and needed double overtime to survive in Oxford. A large part of why the Tigers just barely escaped from the Rebels is because Auburn had the height edge and used it quite well, meeting with adversity and getting the job done. Specifically, the Tigers won because they owned the glass, posting a 45-33 rebound margin. When you're holding your opponent to just one shot per trip, it's challenging to get something going, something Auburn's opponents have learned the hard way.
Like Kentucky, Auburn relies on a big man inside to get the job done, and when Samir Doughty takes over a game, the Tigers are usually going to be in great shape to come out with a result. However, if they fail to establish Doughty, Auburn has no real answer for Kentucky's inside combination of Maxey and Richards, and the only likely outcome from that spot is one where Auburn plays catch up from start to finish.
X-Factor:
Mindset. Both of these teams are coming off games that could have and probably should have lost, which makes it a fair point to wonder where these team's individual mindsets are. When you play a game like that, your next game can either prove to be a crisis of confidence or result in the entire team drawing closer together and getting out and getting the job done. Whichever team can shake off the jitters and establish itself and its game plan first will be in prime position to claim a critical victory.
Kentucky will Cover if:
The Wildcats can get a few easy baskets and take the crowd out of the game early. Auburn and its fans are very hyped for this game, and if the Tigers are able to build their excitement, Kentucky is going to be dealing with a tough situation. Kentucky has to be patient with the basketball and wait for its moment to come. By gradually getting itself on solid ground, the Wildcats can lessen the crowd's impact and given themselves a chance to pull off a tough task.
Auburn will Cover if:
The Tigers can win the turnover battle. Both teams had some serious ball-handling issues over the week that nearly cost them when the game mattered most. The Tigers committed 19 turnovers against Mississippi, which really would have blown the game for Auburn if the Tigers hadn't grabbed 45 rebounds and consistently limited the Rebels to one shot per trip. Auburn needs to step up on defense and ensure that Kentucky coughs up the ball regularly while avoiding those giveaways themselves.
Dan's Pick to Cover the Spread:
I don't really know what to think about either of these teams. Kentucky hasn't been consistent, and Auburn looks like it's turned a corner in its past three games, but a large chunk of that was because the Tigers' schedule got a heck of a lot easier. There's no way around it, playing South Carolina, A&M and Auburn drops the difficulty of the slate quite a bit, and playing all three in succession could have been exactly what the Tigers needed to get back on track.
But I don't think that it was. I think Auburn is going to struggle in this game and find itself turning the ball over against the Kentucky pressure. Like it or not, the Tigers aren't playing well at the moment, and if they get off to a slow start, they'll allow Kentucky to dictate the tempo and control the game. I think that's probably exactly what's going to happen, so I'm going to take a shot with the visitors and opt for Kentucky and a free 3-pointer. Bet your pick for FREE by taking advantage of a massive 100% bonus where you deposit anywhere from $100 to $300 and get a free dollar for dollar matching bonus up to $300 in free bets at MyBookie Sportsbook! Must sign up through this link and use bonus code PREDICT100.
100% REAL CASH up to $300

USE BONUS CODE:
PREDICT100