LSU Tigers vs. Texas A&M Aggies Picks 1/30/19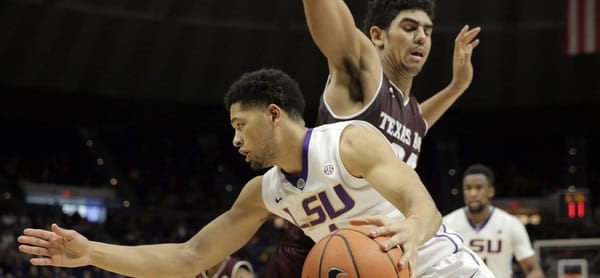 No. 19 LSU Tigers (16-3, 10-8-1 ATS) vs. Texas A&M Aggies (8-10, 8-10 ATS)
When: Wednesday, January 30th, 2019 – 9:00 pm ET
Where: Reed Arena – College Station, TX
TV: ESPN 2
Point Spread: LSU -6/TXAM +6 (Intertops)
Total: 152
For those of you keeping track at home (none of you), that's two in a row to start this college basketball week! I also have a three-game win streak brewing in our NBA Bets section, and unless I die from sleep deprivation at some point this week, you can expect our winning ways to continue. I'm too much for even myself sometimes.
While my hoops knowledge is top notch, my expertise as it pertains to LSU and Texas A&M is unsurprisingly lacking. The Tigers have surged in the AP poll up to #19 after nine consecutive victories, including an OT win on the road at Mizzou in their last time out. Texas A&M, on the other hand, has had trouble staying consistent, and they'll be looking to build off of their slump-busting victory over Kansas State. With the game being played in College Station, LSU is currently favored by only 6 points with the total set to a solid 152 points. Win number three coming your way!
Testing the Waters
Fun fact: LSU can assemble the greatest starting five using historical alumni from any college or university in the United States: Pistol Pete Maravich, Mahmoud Abdul-Rauf, Bob Pettit, Ben Simmons, Shaquille O'Neal. For a team that has only made it to the Final Four four times (six, if you want to get technical) but has never made it past there, that's an insane list.
None of their current players will crack that top five, but this is a very, very solid LSU basketball team. The Tigers have four players averaging double digits, and they're ranked 23rd in the country in per game scoring as a team. Sophomore phenom Tremont Waters is the perfect prototype of a point guard; he can take over and score in bunches if necessary, but his elite skill is in initiating the offense and generating open looks for teammates. With their success in the 1-3-1 zone against Mizzou, the Tigers can continue their success tonight and get easy points off a team that struggles with turnovers. If Waters and his backcourt mate Skylar Mays (14 ppg on nearly 50% from the field) can heat up, LSU should be able to walk out of College Station victorious.
A Football School
You would think that some of the "money overflow" that the football program generates would find its way to the basketball team, but it seems as though Texas A&M isn't interested in being investigated by the FBI. In a conference as weak in basketball as SEC is, you would hope that the Aggies would be able to muster up a better conference record than 1-5. Texas A&M is pretty good at rebounding and blocking shots, and all that tells me is that they recruited a bunch of athletic high school football players and convinced them to try basketball. Try a new plan, A&M. Maybe send those guys to your overrated football team instead.
FBS shade aside, Texas A&M is just a wholly unexciting basketball team. Outside of a miracle buzzer beater against Alabama, the Aggies have rolled over in all of their conference games. With their 2-3 zone finding some success against Kansas State, it's really their only chance of injecting some chaos into the equation and catching an excellent LSU team off guard. When researching a team, I should instantly be able to tell who is your team's most important player, but's it murky for A&M with their inconsistent play. Short of another buzzer beating 28-foot 3-pointer, I'm dubious at Texas A&M's chances in this one.
Best Bet
Conference play is always a scary notion, but the SEC doesn't have the same clout as the ACC or the Big 10. It's very easy to see that the focus of most of these SEC schools is in the football space, and it's a shame that these recognizable university names get waxed by Tennessee and Kentucky every year. LSU is one of the only examples of a school that finds dual success, and I think I've undersold just how big the disparity of talent between these two teams. I'll probably regret these words tomorrow, but I find it insulting to the Tigers that they're favored by only 6 points. The line is wrong, and so is anyone who places their money on the Aggies.
Final Score Prediction: LSU 91 – Texas A&M 74