Marquette Golden Eagles vs. Kansas Jayhawks Pick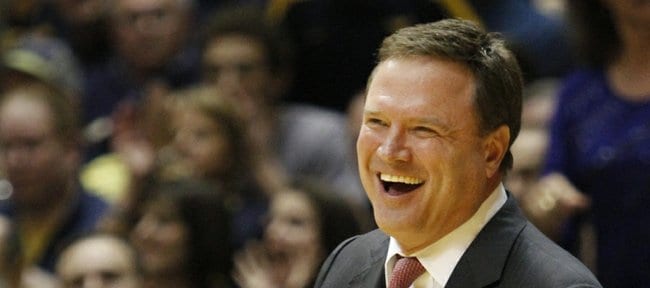 Marquette Golden Eagles (3-1 SU, 2-2 ATS) vs. Kansas Jayhawks (3-0 SU, 1-2 ATS)
When: Wednesday, November 21, 2018 – 7 PM ET
Where: Barclays Center, Brooklyn, N.Y.
TV: ESPN2
By: Dan Jamison, College Basketball Handicapper, Predictem.com
Point Spread: MARQ +8.5/KU –8.5
Total: O/U 158
Last Time Out: Marquette defeated Presbyterian 74-55, Kansas knocked off Louisiana-Lafayette 89-76.
Analyzing the Golden Eagles:
Marquette was supposed to be set up for a quick return to the NCAA tournament after missing out last year, but so far, the Golden Eagles have been a tough team to figure out. In their three victories, Marquette has played exactly the kind of defense you would expect from a Steve Wojciechowski-coached team, holding UMBC, Bethune-Cookman and Presbyterian to 22 percent, 29 percent and 31.1 percent from the floor. In those three games, Marquette gave up a combined 156 points, coasting to wins in all of them.
Get Today's NBA Pick - Lakers visit the Cavs
But in their one test against a Power 6 foe, Indiana lit Marquette's defense up all night long, shooting 63.6 percent from the floor in a 96-73 blowout from start to finish. So the question has to be asked: are the Golden Eagles ready to play lockdown defense against a good opponent, or have they been getting by on playing a weak schedule? This game will tell a lot about whether Marquette is really ready to compete in the Big East later this season and whether star guard Markus Howard can turn in a star performance against a name opponent.
Analyzing the Jayhawks:
To hear coach Bill Self tell it, the Jayhawks are a mess right now. Obviously, Kansas is far from a mess after winning its first three games, but since a convincing win over Michigan State on opening night, Kansas simply hasn't been Kansas yet. The Jayhawks have had two wins over Vermont and Louisiana-Lafayette in Lawrence that were a lot closer than they should have been, mainly because they've been all offense and no defense to this point in the season.
Most of the offense has come from senior guard Lagerald Vick, who is averaging 22.3 points per game and shooting a ridiculous 62.5 percent from beyond the 3-point arc. As a team, Kansas is shooting 46.9 percent from beyond the arc, and that's a major problem for Marquette, which has proven susceptible to the deep shot as of late. In their past two games, the Golden Eagles have allowed opponents to shoot 42.9 percent from deep, a stat which will have Vick, Devon Dotson and Quentin Grimes salivating.
X-Factor:
How does Kansas choose to guard Markus Howard? Howard makes everything run for the Golden Eagles, and when he doesn't get his numbers, as happened against Indiana, it makes life very difficult for Marquette. Kansas will likely throw multiple looks at Howard to try to get him off balance and force him into either foul trouble or into making mistakes. Howard has to rise above the pressure from the Jayhawks and play the way that he's capable of playing for Marquette to stay in the game.
Marquette Will Cover if:
The Golden Eagles take care of the basketball. Marquette's biggest issue right now is that it turns the ball over far too often. In their first four games, roughly 20 percent of Marquette's possessions have ended without a shot. That carelessness is a death sentence against Kansas, which averages eight steals per game as a team and will punish even the smallest mistake when it comes to handling the basketball.
Kansas Will Cover if:
The Jayhawks step up on defense. Kansas' offense is outstanding as usual, but it's the defense that has to get the job done for KU to have consistent success this season. However, Kansas has allowed its opponents to shoot above 42 percent this season, which might not be a problem against small-conference foes but will really cost the Jayhawks against better opponents. Self has made it clear that he is anything but happy with Kansas' defense right now, and how well the Jayhawks respond to his complaints will decide how easy a night Wednesday will be for Kansas.
Dan's Basketball Pick to Cover the Spread:
Given the Jayhawks' struggles in their past two games and Marquette's recent performances on defense, the Golden Eagles and the points would seem to be the best play. However, I can't get Marquette's turnover numbers out of my head. Any team that can cough up the ball 22 times against Bethune-Cookman is certainly capable of doing something similar against Kansas, and giving the Jayhawks open layups by turning the ball over is suicidal.
Plus, Bill Self isn't the kind of coach who's going to get upset with his team just for the heck of it. When he isn't happy with his team and says so, the Jayhawks tend to respond because it isn't something that happens often. Throw in that Marquette's one experience against a big-name team was the one time where the Golden Eagles looked lost and there's a lot of reasons to take the Jayhawks here.
Marquette's time is coming, and if Wojciechowski can get the Golden Eagles to stay the course, they're going to be a dangerous foe later this season. But this matchup doesn't play to their strengths. Kansas isn't going to give them space to make good decisions with the basketball and is shooting lights-out from beyond the arc right now. This should be a game where the Jayhawks get back on track and set themselves up for a showdown with Tennessee. Bet your sportsbook that Kansas will cover the 8.5 points.