Michigan Wolverines vs. Maryland Terrapins Pick 3/8/20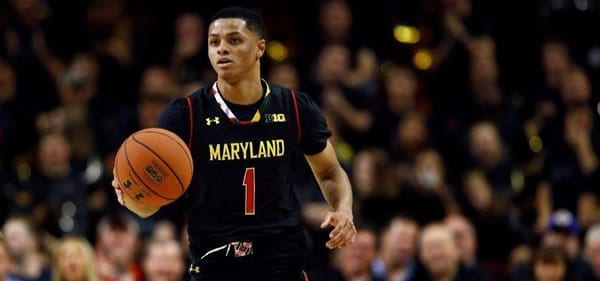 Michigan Wolverines (19-11 SU, 16-13-1 ATS) vs. Maryland Terrapins (23-7 SU, 13-15-2 ATS)
When: Sunday, March 8, Noon
Where: Xfinity Center, College Park, Md.
TV: FOX
Point Spread: MICH +4/MD -4 (Best Bonus)
Total: O/U 139
Last Time Out:
Michigan beat Nebraska 82-58; Maryland lost 78-67 to Rutgers.
Scouting the Wolverines:
Isaiah Livers isn't himself right now, and that's a significant problem for Michigan. Livers hasn't been hitting his shots, and when he hasn't hit his shots, he also hasn't defended all that well, creating a real problem for the Wolverines. Michigan has played pretty well as a whole when the opponent isn't Ohio State, but the Wolverines don't play offense well enough to be the kind of team that can go without playing good defense if they hope to win.
Michigan coach Juwan Howard seemed to get through to Livers in the Wolverines' win over Nebraska, but it's tough to tell because everyone in the Big Ten has done that to Nebraska this season. The real test comes against a team like Maryland, which has the potential to put up some big numbers if they're allowed to get going. For the Wolverines, the magic number is 70 points, as Michigan has won just twice when a team has broken 70 in regulation against its defense — against Iowa State and Appalachian State, neither of whom will be anywhere near the NCAA tournament without an automatic bid.
Scouting the Terrapins:
When Anthony Cowan is on, Maryland's in great shape. When he's not hitting, the Terrapins are very beatable, and that's why Maryland has lost three of four and has covered just once in its past seven contests. The Terrapins' offense isn't in sync at the moment, and it hasn't mattered who Maryland has come up against. Maryland hasn't broken 75 points against anybody but Northwestern in its past nine games, and even that game proved to be a struggle from start to finish.
What do the two games where Maryland has covered have in common? Cowan has hit his shots. Against Michigan State and Illinois, where the Terrapins managed a cover, Cowan scored 24 and 20 points respectively. In the other six games in this eight-game stretch, Cowan hasn't managed to top 20 points, and in four of them, he's been held to 13 or less. If that happens again, this is going to be a long day for the Terrapins.
X-Factor:
Mentality. Where is each team focused as they head into the season finale? Maryland has a chance to tie for first place in the Big Ten, although the Terrapins can't win the top seed in the conference tournament because they lost in Madison to Wisconsin, giving the Badgers the tiebreaker. That means there's a real question of how Maryland views the situation. Do the Terrapins look at tying for the conference's regular-season title as a worthy accomplishment, or do they see it as a second-tier thing that's not worth caring about and shift their focus to Indianapolis and the NCAA tournament?
Michigan, on the other hand, has nothing to play for as far as the Big Ten goes but plenty to play for as far as the NCAA tournament goes. The Wolverines are in, but improving their seed could get them a better second-round situation and give themselves a chance to make a run at the regionals. Right now, Michigan is projected to be on the six-line, and that could mean a second-round game with someone like Duke or Creighton, neither of whom is ideal to face. Getting up to the five or even the four-line could set Michigan up, and a win over Maryland would be a massive part of that goal.
More Picks: Lipscomb at Liberty Pick ATS >>>
Michigan will Cover if:
The Wolverines can throw Cowan off of his game and keep Jalen Smith from dominating the interior. The Wolverines have had real problems with their rebounding, and Maryland makes a living off of offensive boards. The Wolverines have to keep Smith from taking over the game if they want to keep this game under control.
Maryland will Cover if:
The Terrapins can hit their shots and play good defense. Michigan is currently playing like a team that's depending on their offense and decides whether to defend based on how well their shots are falling. Maryland can put Michigan in a deep hole by taking advantage of the Wolverines' struggles if the Wolverines don't get off to a good start.
Dan's Pick to Cover the Spread: Maryland is not playing well at home right now, and it feels like the Terrapins already have their minds on the NCAA tournament. The committee doesn't really care about the spread, but we do, and Maryland has lost four in a row ATS on its home floor. Michigan, on the other hand, has won four of five ATS on the road and has won the game outright all four times.
The Wolverines are the hotter team right now and have beaten the Terrapins in College Park two years running. There's an excellent chance they make it three. Give me the Wolverines and the points.