Missouri vs. Tennessee Odds & Pick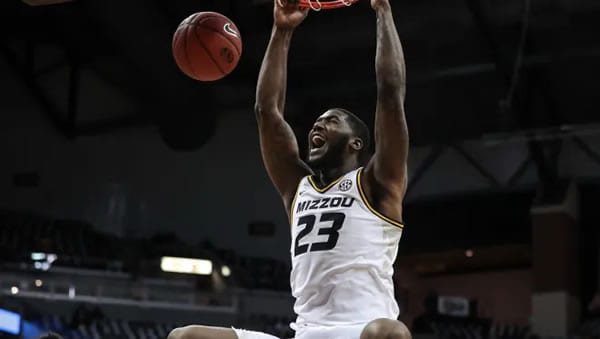 Missouri Tigers (9-2 SU, 7-4 ATS) vs. Tennessee Volunteers (10-2 SU, 8-4 ATS)
When: Saturday, January 23, 8:30 p.m.
Where: Thompson-Boling Arena, Knoxville, Tenn.
TV: SEC Network
Point Spread: MIZZ +7/TENN -7 (Find the best sportsbooks >>> Double your bankroll with a 100% bonus!)
Total: 131
Last Time Out:
Missouri handled South Carolina 81-70; Tennessee got ripped 75-49 by Florida.
About the Matchup:
It's been a mere three weeks since these teams met, and Missouri is looking for a measure of revenge after getting embarrassed by 20 on its home floor. Getting revenge might be a tall order, though, as Tennessee has really been a hammer to Missouri's nail in this series. The Volun-teers have won four straight in this series and five of six, and all five wins have been by double digits. To make matters worse, the Tigers have never beaten the Volunteers in Knoxville, owning a 0-4 record at Thompson-Boling Arena with an average margin of defeat of 16 points per game.
Plus, this could prove an awful time to play Tennessee, as the Volunteers are coming off their worst game of the season after failing to hit anything at Florida. Then again, Missouri's loss to Tennessee was also because the Tigers couldn't hit Rock Bridge State Park from 22 feet away, as Missouri shot just 19 percent from behind the arc when the teams met in Columbia. Which team can shake off its bad shooting performance and get back on track?
Scouting the Tigers:
There's no point denying it: Missouri got its tactics wrong when the Tigers hosted the Volunteers at the end of December. The Tigers should have gotten the ball into the interior more often and punished Tennessee down low, but they only ended up taking 28 shots from inside the arc. Instead of taking what Tennessee was willing to give and consistently getting to the line, the Tigers kept trying to force the 3-pointers that were not there and kept missing, hitting just three for 16 from the arc.
Then again, Missouri also blew the game by turning the ball over 21 times and hitting only 18 of 30 from the free-throw line. Tennessee is not the type of team that gives away opportunities very often, which means the Tigers have to do a better job of maximizing their possessions and getting more inside from Jeremiah Tillmon. If the Tigers want to get a win in this one, nine points from their center simply will not cut it.
More Picks: Blue Devils vs. Cards Prediction >>>
Scouting the Volunteers:
A little more consistency from Santiago Vescovi would go a long way for Tennessee, as Vescovi has been all over the map with his production. In the Volunteers' past four contests, the sophomore has averaged 10.5 points per game, but the negative part is that 23 of the 42 points he scored in the past four games all came in one game against Texas A&M. Vescovi was a big part of why Tennessee thumped Missouri in the first game, but there's no guarantee that happens a second time.
Nor is it likely that the Volunteers shoot anywhere near as well as they did from behind the arc as they did in the first game. While Missouri couldn't hit anything, Tennessee was drilling shots from halfway down Interstate 70 like nobody's business, hitting 71 percent from the arc. But while that can't be replicated, it's also not likely that Victor Bailey will only take six shots from the field as he did in that game. Bailey is Tennessee's main man, and the Volunteers are going to want to get him involved much more than they did in Columbia.
X-Factor:
Mentality. Does Missouri have the right mindset it needs to compete in this game? The Tigers have never had success in Knoxville, and Missouri's record leaves a fair amount to be desired. The Tigers do have a 9-2 record, but of their five games in SEC play, all three wins have come against teams who are under .500 in the conference.
Meanwhile, Tennessee comes in off a rather embarrassing loss to Florida, and a slow start could be devastating to the Volunteers' confidence. Tennessee has to get off to a quick start so it can maintain a positive mindset from start to finish, or this could be a long afternoon.
Missouri will Cover If:
The Tigers can get to the line and sink their free throws. Missouri didn't attack the interior as aggressively as it should have when the teams met in Columbia but still got 30 attempts at the line anyway. That says that Tennessee is going to send the Tigers to the line, and this time, Missouri has to make those free throw attempts count.
Tennessee will Cover If:
The Volunteers can again force Missouri into bad decisions. Tennessee's game is built around defense, and when the Volunteers are at their best is when their opponents are at their worst. Missouri has shown itself to be both turnover-prone and willing to take bad shots, and Tennessee has to force the Tigers to make the wrong choice with the basketball.
Dan's Pick to Cover the Spread
I just can't see Tennessee putting out another bad performance after how poorly the Volunteers played at Florida. The Volunteers are too talented and have too much pride to replicate what they just showed in Gainesville. I think Missouri's a talented team in its own right, but the Tigers have made it clear that they do not have any idea of what it takes to match up with Tennessee's style of play.
Four straight losses and five of six tells me something, especially when the Volunteers have covered easily in each of those games. Give me Tennessee. Question: Did you know that you could be laying -105 instead of the spendier -110 your book is socking you with? Start saving big money today by making the switch to reduced odds sports betting at BetAnySports!