Monmouth Hawks vs. Kansas Jayhawks Pick 11/15/19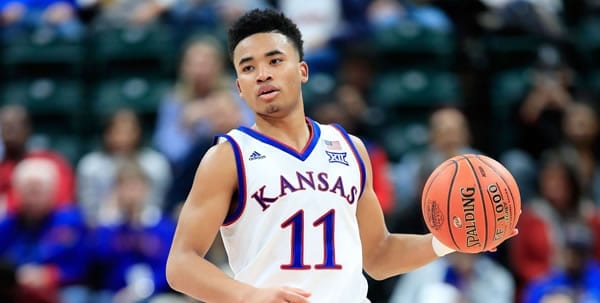 Monmouth Hawks (1-2 SU, 1-2 ATS) vs. Kansas Jayhawks (1-1 SU, 0-2 ATS)
When: Friday, November 15, 2019, 8 PM ET
Where: Allen Fieldhouse, Lawrence, Kan.
TV: ESPN+
Point Spread: MONM +27/KU -27 (Bovada)
Total: O/U 142.5
Last Time Out:
Monmouth lost 73-54 at Kansas State; Kansas beat North Carolina-Greensboro 74-62.
Scouting the Hawks:
Sleep on Monmouth at your own risk, Under King Rice, the Hawks have become a consistently solid squad in the Metro Atlantic and have made life very difficult for some good teams in recent years. They've even flirted with an at-large bid to the NCAA tournament, and if newer metrics had been in place a couple of years ago, they likely would have received one.
These Hawks aren't quite up to that level, but they're still a pretty good squad. So far, Ray Salnave has been Monmouth's most dangerous weapon, even though he doesn't start. He hung 20 points on Kansas State Wednesday, and if he'd gotten much help from his teammates, the Hawks probably could have pulled off the win. Deion Hammond simply can't go 2-for-9 for Monmouth to be competitive, nor can the Hawks afford to have two starters go scoreless from the field.
More Picks: Freson State at San Diego State Pick >>>
Scouting the Jayhawks:
On one hand, Kansas had to work to get past North Carolina-Greensboro at home. On the other, UNCG is a pretty solid squad that should have made the NCAAs last season, and beating them by 12 is a pretty good win. More importantly, Kansas took care of the basketball in the face of full-court pressure against the Spartans. The Jayhawks had 28 turnovers against Duke, which directly caused their defeat in a game that should have been a blowout. The fact that Kansas didn't get blown out in a game in which they played poorly says a lot about just how good this team can be.
To keep up the momentum, Kansas needs to keep getting production out of Devon Dotson. Against UNCG, he was assertive and took 14 shots while getting six assists. Those are the kinds of numbers Kansas needs from him, as opposed to the six turnovers he committed in the loss to Duke.
X-Factor:
The second leg. Monmouth is facing a tough task as a smaller school in that it's playing two powerhouse opponents in a span of just three days and has to face both of them on the road. During my days as a college basketball beat writer, I've seen this situation unfold in a couple of ways. The most common is that the team plays reasonably well in the first game, leaves with a respectable loss, or even a win, but then has nothing left for the second game and gets blasted. The second is that the visitor doesn't play well in the first game, but bounces back with an inspired performance in the second contest.
In this situation, it's tough to tell what Monmouth might do because the Hawks played well for 30 minutes, but the result was a deceptive-looking blowout. Do the Hawks have enough left to make Kansas uncomfortable for a half, or did they use up all of their energy against the Wildcats?
Monmouth will Cover if:
The Hawks can take care of the basketball. Monmouth actually pushed Kansas State for nearly 30 minutes, trailing by just eight at the under-12 timeout in Manhattan. But K-State then pulled away as the Hawks became their own worst enemy with 25 turnovers. Monmouth can't make even half that many errors if it's going to have a prayer against Kansas, but it's darn hard to fix those issues on the road. The Hawks haven't had a chance to get into their own gym and iron out the kinks, as they're turning around and playing Kansas 48 hours after losing at Kansas State. Turnovers get fixed in practice, not by stepping up the difficulty level to the No. 5 team in the nation.
Kansas will Cover if:
The Jayhawks don't get bored and declare victory too soon. Kansas will have to keep itself on task in this game because it won't have a usual boisterous home crowd to feed off of against Monmouth. The Hawks aren't a name opponent, and a Friday night game inside Allen Fieldhouse against a team from the Metro Atlantic isn't going to draw a huge number of Jayhawks fans. That's especially true with the temperature in Lawrence pushing back into the 50s, as this might be the last weekend of the year that Lawrence residents can actually go out and enjoy themselves without being sliced by the Kansas winds, and a game against Monmouth isn't a good enough excuse to miss that. If the Jayhawks don't keep their heads in the game, Monmouth can pull off a backdoor cover.
Dan's Pick to Cover the Spread:
True story: I once won a national championship with Monmouth on College Hoops 2K8, taking out Kansas on the way to the title. But this isn't a video game, and winning at Allen Fieldhouse is a lot harder than winning on College Hoops 2K8. The reality is, Monmouth hasn't seen anywhere close to this kind of challenge, even in its most recent game against Kansas State. I have to admire the Hawks for being willing to take on both the Wildcats and the Jayhawks in consecutive games, but facing Kansas two days after facing K-State is a tough, tough task.
With that said, can Monmouth cover? Yes, it can. I think the public has looked at the score in Manhattan a little too closely in deciding to have the Jayhawks give 27 points. The reality is, Kansas is not cohesive enough as a unit to do that right now. Kansas should win this game comfortably, but the margin of victory will likely be closer to 15 or 20 points than 27. Monmouth isn't as bad as the score looked Wednesday, and the feeling is that the Hawks still have enough to stay close with Kansas. If Monmouth plays its game, it will cover. I say they will.