Morehead State vs. West Virginia Best Bet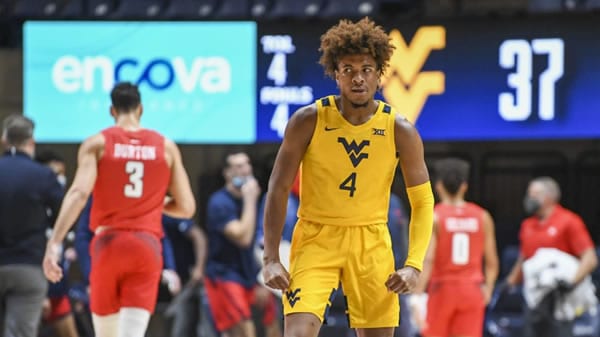 Morehead State Eagles (23-7 SU, 19-9 ATS) vs. West Virginia Mountaineers (18-9 SU, 13-14 ATS)
When: Friday, March 19, 9:50 p.m.
Where: Lucas Oil Stadium, Indianapolis
TV: truTV
Point Spread: MORE +13/WVU -13 (MyBookie)
Total: 137.5
Last Time Out:
Morehead State defeated Belmont 86-71; West Virginia lost 72-69 to Oklahoma State.
About the Matchup:
Morehead State's in the NCAA tournament for the first time since 2011, and the Eagles are looking to once again make some noise after claiming the Ohio Valley Conference crown. A decade ago, Morehead rode the powerful Kenneth Faried and some good shooting to an upset of Louisville, marking the fifth time in seven appearances in the NCAA tournament that the Eagles have won at least one game.
West Virginia's not used to losing in the first round either, as the Mountaineers have made the Sweet 16 in three of their past four trips to the NCAA tournament. But the last time West Virginia ran into a No. 14 seed in the first round, it didn't go well. The Mountaineers were never really in the game against Stephen F. Austin (the only time they've ever been a No. 3 seed) and ended up with a 14-point loss as a 6.5 favorite. With West Virginia coming in, having lost three of their past five games, are the conditions right for this to be another No. 14 over No. 3 shocker?
Scouting the Eagles:
Here's one thing to know about Morehead State: the Eagles love being the underdog. In Morehead State's last 11 games as an underdog, not only have the Eagles covered on ten occasions, but they've won the game outright eight times. In 15 games as an underdog this year, Morehead State was 12-3 ATS and 9-6 SU, including a pair of wins over a Belmont squad that was 1-2 against the Eagles and 25-2 against everybody else.
This team has also been an under bettor's best friend for most of the season, in large part because of their defense. But the Eagles can play fast when they have to, and when they do, Johni Broome is the guy who's likely to do most of the damage. Broome went wild inside against Belmont, hitting 12 of 19 and bringing back some memories of Faried against Louisville. Just like that team, this Morehead State team does have a tendency to turn the ball over, which could easily be its undoing. But ten years ago, the Eagles were facing a press-heavy squad and managed to handle the pressure well enough to let their stronger interior attack take over the game. This could be another case of a team rising to the moment and finding a way to get the job done.
More Picks: Oregon State vs. Tennessee Predictions >>>
Scouting the Mountaineers:
These aren't your older brother's Mountaineers. The days of "Press Virginia" speeding up opponents and forcing turnovers galore are absent in Morgantown in 2021, as the Mountaineers instead prefer to take their time and set up good shots. It's a solid testament to Bob Huggins' ability to adjust to the team he's got and not try to fit square pegs into round holes, and it works pretty well this season because West Virginia is blessed with good shooters and a great rebounder in Derek Culver.
However, the Mountaineers started to fade down the stretch in the rugged Big 12, and they've really struggled with the weight of expectations. When they've been favored by double digits, as they were in home games against TCU and Oklahoma State (which was playing without Cade Cunningham), they've struggled to pull off the cover. In their past nine games as a double-digit favorite, the Mountaineers are just 3-6 ATS, and that drops to 1-6 if you remove games against Kansas State. This team just doesn't seem to know how to step on the throat, and that could really be problematic against a team that's been in tough situations and knows how to handle it.
X-Factor:
Broome vs. Culver. Obviously, Johni Broome hasn't gone up against anyone of Derek Culver's skill in the OVC, and there's a real question as to whether he's ready for this moment, as he's just a freshman. Being a freshman hasn't stopped talented players in the power leagues, but it's a very rare freshman who's able to become the best player at a mid-major and actually chose to play at said mid-major.
Culver had his problems against Oklahoma State, and he's got to make sure that he keeps Broome from taking over the game because West Virginia doesn't have anyone behind him who can match Broome inside. Whichever one has the better game is likely to carry their team to a win.
Morehead State will Cover If:
The Eagles can keep the Mountaineers' offense under wraps. West Virginia is going to try to beat Morehead State by forcing the issue with their shooters and making the Eagles either stop their shooters or keep pace with them at the offensive end. Morehead State might have flirted with 90 points against Belmont, but that's not where the Eagles want this game to be. Keeping it in the 70s gives Morehead State a much better shot at victory.
West Virginia will Cover If:
The Mountaineers can force the Eagles to make mistakes with the ball. Morehead State averages 15 turnovers a game, and if West Virginia can get a few extra possessions, it'll be difficult for the Eagles to stay in the game.
Dan's Pick to Cover the Spread
West Virginia would be much better off if this were the old Press Virginia days. As it is, the Mountaineers are up against a defensive-minded opponent who can slow down their shooters, and they don't have the skill that they need to exploit Morehead State's biggest weakness. Plus, the Mountaineers have a horrible history with covering as a large favorite, and I think this line is a good deal too high. To me, this is the most likely 14-over-3 upset, and it wouldn't surprise me at all to see the Eagles pull this off. I'm certainly willing to throw a couple of dollars on the Eagles at +650, so I will happily take 13 points with Morehead State for my main bet.