NCAA Championship Picks: Baylor Bears vs. Gonzaga Bulldogs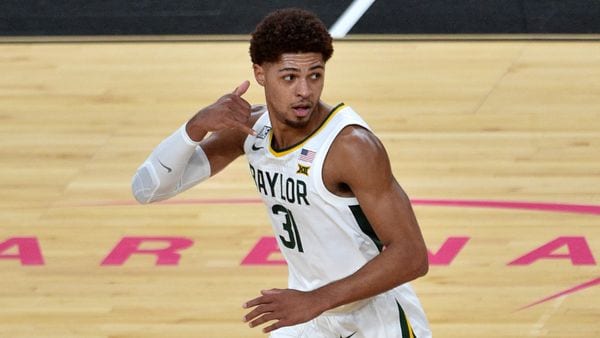 Baylor Bears (27-2 SU, 19-10 ATS) vs. Gonzaga Bulldogs (31-0 SU, 16-13-2 ATS)
When: Monday, April 5, 9:20 p.m.
Where: Lucas Oil Stadium, Indianapolis
TV: CBS
Point Spread: BAY +4.5/GONZ -4.5 (BetNow - Deposit $100 and get $100 FREE! Deposit $500 get $500 FREE! Deposit $1000 get $1000 FREE! Best Bonus on the web!!!) 
Total: 159.5
Last Time Out:
Baylor hammered Houston 78-59; Gonzaga survived UCLA 93-90 in overtime.
About the Matchup:
Finally, the game that COVID stole from us becomes the game to decide the national champi-onship. These teams were scheduled to meet in Indianapolis back in December, but contact tracing prevented it from ever taking place. But after Gonzaga outlasted UCLA in a miracle fin-ish, the two best teams of 2020-21 will meet for the national championship.
For Gonzaga, the questions are whether they can come down from the high of surviving against UCLA and whether they can handle the pressure of the moment. The Bulldogs aren't just chas-ing their first national title; they're attempting to become the first team in 45 years to com-plete the perfect season. All year long, their offense has been on another level, in large part because nobody has been able to match up with Drew Timme inside or stop Corey Kispert's shooting.
But now they're up against a team that genuinely believes it can score with them, as Baylor's offense has shown no signs of slowing down. The Bears just whacked Houston despite the Cou-gars' outstanding defense, scoring 45 in the first half and never allowing their Texas rivals to get into the game. Baylor has the best group of guards in the country, and they defend just as well as they shoot. This has all the makings of a classic.
Scouting the Bears:
Baylor has one answer for Gonzaga's three big questions: Davion Mitchell will likely get the task of stopping Corey Kispert or Jalen Suggs, as Mitchell is the Bears' best defender and can proba-bly keep either from taking over the game. Finding an answer for Drew Timme inside is a lot harder because Baylor is not a team with a strong interior presence.
The Bears might be better off just trying to outscore the Bulldogs, which presents its own set of problems but is something that they can actually do. MaCio Teague, Jared Butler, and Mark Vi-tal give the Bears no shortage of weapons from the perimeter, and unlike Gonzaga, Baylor is normally an excellent 3-point shooting team. The Bears need to go into this game with the mindset of needing to score 85 points to win the game. The chances are that even if Mitchell does his job on whichever player he's assigned, the rest of the Bears won't be able to slow down both Timme and either Kispert or Suggs without using up their fouls. This has to be a situation where the Bears are ready to play up-tempo from the opening tip.
More Picks: Get free sports picks daily form our experts.
Scouting the Bulldogs:
This is how brilliant Gonzaga is: a perfect game wasn't enough to win. UCLA did everything right for 45 minutes and still came up short when Jalen Suggs banked in a 3-pointer at the buzz-er and gave Gonzaga an incredible victory. But even in defeat, UCLA did expose one fundamen-tal weakness of the Bulldogs: Gonzaga's 3-point shooting is very much subpar. The Bulldogs only hit about one out of three from behind the arc, and when a team makes them settle for deep shots — which Baylor will attempt to do — Gonzaga's offense isn't quite as effective as it usual-ly is.
Granted, the Bulldogs still have more than enough weapons to score on anyone, as Timme was unguardable in the Final Four, and Suggs has proven to be everything he was expected to be and more when he came to Spokane. However, Gonzaga will face a pressure that nobody has faced in this game since Larry Bird and Indiana State in 1979: the challenge of keeping the un-defeated season going in the final game. The Bulldogs are the most dominant team to reach the championship game since Duke in 1999, but the Blue Devils couldn't handle the pressure in that game and fell to a Connecticut team with nothing to lose. Baylor is in the same role the Huskies were in, which means Mark Few will have to do his best coaching job of his career to get the Bulldogs over the hump in the program's second national championship game appear-ance.
Baylor will Cover If:
The Bears can hit their 3-point attempts. Baylor will try to slow down Gon-zaga, but in all likelihood, the Bears won't be able to do it because nobody's done it all season. Instead, the Bears will have to keep pace with the Bulldogs by hitting their deep looks. As great as Timme is inside, three points are worth more than two, and if the Bears can hit from the outside, Gonzaga will have trouble.
Gonzaga will Cover If:
The Bulldogs can step on the gas early in the first half and crush the Bru-ins inside. UCLA's one hope is based on its ability to stop Gonzaga, as the Bruins cannot hope to win a scoring contest. If Gonzaga proves it cannot be stopped, it'll prove it cannot be beaten at the same time.
Dan's Best Prop Bets
Defense is not the way Gonzaga beats you. Gonzaga beats you with defense only after you've proven you can stay with their offense. Every team Gonzaga has faced except for Norfolk State in the first round has scored at least 30 points in the first 20 minutes, and Baylor's averaging 39.6 points per game in the first half. I'd back the Bears to hit their first-half total of 36.5 points, and I think the over for the game is worth taking as well.
Dan's Pick to Cover the Spread
As great as Gonzaga has been all year long, the Bulldogs haven't seen a team that's on Baylor's level. Gonzaga played what was a tough schedule on paper, but when the second round of the NCAA tournament was over, neither Kansas nor Iowa nor Virginia nor West Virginia nor BYU were still around. Baylor is playing its best basketball at the right time and has all the pieces in place to make the Bulldogs work for 40 minutes.
Do I think the Bears can pull the upset? I'm not going that far, as there's no answer for Timme in the paint, and he's likely to take over the game in the final minutes. But this game looks like a true classic that will come down to the final possession, and for that, I want Baylor and two pos-sessions' worth of points. Question: Did you know that you could be laying -105 odds on sides and totals instead of the spendy -110 that you're currently laying? Why would you pay more for odds when you could be paying less? It doesn't make ANY sense! Start saving big bucks today by making the switch to -105 odds at BetAnySports Sportsbook! You'll be SO glad you did! Register for an account HERE!