North Carolina Tar Heels vs. Duke Blue Devils Pick 2/6/21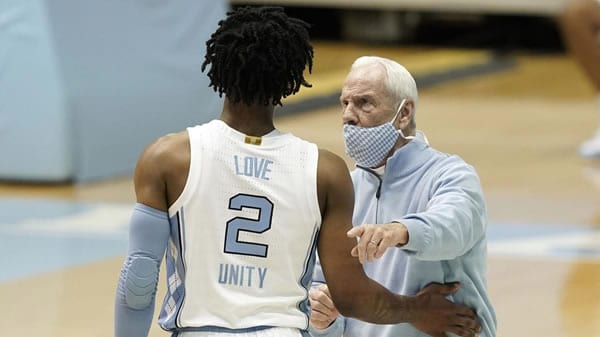 North Carolina Tar Heels (11-6 SU, 6-10-1 ATS) vs. Duke Blue Devils (7-6 SU, 3-10 ATS)
When: Saturday, February 6, 6 p.m.
Where: Cameron Indoor Stadium, Durham, N.C.
TV: ESPN
Point Spread: UNC +3/DUKE -3 (Best Sportsbook Bonuses - Get a 100% real cash bonus to boost your Super Bowl bankroll!)
Total: 145
Last Time Out:
North Carolina lost 63-50 to Clemson; Duke lost 77-75 to Miami.
About the Matchup:
It's rare enough for one of Duke or North Carolina to be unranked coming into this game, but how about both? The last time that both the Blue Devils and the Tar Heels were unranked coming into this matchup, legendary North Carolina coach Dean Smith was a humble assistant. That was 61 years ago. This says a lot about both how great both programs have been and how difficult this year has been for both of them.
North Carolina has at least put itself in a position to battle for an at-large bid, although the Tar Heels did themselves no favor by getting beat at Clemson. Still, that was better than Duke, which got tripped up yet again on the road in a loss to lowly Miami. With both teams fighting for their lives as far as the NCAA tournament goes, which shade of blue will claim a badly needed victory on Tobacco Road?
Scouting the Tar Heels :
Just about everything that could go wrong for Carolina did on its trip to Clemson, as the Heels didn't shoot it well from deep and couldn't hold on to the basketball, coughing it up 17 times and ending up scoring a mere 50 points against the Tigers' stingy defense. Before that, however, Carolina had actually been playing fairly well, mainly on the strength of its excellent rebounding ability.
Having just a middling attack would likely be a death sentence for most teams, but because North Carolina rebounds as well as it does, the Heels tend to overwhelm opponents by getting far more looks at the basket. No other ACC team has more than 650 shot attempts on the year, while Carolina sits at 755. With that many chances, missed shots are something Armando Bacot and Caleb Love can handle.
More Picks: Get Ted's Spread Pick For Super Bowl LV >>>
Scouting the Blue Devils:
When Duke isn't shooting the ball well, things can go south in a hurry. That was the case in Coral Gables when they ran into a short-handed Miami squad and found a way to get beat because their deep shots weren't dropping. Despite Miami only having six scholarship players, Duke ended up on the wrong end of the score because the Blue Devils didn't bother to play defense and played the wrong kind of defense anyway. Duke tried a 3-2 zone against Miami, but a disinterested zone can be easy to pick apart, and that's exactly what happened, as the ACC's weakest 3-point shooting team went 7-for-13 from behind the arc.
When the Blue Devils are on their game, Matthew Hurt is a large reason why. The sophomore has been a consistent scorer for Duke, but he doesn't have anyone else that he can routinely count on as his running mate. When it all comes together, as it did against Clemson, Duke is a tough out and someone that a top seed would not want to play in March. But too often, the Blue Devils are a disjointed mess of individual talent rather than a true team.
X-Factor:
Desperation. Both teams absolutely have to have this game if they're going to play in the NCAA tournament this year, and both will have more work to do after this one regardless of the result. But in Duke's case, a loss here might be the final dagger because the Blue Devils are running out of time to get quality wins on their resume and absolutely cannot afford to take a home loss to a team that's barely on the right side of the cut line.
On the other side of the ledger, Carolina is hanging on to its spot by a thread, and losing this game would give Duke a significant edge if both teams find themselves competing for one of the last spots in the field. The Tar Heels will have another shot at the Blue Devils in Chapel Hill, but this is a key shot at getting a road win and inflicting a painful loss on their greatest rival.
North Carolina will Cover If:
The Tar Heels can get second and third chances against Duke's defense. If the Blue Devils aren't playing tough defense, this shouldn't be too much of a problem for Carolina. Nobody outrebounds the Heels, and Duke's not that strong on the boards anyway. The easiest path to victory for Roy Williams is simply taking decent shots and letting the rebounders go to work. More often than not, Carolina should be able to get a basket or a second-chance opportunity.
Duke will Cover If:
The Blue Devils actually play some tough defense. North Carolina thrives when teams don't give the effort needed to keep the Heels off the glass, and if Duke tries the same effort it showed against Miami, Carolina should roll. The Blue Devils have to step up on defense and keep the Heels from beating them with multiple shots on one possession.
Dan's Pick to Cover the Spread
Picking against Duke in Cameron is usually not a way to make money, but the reality is that North Carolina is a better matchup for Duke than Duke is for Carolina. The Heels are playing better at both ends of the floor, and Duke just doesn't seem to have the ability to will itself to a higher level this year.
Neither team has been great on the spread, but Carolina has shown an ability to have some success on the road this season, and with no fans in the stands, the Cameron Crazies won't be there to welcome the Heels after their eight-mile drive. Give me Carolina and the points.
STOP LOSING TODAY! START WINNING WITH DOC'S TEAM OF PROFESSIONALS! GET A FREE NO STRINGS ATTACHED $60 FOR THIS WEEKEND'S GAMES!