[et_pb_dcsbcm_divi_breadcrumbs_module hide_homebreadcrumb="off" homebreadcrumbtext="Home" separator="sep-raquo" hide_currentbreadcrumb="off" homebreadcrumborientation="left" _builder_version="3.8″ fontsbreadcrumbs_font="Lato||||||||" fontsbreadcrumbs_text_color="#000000″ fontsbreadcrumbs_font_size="15px" fontsbreadcrumbs_line_height="16px" fontsseperator_font="||||||||" fontsbreadcrumblinks_font="||||||||" fontsbreadcrumblinks_text_color="#2567cf" custom_margin="25px|||" custom_margin_phone="30px|||" custom_margin_last_edited="off|desktop" custom_css_main_element="font-family: Helvetica Regular;" disabled="on" global_module="3641″ saved_tabs="all"][/et_pb_dcsbcm_divi_breadcrumbs_module]
Notre Dame vs DePaul Basketball Pick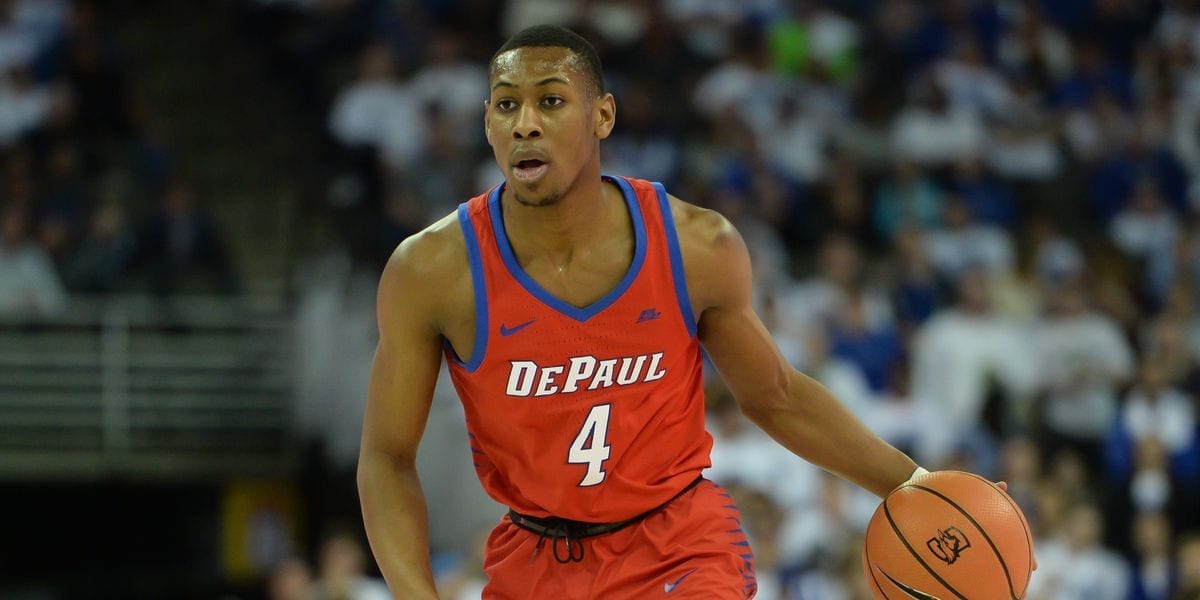 DePaul Blue Demons (3-0 SU, 3-0 ATS) vs. Notre Dame Fighting Irish (4-1 SU, 2-3 ATS)
When: Saturday, November 24, 2018 – Noon ET
Where: Purcell Pavilion, South Bend, Ind.
TV: ACC Network
By: Dan Jamison, College Basketball Handicapper, Predictem.com
Point Spread: DEP +4.5/ND – 4.5
Total: O/U 137
Last Time Out: DePaul beat Penn State 72-70 in overtime; Notre Dame handled Duquesne 67-56.
Analyzing the Blue Demons:
Does DePaul finally have things moving in the right direction? After years of ineptitude, the Blue Demons might finally be ready to make some progress under Dave Leitao, and if they do, the play of guard Max Strus will be a big factor. After making some noise last season as a junior transfer, Strus seems to have taken the NBA's rejection personally, scoring 25, 25 and 21 points respectively to open his senior campaign. Four-year starter Eli Cain is the Blue Demons' other main weapon on offense, and the two guards are averaging a combined 72 minutes out a possible 80 per night this season. In short, they're both vital to DePaul's chances of success, and a bad night from one likely means a bad night for the Blue Demons.
Today's NBA Basketball Pick: Spurs vs. Bucks
Analyzing the Fighting Irish:
Bonzie Colzon and Matt Farrell are gone, and in their place is a team that's struggling to find its identity. So far, John Mooney has stepped into the void to average 14 points and nine rebounds per game, but otherwise, Notre Dame hasn't yet figured out which pieces go where, and it's resulted in some early growing pains and an offense that struggles to take advantage of its possessions. Given that Notre Dame doesn't get that many possessions to begin with (67.2 per game, ranking 333rd nationally), that's a serious issue. The Irish might not beat themselves with turnovers, but they certainly aren't helping their case by shooting just 38.9 percent from the floor That lack of scoring has left them vulnerable to upsets, such as a 63-60 loss to Radford.
X-Factor:
The loss of Elijah Burns. Notre Dame announced that Burns, a senior forward, will be leaving the program to transfer after graduating in December, and although he wasn't a major part of the team, he was a captain. The Irish did play and beat Duquesne immediately following the announcement, but this game will mark their first since Burns' departure became public knowledge. There's a chance that the Irish could be a distracted team on Saturday, which would play into DePaul's hands.
DePaul Will Cover if:
The Blue Demons can play the kind of defense that they have over the past season-plus. Few people know it, but DePaul's defense actually ranked 49th nationally in Ken Pomeroy's rankings last year, which nearly helped DePaul avoid 20 defeats for the first time since 2012. The problem was the offense, but so far, the Blue Demons are getting and hitting good shots. Notre Dame is struggling badly on offense right now, and if DePaul can keep the Irish in the 60's, they have an excellent chance of earning a signature win.
Notre Dame Will Cover if:
The Fighting Irish can force DePaul into mistakes. Remember how DePaul's offense was the reason it lost 20 games for the sixth year in a row last year? Turnovers are part of the problem. DePaul averages 16 turnovers a game, which is a terrible combination in a game where there isn't likely to be a lot of possessions, as neither team plays a particularly fast-paced game. If Notre Dame can force DePaul into several possessions that don't end with a shot, it will have the upper hand.
Dan's Pick to Cover the Spread:
DePaul has been a basketball graveyard for the past two decades, but there is some reason for optimism here. The Blue Demons weren't threatened in either of their first two games and managed to outlast an average Penn State squad in overtime. With a good shooter like Strus in the lineup, they're a step closer to finally solving the offensive woes that have plagued them for so long.
By contrast, Notre Dame is a team with several question marks around it. The Irish never really learned how to play without Bonzie Colson last year, and early returns suggest that hasn't changed a year later. They haven't looked great in their first five games, they managed to lose to an opponent from the Big South and they're dealing with a distraction with Elijah Burns leaving the team.
Plus, the Irish have another mitigating concern for this contest: how excited is their crowd really going to be? When it's at its most enthusiastic, the Purcell Pavilion can be an intimidating arena for visitors. But the success of the Notre Dame football team could play a factor in the crowd's energy level. Not only are the football Irish playing their ancient rival USC later in the evening, but they're playing to lock up a spot in the College Football Playoff. Even if the basketball Irish were playing Duke, those football circumstances would take precedence. Against DePaul, there's no doubt that the minds of the Irish faithful will be squarely on the gridiron.
Add it all up and the conditions are right for DePaul to spring a mild upset here. Truthfully, the safest play in this game is the under, as these two teams aren't likely to produce a lot of scoring and will probably both stay under 70 points unless the game goes to overtime. But given the situation, you'll get more value out of taking DePaul to steal a win. If you're feeling brave, back the Blue Demons on the money line; if not, take your free 4.5 points with DePaul or go with the under.
<aside><!-- [et_pb_line_break_holder] --><div class="widget105"><!-- [et_pb_line_break_holder] --><h4 class="cash">Biggest Sportsbook Bonuses</h4><!-- [et_pb_line_break_holder] --><div class="widgetlist"><!-- [et_pb_line_break_holder] --><div class="col1"><!-- [et_pb_line_break_holder] --> <a href="https://www.predictem.com/out/Bovada"><img src="https://www.predictem.com/wp-content/uploads/2018/04/bovada.png" width="" alt="Bovada" /></a><!-- [et_pb_line_break_holder] --></div><!-- [et_pb_line_break_holder] --><div class="col2"><!-- [et_pb_line_break_holder] --><span class="list"><b>50% Cash</b></span><br><!-- [et_pb_line_break_holder] --><span class="list">5x Rollover</span><!-- [et_pb_line_break_holder] --> </div><!-- [et_pb_line_break_holder] --> <div class="col3"><!-- [et_pb_line_break_holder] --><a href="https://www.predictem.com/betting-sites/bovada/"><button class="btn-widget">Review</button></a><!-- [et_pb_line_break_holder] --></div><!-- [et_pb_line_break_holder] --></div><!-- [et_pb_line_break_holder] --><div class="widgetlist"><!-- [et_pb_line_break_holder] --><div class="col1"><!-- [et_pb_line_break_holder] --> <a href="https://www.predictem.com/out/Intertops"><img src="https://www.predictem.com/wp-content/uploads/2018/04/intertops.png" width="" alt="Intertops" /></a><!-- [et_pb_line_break_holder] --></div><!-- [et_pb_line_break_holder] --><div class="col2"><!-- [et_pb_line_break_holder] --><span class="list"><b>50% Cash</b></span><br><!-- [et_pb_line_break_holder] --><span class="list">4x Rollover</span><!-- [et_pb_line_break_holder] --> </div><!-- [et_pb_line_break_holder] --><div class="col3"><!-- [et_pb_line_break_holder] --><a href="https://www.predictem.com/betting-sites/intertops/"><button class="btn-widget">Review</button></a><!-- [et_pb_line_break_holder] --></div><!-- [et_pb_line_break_holder] --></div><!-- [et_pb_line_break_holder] --><div class="widgetlist"><!-- [et_pb_line_break_holder] --><div class="col1"><!-- [et_pb_line_break_holder] --> <a href="https://www.predictem.com/out/Gtbets"><img src="https://www.predictem.com/wp-content/uploads/2018/05/gt-bets.png" width="" alt="GtBets" /></a><!-- [et_pb_line_break_holder] --></div><!-- [et_pb_line_break_holder] --><div class="col2"><!-- [et_pb_line_break_holder] --><span class="list"><b>150% Cash</b></span><br><!-- [et_pb_line_break_holder] --><span class="list">4x Rollover</span><!-- [et_pb_line_break_holder] --> </div><!-- [et_pb_line_break_holder] --> <div class="col3"><!-- [et_pb_line_break_holder] --> <a href="https://www.predictem.com/betting-sites/gtbets/"><button class="btn-widget">Review</button></a><!-- [et_pb_line_break_holder] --></div><!-- [et_pb_line_break_holder] --></div><!-- [et_pb_line_break_holder] --><div class="widget-footer"><a href="https://www.predictem.com/best-sportsbooks/bonuses/">See all sportsbook bonuses</a></div><!-- [et_pb_line_break_holder] --> </div></aside>
<h4 class="widgettitle">NFL Picks</h4><!-- [et_pb_line_break_holder] -->
<!-- [et_pb_line_break_holder] --><div class="widget-footer"><a href="https://www.predictem.com/nfl/">See all the NFL picks.</a></div><!-- [et_pb_line_break_holder] --><hr><!-- [et_pb_line_break_holder] --><style><!-- [et_pb_line_break_holder] -->ul.postsbycategory {list-style-type: none; margin:0; padding: 0; margin-left: -3px}<!-- [et_pb_line_break_holder] -->.postsbycategory li {padding: 5px 0px; display:block; clear: both; border-bottom: 1px solid #ccc;line-height:16px!important; min-height: 50px;}<!-- [et_pb_line_break_holder] -->.postsbycategory li a{color: #000; font-size: 14px!important;}<!-- [et_pb_line_break_holder] -->.postsbycategory img {width: 85px!important; height: 40px;<!-- [et_pb_line_break_holder] -->float:left; <!-- [et_pb_line_break_holder] -->padding:0px;<!-- [et_pb_line_break_holder] -->margin: 0px; margin-right: 8px;<!-- [et_pb_line_break_holder] -->border: 1px solid #EEE;<!-- [et_pb_line_break_holder] -->}<!-- [et_pb_line_break_holder] --> .widget-footer a {color: #666;}<!-- [et_pb_line_break_holder] --> .widget-footer a:hover {padding-top: 2px;}<!-- [et_pb_line_break_holder] --></style>