Oregon Ducks vs. Memphis Tigers Pick 11/12/19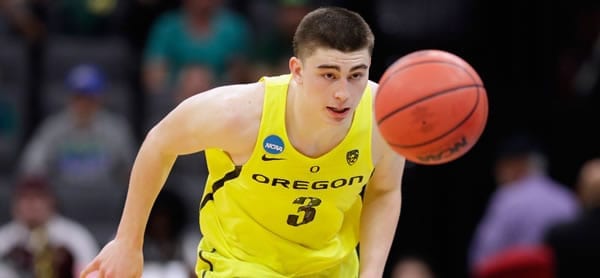 Oregon Ducks (2-0 SU, 0-1 ATS) vs. Memphis Tigers (2-0 SU, 1-0 ATS)

When: Tuesday, November 12, 2019, 9 PM ET

Where: Moda Center, Portland, Ore.

TV: ESPN
Point Spread: ORE +3/MEM -3 (Intertops)
Total: O/U 146.5
Last Time Out:
Oregon crushed Boise State 106-75 on Saturday; Memphis hammered Illinois-Chicago 92-46 on Friday.
Scouting the Ducks:
Smart, experienced guard play is the thing that fuels Dana Altman's crew. Payton Pritchard and Anthony Mathis get the chance to show off for the home crowd in this one, as both of them came out of West Linn High School, in the shadow of Portland. Pritchard has been the Ducks' leader for several years, while Mathis came back to Oregon after graduating from New Mexico and moving as a transfer. Together, the two are good shooters who make wise decisions with the ball and have been difficult for opponents to stop.
That's critical for Oregon because the Ducks don't have a huge interior game to speak of. Francis Okoro makes himself big, but at 6'9, he's going to find himself giving away height to some opponents this season. An intriguing subplot in this game presents itself in the person of Chandler Lawson, who was supposed to find his way to Memphis before his father Keelon was forced out as a coach, leading the four Lawson brothers away from the Tigers. Chandler is a quality rebounder that gives the Ducks a presence in the paint, but he and Okoro will face a daunting task in this matchup.
More Picks: Steelers at Browns Pick ATS 11/14/19
Scouting the Tigers:
For now, James Wiseman still wears the blue and white of the Memphis Tigers, and that makes Memphis a dangerous squad. The Tigers are not an experienced team, but they are a quick team that creates a lot of possessions, and that's a dangerous situation against a slower opponent like Oregon. To take advantage of their faster tempo, they'll need another good game out of Boogie Ellis. Ellis shot the ball very well against UIC, drilling six 3-pointers, and he's shooting over 50 percent from behind the arc in two contests this season. However, Memphis has to clean up its turnovers against Oregon. The Tigers have gotten away with averaging 13.5 turnovers per game so far, as they've faced lesser opposition that couldn't keep pace with them on the scoreboard. That won't work against Oregon, which knows how to play defense and can score when it needs to.
X-Factor:
Off-court battle. How ready is Memphis to play this game after the issues with James Wiseman? The Tigers landed in the AP Top 25 in large part off of Wiseman's presence, who is expected to be the No. 1 pick in the 2020 NBA Draft. But because of a complicated situation with Wiseman's family's move to Memphis being funded by Penny Hardaway, the NCAA has declared Wiseman ineligible to play. For now, Wiseman remains eligible because of an injunction against the NCAA, but this situation is a wild card for the Tigers. Are they distracted, or are they ticked off? If it's the latter, they could put up a significant number.
Oregon will Cover if:
The Ducks win the battle on the perimeter. Oregon has the more experienced guards, and Oregon's guards need to be the better pair. If Pritchard gets going, he and Mathis could make a nice combination from the outside and force Memphis into mistakes.
Memphis will Cover if:
Wiseman is able to dominate inside. The Ducks don't have anyone who can match him in the paint, and if the Tigers can create an excess number of possessions compared to the Ducks' more methodical offense, Memphis will be tough to beat.
Dan's Pick to Cover the Spread:
This should be a fun game to watch, and I expect a solid chess match between the coaches. Given that, I have to give Oregon the edge here. The Ducks have one of the brightest coaches in the game in Dana Altman on their sidelines, and while Penny Hardaway might get there eventually, he has yet to prove himself as a keen tactician in these types of games.
There's another reason I like the Ducks here. Oregon's players have been here before and played and beaten quality teams. The Ducks got to the Sweet 16 last year and gave Virginia a good battle before succumbing. The Tigers are talented but inexperienced. They don't have anyone on their roster who has played in anything like this atmosphere.
I'll gladly take a free 3-pointer, but it might not be needed in a game Oregon could win outright. Give me the Ducks.

1% Cash Back
---
Pay less per bet &
get largest betting menu