Oregon Ducks vs. Seton Hall Pirates Pick 11/27/19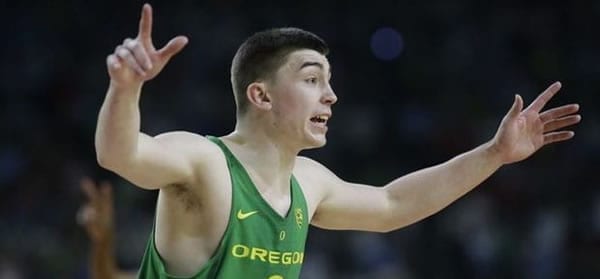 Oregon Ducks (5-0 SU, 4-1 ATS) vs. Seton Hall Pirates (4-1 ATS, 4-1 SU
When: Wednesday, November 27, 9:30 p.m. EST
Where: Imperial Arena, Nassau, Bahamas
TV: ESPN2
Point Spread: ORE -1.5/HALL +1.5 (BetAnySports)
Total: O/U Off
Last Time Out:
Oregon defeated Houston 78-66 on Friday; Seton Hall hammered Florida A&M 87-51 on Saturday.
Scouting the Ducks:
When you're as efficient as Oregon is, you don't need to push the tempo to put up big numbers. The Ducks have relied on great guard play to get themselves into this position, as they don't have the kind of size that they had for the first half of the year when Bol Bol was in uniform. But playing last season with him on the roster but not on the court allowed Oregon to learn how to win without size working in their favor. The Ducks have instead ridden the shooting and decision-making of Payton Pritchard and his new backcourt mate Anthony Mathis to an impressive start, as the Ducks sit 5-0 with a pair of wins over Memphis and Houston, both of whom figure to challenge for the title in the American. If the Ducks have a glaring weakness, it's on the boards, where Oregon averages just 38 rebounds per game. But when you make more than half of your shots, it doesn't matter what kind of rebounding you do, because you're not giving up extra possessions to your opponent when you put the ball in the basket.
Scouting the Pirates:
With Villanova still struggling to figure out which pieces go where this looks like Seton Hall's time to rise to the top of the Big East. That's five coaches ago, as the Pirates haven't won the Big East since 1993 when P.J. Carlesimo was still a year away from going to the NBA. To get there, the Pirates will ride Myles Powell as far as he can take them. Powell has averaged 22.6 points per game in this young season, and when he's on, it's hard to get a result off the Pirates.
In this game, Seton Hall's size could be critical. Oregon might not be a tall squad, but Seton Hall has plenty of height to go around. The Pirates average 5.4 blocks per game and 41 rebounds, numbers that show they know what they're doing when it comes to grabbing the ball. If the Pirates can pound away inside, this will be a tough task for the Ducks.
X-Factor:
Travel and distractions. What's going to happen with these two teams when they get to Atlantis is anyone's guess. Seton Hall coach Kevin Willard did not appreciate the tournament format and made his feelings known, as the winner of this game will have to turn around and play its second game at 4 p.m. tomorrow. Plus, these teams are surrounded by beaches and beautiful weather in the Bahamas, which can make it challenging to keep their minds on basketball. Focus is going to be a key to getting a win.
Oregon will Cover if:
The Ducks don't let the Pirates dictate the tempo. Seton Hall is at its best when it's racing up the floor and getting the ball to Powell. Oregon can put a stop to that by executing its offense and keeping the Pirates from getting a quick start to its possessions. That means not allowing those easy rebounds that Seton Hall is designed to get.
Seton Hall will Cover if:
The Pirates can force Oregon out of its comfort zone. Just making the Ducks run won't work, because Oregon's guards are too experienced and talented to get rattled by the speed of the Pirates. Instead, Seton Hall has to limit Oregon to one shot per trip as often as possible and make sure that one shot lands in the hands of someone in a blue and white jersey.
Dan's Pick to Cover the Spread:
Both of these teams are good picks to win their respective leagues. Both know how to win defensive struggles, and both can crush you with powerful offenses. This game has all the makings of a classic and really would have graced the final of the Battle 4 Atlantis. It speaks to the depth of the field that we've got a championship-worthy tussle on day one of the tournament. I've got to take someone here, and I'm going to lean toward Oregon's two excellent guards over Seton Hall's one. I think the Ducks will make enough shots to neutralize the Hall's rebounding edge, and that's going to make the difference in a game I'm excited to watch. Give me Oregon.
$100% Cash up to $500