Purdue vs. Wisconsin Basketball Pick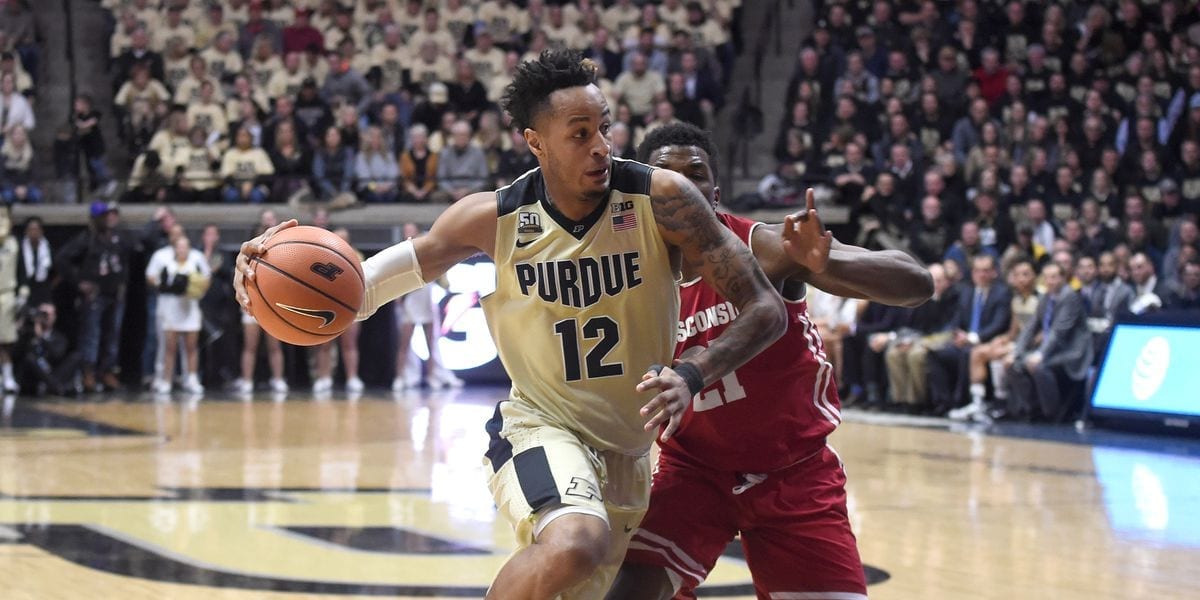 Purdue Boilermakers (9-6 SU, 7-8 ATS) vs. Wisconsin Badgers (11-4 SU, 8-7 ATS)
When: Friday, January 11, 2019 – 9 PM ET
Where: Kohl Center, Madison, Wis.
TV: FS1
By: Dan Jamison, College Basketball Handicapper, Predictem.com
Point Spread: PUR +4/WIS -4
Total: O/U 137
Last Time Out: Purdue lost to Michigan State 77-59; Wisconsin beat Penn State 71-52.
Scouting the Boilermakers:
Purdue has been a home-court hero this season. Other than wins over smaller-conference foes Appalachian State and Davidson on a neutral floor, the Boilermakers haven't won a game away from Mackey Arena this season and are 0-5 in true road games. Purdue is also a one-dimensional outfit, as virtually everything the Boilermakers do starts and ends with Carsen Edwards. When he's on his game, the Boilers can beat anyone in the country. But when he has a bad night, as occurred against Michigan State, Purdue doesn't have anyone who can really step up and shoulder the load. Take Edwards away, and Purdue hasn't shown it can respond.
Scouting the Badgers:
Wisconsin's calling card has been defense throughout its season, and the Badgers finally got back to playing the kind of defense that has made them a threat for years in the Big Ten in their win over Penn State. On the offensive side of the floor, Wisconsin has made itself a tough task for its foes by taking care of the basketball. One of the staples for the Badgers has long been that they do not beat themselves, and this Wisconsin team has carried that on for the most part. Wisconsin turns the ball over on just one of eight possessions, which ranks second in the nation.
X-Factor:
The tempo. Both of these teams like to play relatively slow and work the shot clock, reducing the possessions in the contest. That means that points could be at a premium, and it will be more vital than usual for each team to maximize each possession that it gets. Whichever team can take smart shots and extend their possessions by grabbing rebounds will have a major edge in this contest.
Purdue will Cover if:
The Boilermakers can get the game to the free throw line. Edwards will get his points, and Purdue isn't likely to give him a lot of help — unless the Boilers can get on the charity stripe and hit free throws. Purdue is a much better free throw shooting team than Wisconsin, so if the Boilers can keep the game close and turn it into a foul shot contest, they're going to have the edge, despite the Wisconsin fans.
Wisconsin will Cover if:
The Badgers can take advantage of Purdue's weakness against the 3-pointer. Purdue doesn't defend the arc particularly well, as evidenced by Notre Dame hitting 11-of-21 from behind the arc to upset Purdue earlier this season. But Wisconsin hasn't shot the 3-pointer very well as of late, which directly caused the Badgers' upset loss to Western Kentucky. Wisconsin has to break out of its shooting slump and connect on its deep shots to put Purdue away early.
Dan's Pick to Cover the Spread:
This isn't a game where I'm all that eager to make a pick, as both teams have shown signs of problems during this young season. Purdue hasn't beaten anyone of significance outside of West Lafayette, and Wisconsin has a loss to Western Kentucky on its resume. In short, these are a pair of inconsistent teams and you're making a gamble in either direction.
NBA Free: Pick For Pacers at Knicks!
But of these teams, I feel a lot safer gambling on Wisconsin. Why? Simple: The Badgers are the more consistent team that plays stronger defense. When picking between two inconsistent squads, you always want to lean toward the squad that plays the better defense, because offense can sometimes take the night off, but defense rarely does. If shots aren't falling for Purdue, and especially if shots aren't falling for Edwards, the Boilers really don't have anything to fall back on, while Wisconsin can count on its defense to get the job done.
Plus, there's the location of the game. Madison can be an intimidating place to play for just about any team, and Purdue hasn't shown that it can do much on the road. The Boilers have to prove that they can play away from home before I feel comfortable trusting them in a spot like this, and they've not come close to doing so this season.
Add that all up and the relatively small margin that you're getting for a team that's playing at home and stayed within seven points of Virginia, and there's a lot of value with Wisconsin here. Take the Badgers laying four against a Purdue squad that's little more than one superstar.
TIRED OF YOUR CREDIT CARD NOT WORKING AT SPORTSBOOKS? IT WILL AT MYBOOKIE+ GET a $1000 Free Play!