Rhode Island Rams vs. Maryland Terrapins Pick ATS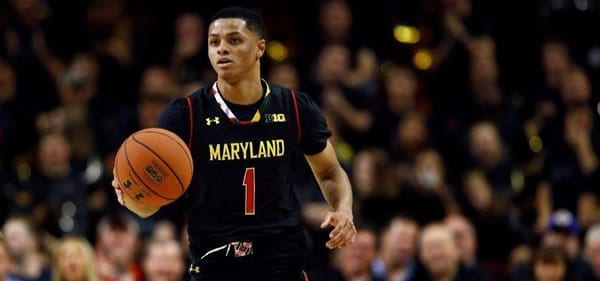 Rhode Island Rams (1-0 SU, 0-1 ATS) vs. Maryland Terrapins (1-0 SU, 0-1 ATS)
When: Saturday, November 9, 2019, 9 PM ET
Where: Xfinity Center, College Park, Md.
TV: FS1
Point Spread: URI +11.5 /MD -11.5 (Bookmaker)
Total: O/U 144.5
Last Time Out
Rhode Island pulled away from Long Island for a 76-65 win on Tuesday, while Maryland crushed Holy Cross 95-71 on Tuesday.
Scouting the Rams
When it comes to experience, Rhode Island has it in spades. The Rams return four seniors from last year's squad, and their experience was on full display against Long Island, as all but 16 of their points came from the four seniors. What that says is that Rhode Island doesn't have much in the way of depth, but its starters can compete with anybody. The main threats for the Rams are Guard Fatts Russell and Forward Cyril Langevine. Langevine will give away some height to centers, as Rhode Island doesn't have a true center on its roster, but with his bulk, the size difference usually doesn't hurt him. Langevine nearly averaged a double-double last season, finishing with 14.7 points and 9.9 rebounds per game.
But it's Russell who really makes the Rams go because he's the man who either gets Langevine the ball or takes over the scoring himself. More often, he'll do a little of both. Against Long Island, he ended up with 18 points and five assists, a solid but unspectacular performance given the quality of the Blackbirds. He'll have to be better against Maryland, which will focus on cutting off passing lanes to Langevine.
Scouting the Terrapins
Maryland's a rarity for a Power 6 team: a squad that's blessed with both talent and experience. Anthony Cowan leads the Terrapins' attack, and the guard does a little bit of everything, providing help with scoring, assists, and even rebounding. The Terps are nowhere near as experienced down low, but what they don't have in experience, they more than make up for in size and skill.
That was most evident from Jalen Smith, one of four options Maryland has who are over 6-foot-10. However, Rhode Island's 53 rebounds against Long Island showed that the Rams aren't going to be a pushover inside, certainly not with Langevine inside. This match will be a battle of talent vs. experience, as Langevine has three full years of college basketball under his belt, compared to the Maryland big men, who have a combined one year and one game.
X-Factor
Guard play. Both teams are blessed with quality guards who can take over a game in Russell and Cowan, respectively. Both are experienced players who have been around the game long enough that nothing will surprise them, and both teams take their cues from their leaders. Whichever one steps up in this matchup will put his squad several steps on the front foot in this matchup.
Rhode Island will Cover if
The Rams can get their guards open looks at the basket. Langevine greatly worries the Terrapins, and there's a good chance that Maryland will focus its defense on keeping him from taking over the game. That can lead to some good looks at the basket for Jeff Dowtin and Eric Dadika — if they can take advantage of them.
Maryland will Cover if
The Terrapins can dominate the interior. Langevine is an excellent A-10 player, but he's just that, one outstanding A-10 player. Maryland has four quality big men at the Big Ten level who can wear down the Rams with their depth over the course of 40 minutes. Rhode Island might be able to hang with the likes of Maryland for 30 minutes, but 40 might be pushing it.
Dan's Pick to Cover the Spread: I think these are both solid teams who should compete for their respective league titles, and that makes this a rather intriguing early-season matchup. The question is, can Rhode Island's experience stand up to Maryland's talents and keep the Rams in the game long enough to keep this close?
I don't think so, at least, not at this line. If the spread were a little bit higher than 11.5 points, I think Rhode Island would be an attractive pick. But this seems like a fairly comfortable margin for Maryland, closer to the 15-20 point range. Rhode Island is a good A-10 squad that will make life difficult for some big names this year, but Maryland looks like a Final Four contender. Final Four contenders don't struggle with Rhode Island at this point in the season. Give me the Terrapins.