Saint Mary's Gaels vs. Gonzaga Bulldogs Pick 3/8/21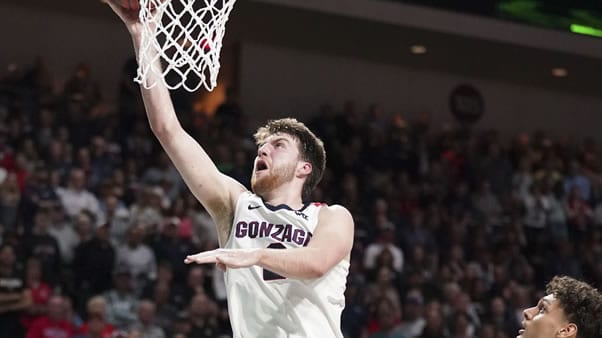 Saint Mary's Gaels (14-8 SU, 10-12 ATS) vs. Gonzaga Bulldogs (24-0 SU, 11-11-2 ATS)
When: Monday, March 8, 9 p.m.
Where: Orleans Arena, Las Vegas
TV: ESPN
Point Spread: SMC +17.5/GONZ -17.5 (Find the best sportsbooks >>>)
Total: 142
Last Time Out:
Saint Mary's survived Loyola Marymount 52-47; Gonzaga routed Loyola Marymount 86-69.
About the Matchup:
It just wouldn't be the WCC tournament without the annual matchup between Gonzaga and Saint Mary's, as this marks the 11th time in 13 years that the Bulldogs and Gaels will match up in Las Vegas. Usually, this matchup has been the championship game, as nine of the last 12 finals have seen these two face off, but this year, Saint Mary's ended up on the wrong side of the bracket.
That's a real worry because Gonzaga in the West Coast Conference semifinals has been one of the surest bets in college basketball for the past quarter-century. Since 1995, when Gonzaga reached its first NCAA tournament in school history, the Bulldogs have a record of 25-0 in the WCC semifinals. In turn, 25 of the past 26 WCC finals have been "Gonzaga vs. somebody," with the lone exception being the 1997 tournament when the Bulldogs lost in the league quarterfi-nals.
And that history is before you throw in the fact that this might be Gonzaga's best team ever, as the Bulldogs have run over everyone in their path on their way to a No. 1 ranking and a perfect season. Gonzaga has been so dominant that nobody in the WCC has come within 10 points of the Bulldogs all season (in fact, nobody but West Virginia has even come that close). In contrast, Saint Mary's has filibustered its way into a decent season that's nowhere close to where it usu-ally is. Can the Gaels somehow end their rival's run at perfection?
Scouting the Gaels:
There is nothing beautiful about Saint Mary's basketball. The Gaels will slow the game down, scrap hard on defense and essentially make life miserable for both its opponents and bettors. And that's exactly what they didn't manage to do against Gonzaga in their most recent match-up, as the Bulldogs ended up scoring 87 points and blitzed the Gaels. However, in past seasons, Saint Mary's has managed to turn the tables on Gonzaga in the WCC final, most notably 2019, when the Gaels played slowdown and held the Bulldogs to 47 points.
To replicate this, Saint Mary's needs to get a big performance out of Tommy Kuhse. Logan John-son is rock-solid at the other guard after a 9-for-15 performance that saw him score 25 points on Loyola Marymount, but Kuhse has been a bit more inconsistent. In a loss to BYU last month, Kuhse was just 3-for-13 and scored only seven points, leaving the Gaels lost at sea in a 51-point performance. If Saint Mary's can't shoot it better than 33 percent (which it did against BYU, the league's No. 2 squad), there's no chance of it beating Gonzaga.
More Picks: Pepperdine vs. BYU Prediction ATS >>>
Scouting the Bulldogs:
Gonzaga's back in its game, as the Bulldogs have never lost a WCC semifinal under Mark Few. Few took the reins in 1999 after the Bulldogs' first run to the Elite Eight, and since then, he's managed a 21-0 record in this round of the WCC tournament and qualified for every WCC final. The Bulldogs have also managed to cover in this game three years running, which says that Few has no problem keeping his team motivated for postseason play.
But will this year be different? Gonzaga hasn't gone into a WCC tournament with its undefeated record intact before, and the Bulldogs are showing a few signs that suggest that they might be feeling some of the burden of carrying an undefeated record through a season ravaged by a pandemic. Gonzaga has now failed to cover in back-to-back games (to be fair, this could also be because Vegas is simply setting the lines way too high, as Gonzaga still won both games by dou-ble digits) and has been just middling against the spread in its last ten games.
DEPOSIT $100 AND GET $100 FREE AT GTBETS SPORTSBOOK!
Where the Bulldogs haven't been middling is in putting up points. Gonzaga has scored 90 or more points in five of its last ten games and has hit 80 in all but one of its past 10. With Corey Kispert and Drew Timme virtually unstoppable at the forward spots and Jalen Suggs directing the offense well, nobody's yet found an answer for this offensive juggernaut.
X-Factor:
The undefeated season. How much does it mean to Gonzaga? The Bulldogs have their best chance ever to win the national championship this season, and in a typical year, this wouldn't even be a concern. But with COVID still out there for another couple of months, it might actually be in Gonzaga's best interest to take a loss here and get the heck out of Vegas, just to ensure that they don't pick up the virus before their first-round game in Indianapolis.
Gonzaga is already guaranteed a No. 1 seed, and nothing that happens in Vegas will change that, as the Bulldogs have proven themselves the best in the regular season many times over. The Bulldogs probably don't care that much about winning an eighth WCC tournament title in nine years. The only reason for the Bulldogs to win this game is to keep the undefeated season alive, which would be the first in college basketball since 1976.
Saint Mary's will Cover If:
The Gaels can frustrate the Bulldogs and force them into rushed shots. Saint Mary's didn't exactly make life tough on Gonzaga in their most recent matchup. Better defense is the only way that the Gaels can have a chance because if this game becomes a shootout, Saint Mary's doesn't have the horses to score with the Bulldogs.
Gonzaga will Cover If:
The Bulldogs play their style and avoid getting lulled into Saint Mary's trap. Gonzaga has played Saint Mary's enough to know what the Gaels like to do, and they know what they've got to do in order to cut through the Saint Mary's defense. As long as Gonzaga is ready to play its game from the opening whistle and decides to keep its foot on the gas, the Bulldogs should be in control.
Dan's Pick to Cover the Spread
There's no doubt in my mind that Gonzaga's going to win this game, but the spread seems to be a little higher than it should be for this kind of game. The Bulldogs don't really have the motivation to score an 18-point victory in this matchup, and the Gaels know them well enough that they should be able to stay in the game for long enough to avoid a blowout.
I'd prefer to play the over, as I don't think the Gaels can stop Gonzaga well enough to keep the Bulldogs from getting to the 80-point mark. But for the game itself, I'll take Saint Mary's and the points. Question: When you bet on basketball and football, there's a 99.5% chance you're laying -110 odds. Did you know that there's a sportsbook on the web where you only have to lay -105? Imagine how much money you'd save over time if you saved 5 bucks PER $100 you're trying to win. It adds up to 100's, if not 1000's of dollars per year! Do the wise thing and make the switch to reduced juice sports betting at one of the best betting sites on the planet —> BetAnySports!