Stephen F. Austin Lumberjacks vs. Duke Blue Devils Pick 11/26/19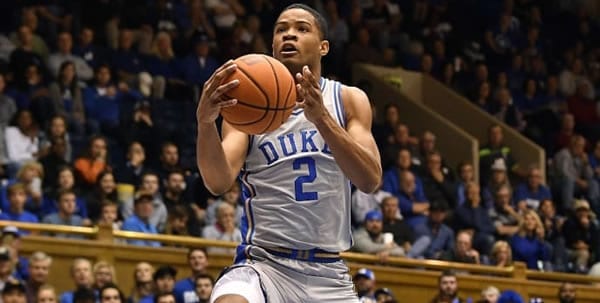 Stephen F. Austin Lumberjacks (4-1 SU, 2-1 ATS) vs. Duke Blue Devils (6-0 SU, 4-2 ATS)
When: Tuesday, November 26, 9 p.m. EST
Where: Cameron Indoor Stadium, Durham, N.C.
TV: ESPN2
Point Spread: SFA +28.5/DUKE -28.5 (Intertops)
Total: O/U 150
Last Time Out:
Duke got past Georgetown 81-73 on Friday; Stephen F. Austin lost 69-57 to Rutgers on Wednesday.
Scouting the Lumberjacks:
This would have been a frightening matchup a few years ago when Brad Underwood was on the sidelines for SFA. That's two jobs ago for the man who now coaches Illinois, but under Kyle Keller, the Lumberjacks have remained a solid mid-major squad. Stephen F. Austin slipped to a losing season last year, but the Jacks are off to a 4-1 start this season behind senior guard Kevon Harris, who is averaging 19.4 points a game and has proven equally adept at scoring inside or outside the perimeter.
What has really fueled the Lumberjacks is their ability to play fast. Few teams push the tempo as much as Stephen F. Austin does, as the Jacks rank 11th in the nation in tempo, which has led them to produce a fair amount of steals. Four of the five SFA starters average at least 1.4 steals per game, led by John Comeaux's 2.6. But the increase in tempo is a double-edged sword, as SFA averages 20.8 turnovers per game.
More Picks: MAC Pick: WMU at NIU 11/26/19 >>>
Scouting the Blue Devils:
Duke got a stiffer challenge than expected from Georgetown in its home away from home, but to their credit, the Blue Devils managed to survive. That's more than we can say for the likes of Kentucky (Evansville) and Michigan State (Virginia Tech), and one of the reasons for the Blue Devils' early success is that Vernon Carey is proving to be as good as advertised. Carey isn't going to transcend the sport the way Zion Williamson did last year, but he is going to put up a healthy amount of points and make himself a major rebounding presence in the paint. So far, only Kansas has been able to keep Carey in check, in large part because the rest of the Blue Devils' schedule hasn't been anywhere near that level.
That's the good news for Duke. The bad news is that just like last year, the Blue Devils are still trying to find a fourth scoring option. Once again, Duke has been a three-legged stool, with Cassius Stanley joining Carey and Tre Jones to produce 47 of the 84 points that the Blue Devils have averaged so far. That might work against the Colorado States of the world, but that won't be good enough against ACC competition.
X-Factor:
Atmosphere. Can the Blue Devils quickly get themselves back to the mindset needed to rout a decent mid-major after going up to New York and playing in the Garden? The students might or might not stick around for this game, given that Duke's Thanksgiving break will begin a few hours before tip-off, so Duke might have to feed off of its own energy rather than being able to count on the Cameron Crazies for assistance. That could help the Lumberjacks stay in the game for longer than they should.
Stephen F. Austin will Cover if:
The Lumberjacks can take smart shots. SFA is going to get killed on the glass. There are no two ways about that because the Jacks don't have anyone who can hope to compete with Carey on the interior. But there's one way that SFA can neutralize Duke on the boards: make their shots.
The last thing the Lumberjacks want is to either turn the ball over or find themselves in a situation like Georgia State, which lost the rebounding battle 58-32 to Duke. But unlike the Panthers, who kept the margin to a mere 11 points, SFA doesn't have the 3-point shooters needed to stay within shouting distance if it gets killed on the glass. To keep it close, the Jacks must make sure that there aren't a lot of rebounds.
Duke will Cover if:
The Blue Devils can dictate the tempo by forcing turnovers. Duke averages 10 steals a game itself, and that's a recipe for disaster for the Lumberjacks if they can't get their offense set up against a Blue Devils squad that has said it wants to step up its work on the defensive side of the ball. Given where Duke's mentality is in this game, this could get out of hand quickly.
Dan's Pick to Cover the Spread:
Stephen F. Austin has some good pieces that could make it a factor in the Southland Conference. Duke has Vernon Carey and a host of other talented weapons at both ends of the floor. Given that the Blue Devils have a massive edge in rebounding and a bunch of players who want to impress coach Mike Krzyzewski with their defensive prowess, this one could be turnover-heavy as well as rebound-heavy.
Neither of those possibilities is good for Stephen F. Austin. The reality is that this is a terrible matchup for the Lumberjacks, and if Duke is locked in, this won't be pretty. Take the Blue Devils.