Texas Tech Red Raiders vs. Texas Longhorns Pick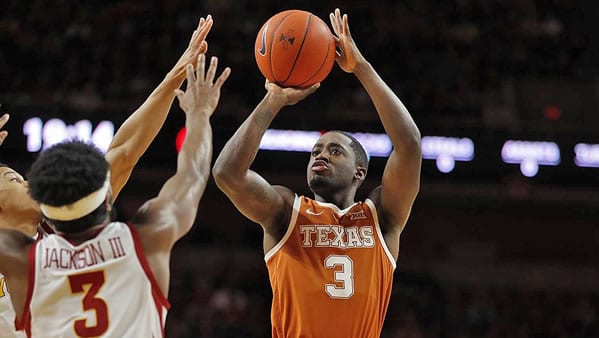 Texas Tech Red Raiders (10-3 SU, 5-8 ATS) vs. Texas Longhorns (10-1 SU, 6-5 ATS)
When: Wednesday, January 13, 9 p.m.
Where: Frank Erwin Center, Austin, Texas
TV: ESPN2
Point Spread: TTU +3.5/TEX -3.5 (BAS - Offers 16 point basketball teasers and -105 odds!)
Total: 135.5
Last Time Out:
Texas Tech thrashed Iowa State 91-64; Texas edged West Virginia 72-70.
About the Matchup:
Years ago, this used to be a series dominated by Texas, but in recent years, this hasn't exactly been a fun matchup for the school in Austin. Texas Tech has won five of the past six meetings in this rivalry, including each of its past two trips to Austin. As the Longhorns have mostly floun-dered, the Red Raiders have seen their program rise to heights never before achieved in west Texas.
But Texas is Texas, and eventually, it was going to catch up. The Longhorns have done exactly that, and they've now got their sights set on possibly winning the Big 12. With Kansas and West Virginia both in the rearview mirror, a win here would mean that the Longhorns would be on track to challenge Baylor for the league title. Texas Tech, on the other hand, faces its biggest week of the season, as the Red Raiders have Baylor coming up on Saturday after getting through this game. Can they continue their mastery of Texas, or will the Longhorns take another step toward the top of the table?
Scouting the Red Raiders:
There are no secrets when it comes to Texas Tech. The Red Raiders are going to play the game on their terms, and their terms are difficult to handle. The way that you beat Texas Tech is to be willing to play and win an ugly game that's heavy on defense and light on shooting percentage. Specifically, you've got to make sure that you're holding the Red Raiders to around 40 percent from the floor.
Considering that Texas Tech boasts three solid guards in Mac McClung, Terrence Shannon, and Kyler Edwards, that's no easy task. Texas Tech actually puts up 75.5 points per game, an impres-sive number for a team that's as slow-paced as the Red Raiders. However, they don't rebound the ball well, and their 3-point shooting leaves a fair amount to be desired. When a team is able to match their defensive efforts, as Houston and Kansas were able to do, the Red Raiders don't have a great answer.
Scouting the Longhorns:
Texas has been a weird team in Big 12 play, as the Longhorns have actually fared better on the road than at home. Against last-place Iowa State, Texas managed to emerge with a six-point win, and the Longhorns only managed to edge Oklahoma State by three in Austin. But they thrashed Kansas by 25 in Lawrence and managed to come from behind at West Virginia in a game the Mountaineers really needed to have.
What fuels the Longhorns is consistent efforts from their starters. Texas is not a deep team, but when you can consistently count on your top players to give you a great effort every night out, you really don't need to be all that deep. Greg Brown, Courtney Ramey, Matt Coleman, and An-drew Jones all scored in double digits in Morgantown, and they'll need to find a way to do something similar in this game, as closing off shooting spots is what Texas Tech is all about.
More Picks: Get expert college basketball picks >>>
X-Factor:
Two for one. This is the hardest task a good but not great team like Texas Tech can face in college basketball: facing two elite teams in the same week. Of course, this might be a little different than in most seasons, because it's entirely possible that Baylor will have a COVID issue and leave the Red Raiders with only one game to play this week, but these are still college kids, and it's human nature to view two big games in a week as one large task to fulfill.
The key here is whether Chris Beard can keep his team focused on the task at hand. Texas will likely have a bigger problem with keeping its focus on its second game of the week, as Kansas State just doesn't command the same respect that Texas Tech does. But for this game, the Longhorns will likely be focused and ready, and the Red Raiders have to be prepared to match that intensity.
Texas Tech will Cover If:
The Red Raiders can throw the Texas guards off balance. Texas is perfectly fine with playing a slow-paced game, but if this game is played in the low 60s or even high 50s, the edge will go to the Red Raiders. Texas Tech has to hold Texas' shooting down so that it can give its own offense a chance to take control of the few scoring opportunities.
Texas will Cover If:
The Longhorns can avoid getting frustrated and show some patience. The way Texas Tech beats you is by frustrating you for 40 minutes and forcing you into shots that you wouldn't otherwise take. Texas hasn't had to win a low-scoring game yet in the league, as it's averaging 78 points per game in Big 12 play. But 78 isn't likely to happen at this pace, so Texas has to be ready to accept winning ugly. If the Longhorns are willing to take what's available, they have the edge.
Dan's Pick to Cover the Spread
Texas isn't likely to mind a slower pace, as the Longhorns are perfectly happy to play at a medi-um-slow tempo under normal conditions. Even though this game is likely to be played in a style that works well for Texas Tech, I think Texas is the more talented squad and is hitting on all cyl-inders right now.
I think the Longhorns get a nice measure of revenge for their recent struggles against Texas Tech in Austin, and they handle the small chalk for the cover. Give me the Longhorns. Bet your pick and ALL your sports bets at -105 instead of -110 at the Walmart of online sportsbooks —-> BetAnySports!