UCLA Bruins vs. Alabama Crimson Tide Pick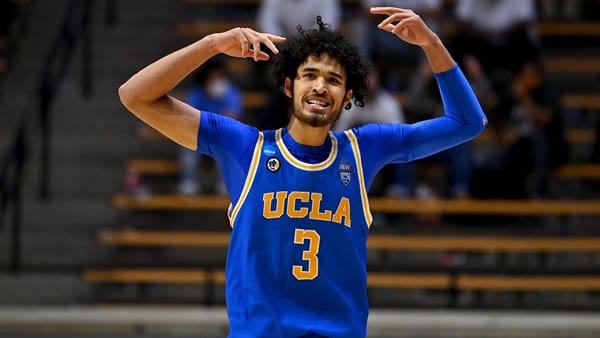 UCLA Bruins (20-9 SU, 15-14 ATS) vs. Alabama Crimson Tide (26-6 SU, 18-13-1 ATS)

When: Sunday, March 28, 7:15 p.m.

Where: Hinkle Fieldhouse, Indianapolis

TV: TBS
Point Spread: UCLA +6.5/ALA -6.5 (Bet this game at -105 >>>)

Total: 145.5
Last Time Out:
UCLA handled Abilene Christian 67-47; Alabama blitzed Maryland 96-77.
About the Matchup:
Two teams with contrasting styles face off for a chance to make their deepest run in the NCAA tournament in more than a decade. UCLA is a big name with a slow game, the virtual tortoise in this matchup, as the Bruins play at one of the slowest tempos in the country and win with de-fense. UCLA's defense has been a bit spotty at times as Mick Cronin tries to replicate what he had at Cincinnati, but the Bruins have made some real progress in three games in this tourna-ment, with the defense looking much better against BYU and holding Abilene Christian to just 47 points. But not only have the Bruins not gotten past this round since 2008, but Cronin has never gotten past it: his only other Sweet 16 appearance came in 2012 with Cincinnati, and his Bearcats' season ended there.
Alabama has only made the Elite Eight once in its history, which happened in 2004, and Nate Oats' tournament history consists of just four victories all-time in four appearances. Granted, Oats is just 46 and has only been a collegiate head coach since 2015, and he's already turned a sleeping giant into a monster in the SEC. Alabama is the proverbial hare, except this hare doesn't wait around after building a big lead; it steps on the throat of its opponents and finishes the job. The Tide beat the tournament's turtles in the previous round in Maryland, and they did it by running the Terrapins out of the building with a 96-point performance that left Maryland gasping for air. Can the Bruins bring the Tide down to their speed, or will they get overwhelmed in a barrage of 3-pointers?
Scouting the Bruins:
After one half in the First Four, UCLA looked dead in the water. Since then, the Bruins have played five excellent halves and five extra minutes in overtime, and they've made the first two rounds of the tournament look really easy. UCLA did a great job of not beating itself in its first three games in Indianapolis, as the Bruins committed just 20 turnovers in the tournament over a span of 125 minutes.
They've also gotten excellent scoring from Johnny Juzang, who has found Indianapolis much to his liking. In three games in central Indiana, Juzang has scored 67 points, giving the Bruins the complement to Jaime Jaquez that allows the offense to flourish. Jaquez, however, does need to get back to the form he showed against Michigan State, as he followed up his 27-point game with 13 against BYU and ten against Abilene Christian. UCLA didn't need Jaquez to score in ei-ther of those games, but Alabama requires everyone to be putting up a lot of points if you're going to have a chance.
Get Dan's betting opinion: Creighton vs. Gonzaga Point Spread Pick >>>
Scouting the Crimson Tide:
If you saw only the first half of Alabama's first game in this tournament, you might be surprised to see the Crimson Tide here. But after overcoming a crafty Iona squad in round one, the Tide have returned to form and showed it by choosing to simply out athlete and outshoot Maryland from the opening minute. The Tide barely bothered to get the ball inside against the Terrapins, instead opting to let Jaden Shackleford and John Petty fire away from behind the arc.
The strategy worked perfectly, as Alabama shot 16-for-33 from behind the arc and over-whelmed a Maryland team that's used to slowing opponents down and taking them out of their game. That doesn't really work against Alabama, which doesn't slow down for anyone and gen-uinely believes that there is no such thing as a bad shot once they get within 30 feet. The Tide will fire away as often as possible, figuring that if they take 30 or more 3-pointers, all they need to do is get 30 to 40 percent to go in, and they'll have a chance to win.
UCLA will Cover If:
The Bruins can take the air out of the ball and keep the game in the mid-60s. UCLA cannot afford to play at the breakneck pace that Alabama loves, and if the Bruins try, they'll quickly find themselves on their way back to Westwood. UCLA has to use the shot clock, get a few offensive rebounds and keep the ball out of Alabama's hands. Facing Alabama in bas-ketball is a lot like facing Alabama in football: the longer the ball is in your hands, the less the Tide can do to hurt you.
Alabama will Cover If:
The Crimson Tide can find space and start knocking down deep shots. Alabama will take a lot of 3-pointers, and if their shots are falling early, they'll speed the Bruins up and force UCLA to play much faster than it can handle. If they start missing shots and fall behind, UCLA can take control of the game and slow it down.
Dan's Best Prop Bets
Alabama beats you by speeding you up for 20 minutes and then continuing to run in the second half while you collapse from exhaustion after trying to play at their pace. It takes depth to run with Alabama, depth that UCLA just does not have. But the Bruins can likely hang for 20 minutes, and Alabama has been known to give up a lot of points in the first half. UCLA should do enough to hit its team first-half total of 32.5 points.
Dan's Pick to Cover the Spread
UCLA can't handle a truly fast tempo, and they haven't seen a combination of speed and talent like what Alabama will throw at it. The Pac-12 is a slow-paced conference, and UCLA is ill-prepared to play this type of game. Only three teams in the Pac-12 play at a speed even close to Alabama: Arizona State, Utah, and Washington. The Bruins were 1-4 ATS against that group, and the only reason for the one cover was because they got Arizona State to overtime in one game and managed to cover in the extra five minutes.
I can't see UCLA running with Alabama for 40 minutes and not at this spread. Give me the Crimson Tide to roll into their first Elite Eight since 2004.
100% REAL CASH up to $300

USE BONUS CODE:
PREDICT100