Creighton Bluejays vs. Gonzaga Bulldogs Pick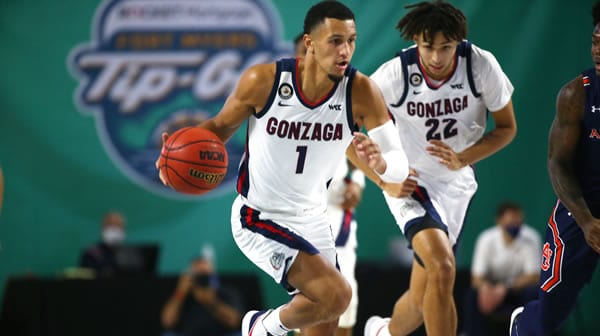 Creighton Bluejays (22-8 SU, 14-16 ATS) vs. Gonzaga Bulldogs (28-0 SU, 14-12-2 ATS)
When: Sunday, March 28, 2:10 p.m.
Where: Hinkle Fieldhouse, Indianapolis
TV: CBS
Point Spread: CREI +13/GONZ -13 (Find the best sportsbooks >>> If you aren't taking advantage of a 100% bonus or wagering on games at -105 odds, you need to visit this page!)
Total: 158
Last Time Out:
Creighton handled Ohio 72-58; Gonzaga topped Oklahoma 87-71
About the Matchup:
Creighton now becomes the latest team to try to scale the mountain that is Gonzaga, as the Bluejays attempt to build off two wins over mid-major opponents and take on the consensus best team in college basketball. Creighton was the Big East's second-best team all season be-hind Villanova, but the Bluejays have only beaten one team that's still in the tournament, as they mostly played a schedule of Big East also-rans.
Of course, thanks to a few upsets, that's actually one win more than Gonzaga has over teams who are still in the tournament. The Bulldogs play a weak conference schedule, but it was be-lieved that they'd scheduled as tough as possible by facing Kansas, West Virginia, Iowa, and Vir-ginia in their non-conference. However, all of those teams have already gone home. But Gon-zaga hasn't shown any signs of weakness all year, as West Virginia is still the only team that has even come within 10 points of the Bulldogs this season. With Gonzaga looking almost invincible, can Creighton find a way to keep this close?
Scouting the Bluejays:
I'm not going to sugarcoat this: Creighton is lucky to even be in this game. If not for a shot lip-ping out in the first round against Cal-Santa Barbara, the Bluejays would have been headed home after one game. Creighton was then fortunate to play an Ohio squad that basically forgot everything it did against Virginia and dug itself a deep hole in the first half.
That's not to say that Creighton has done nothing right, as the Bluejays have played well on de-fense and have cleaned up on the glass pretty well. But with all due respect to Christian Bishop and his 15 rebounds against Ohio, Gonzaga's got the size that the Bluejays haven't seen in this tournament. Creighton is not going to be able to get away with missing over half of its shots against the Bulldogs if it hopes to stay in the game. Marcus Zegarowski has carried the Bluejays for the past two games, but Creighton needs a consistent effort from Damien Jefferson and Mitch Ballock if it's going to keep Gonzaga from focusing on Zegarowski.
Scouting the Bulldogs:
The most surprising thing about Gonzaga's second-round win over Oklahoma was that the Sooners actually played well and didn't come close to beating the Bulldogs. Oklahoma was a solid squad in the Big 12, but Gonzaga controlled the game from start to finish and was never even challenged.
What made this one such a convincing blowout was the play of Corey Kispert and Drew Timme, with the latter going for 30 points and basically doing whatever he wanted from start to finish. The Bulldogs are great shooters, don't beat themselves, and can actually play defense as well, making them a matchup nightmare for everyone they come up against. If there is a weakness here, it's that the Bulldogs' depth is untested, and Gonzaga doesn't really shoot the 3-pointer all that well. But given that Creighton also leans heavily on its starting five, this isn't really the kind of opponent who can take advantage of the few flaws the Bulldogs have.
Creighton will Cover If:
The Bluejays can step up their shooting and get themselves hitting above 50 percent from the floor. That's going to be a tough task because Gonzaga is a top-10 squad on defense, but if Creighton does come out and shoot the lights out early, they can stay in this game and make the Bulldogs uncomfortable. But if Zegarowski again shoots under 50 per-cent from the field, it's not going to work.
Gonzaga will Cover If:
The Bulldogs can get Creighton sped up early and playing at their pace. The way that Gonzaga beats you is by making you run with them and gradually suffocating you until you can't stay on the court with them anymore. Usually, that takes the Bulldogs anywhere from 15 to 30 minutes, but this spread is such a high number that Gonzaga is going to have to do it in 20 to 25 minutes to cover it. If the Bulldogs get running early, they're in great shape.
Dan's Best Prop Bets
The over's a bit high for my taste, but I think there's a solid first-half bet here in taking Gonzaga -7.5 for the first 20 minutes. The Bulldogs have been stepping up their speed even faster than the regular season as of late, as they had both Norfolk State and Oklahoma down double digits by the break. Creighton's right on the same level as Oklahoma, and I think Gonzaga's got an excellent chance to be up ten or more points by halftime once again.
Dan's Pick to Cover the Spread
No team is invincible, but Gonzaga is pretty darn close, and the Bulldogs are playing too well to allow this Creighton team to stick with them. The Bluejays are playing with house money even to have gotten here, but they haven't shown me anything that suggests they can stay with Gonzaga for 40 minutes.
The spread is high, but I think Gonzaga can pull it off. Give me the Bulldogs to cover. Bet your Creighton/Gonzaga pick FREE by taking advantage of a 100% REAL CASH BONUS on your first deposit of $100 to $300 at MyBookie Sportsbook! 
STOP LOSING TODAY! START WINNING WITH DOC'S TEAM OF PROFESSIONALS! GET A FREE NO STRINGS ATTACHED $60 FOR THIS WEEKEND'S GAMES!
$100% Cash up to $500