UCLA Bruins vs. Gonzaga Bulldogs Prediction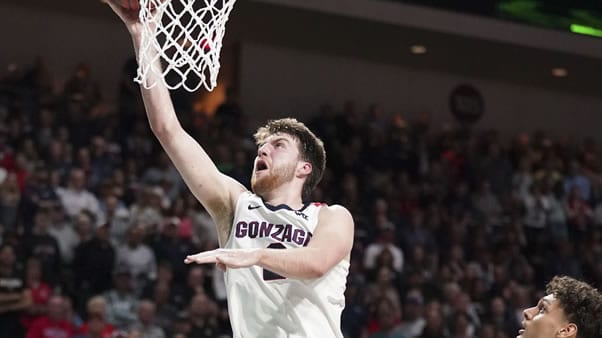 UCLA Bruins (22-9 SU, 17-14 ATS) vs. Gonzaga Bulldogs (30-0 SU, 16-12-2 ATS)
When: Saturday, April 3, 8:35 p.m.
Where: Lucas Oil Stadium, Indianapolis
TV: CBS
Point Spread: UCLA +14/GONZ -14 (BetOnline - Awesome Live Betting! Fastest Payouts Online!)
Total: 145
Last Time Out:
UCLA edged Michigan 51-49; Gonzaga rolled Southern California 85-66.
About the Matchup:
With every team east of the Mississippi now home, the best of the West Coast now get to stand tall and decide which team is really superior. UCLA brings history and pedigree into this matchup, but that's about all the Bruins have going for them, as they've really been fortunate to get this far. They should have lost to Michigan State in the First Four, they were lucky that Abilene Christian pulled off the upset of No. 3 Texas and had nothing left for the second round, they got a gift when Alabama missed its free throws in regulation, and they parlayed that into grinding out a win over Michigan to get here. Only in the first round against BYU could you say that UCLA truly took care of business entirely on its own from start to finish. Yet they're still here, and all they need is a chance to pull an upset.
But Gonzaga hasn't even given its opponents a chance to breathe through the first four rounds. Not once in this tournament has Gonzaga even been threatened in the final 30 minutes of any of its first four games. The Bulldogs got off to a slow start against Oklahoma, but they were in firm control of the game well before halftime. USC destroyed its first three opponents, but the Trojans couldn't come close to competing against the Bulldogs and were out of the game by halftime. This feels like a team on a mission, and nothing short of a national championship is going to satisfy this squad. Can UCLA's miracle run somehow make it the first No. 11 seed to play for the title, or will Gonzaga continue its march to its coronation?
Scouting the Bruins:
After this season, Mick Cronin is never again going to have to answer questions about whether or not he can get a team to play its best basketball in the NCAA tournament because the fact that these Bruins are still playing is nothing short of a miracle. Johnny Juzang put UCLA on his back against Michigan by scoring 28 points out of 51 against the Wolverines, but it's the defense that really has UCLA still standing.
So far, the only offense that has managed more than 65 points against the Bruins was run-and-gun Alabama, and even the Crimson Tide could only manage 70 points in regulation and 78 with five minutes of overtime. But that number could easily have been worse if the Tide had shot better than 11-for-25 from the free-throw line, and that gives UCLA a lot of cause for concern. The Bruins can't count on Gonzaga missing foul shots, and they're a guard-heavy team that doesn't have an answer for Drew Timme inside. In short, this is a really bad matchup for UCLA, as Gonzaga has seen plenty of teams that like to slow the game down and knows exactly how to handle them.
More Picks: Houston vs. Baylor Final Four Pick >>>
Scouting the Bulldogs:
Can anyone stop this team? It sure doesn't look like it, as Gonzaga has done whatever it's wanted to do to everyone it's come up against. The Bulldogs were nothing short of dominant against USC, controlling every aspect of the game and neutralizing the Trojans' biggest strengths. The Mobley's got their points against Gonzaga. Still, Drew Timme and Corey Kispert made sure that was all they got, as they outrebounded and outscored USC's interior players and allowed the Bulldogs to take complete control of the game.
Gonzaga does this better than anyone else: it takes its opponent's strengths and turns them on their head so that even when a team does play well, it still feels like they had an off night. The Bulldogs do it because they're so talented at every position and can play however they need to in order to win that game. The one weakness Gonzaga has is that it cannot shoot its way back into a game if it ever gets behind, as it doesn't shoot the 3-pointer well at all. But when you shoot inside as well as Gonzaga does, you don't need the deep shot.
UCLA will Cover If: The Bruins can play this game at a walk and hit their shots when they come. Gonzaga isn't a great 3-point shooting team at all, so if UCLA can get a few shots to drop early, they could get a lead. Gonzaga also tends to take about a half to make adjustments on defense, so if the Bruins start well, they'll stay in the game and have a chance for an upset. If not, it will get out of hand.
Gonzaga will Cover If:
The Bulldogs can step on the gas early in the first half and crush the Bruins inside. UCLA's one hope is based on its ability to stop Gonzaga, as the Bruins cannot hope to win a scoring contest. If Gonzaga proves it cannot be stopped, it'll prove it cannot be beaten at the same time.
Dan's Best Prop Bets
The Bruins have actually been putting up points pretty well in the first half, and Gonzaga usually takes about 20 minutes before the defense tends to get settled in. UCLA will have to score in order to stay in this game, so the first half total of 68.5 looks very reasonable. If it doesn't hit, UCLA will be the latest to have to figure out a plan B in order to avoid getting blown out by this juggernaut.
Dan's Pick to Cover the Spread
Forty-five years ago, when Indiana became the last team to go undefeated in college basketball (doing so with a 32-0 mark), its Final Four opponent was UCLA. Coincidentally, the Bruins lost that game by exactly the same margin they're getting as the spread here, succumbing to the Hoosiers in a 65-51 loss. But that UCLA squad was the defending national champion trying to hang on to its glory. This UCLA team hasn't been to the Final Four since 2008, and this was still a flawed team that's had a very charmed run in this tournament.
The Bruins are not on Gonzaga's level, and the only team in the country who might be is playing in the first semifinal on Saturday. Nobody's gotten to the national championship game unscathed since Larry Bird, and Indiana State managed it in 1979, but this Gonzaga team looks ready to do it and do it in style. Give me the Bulldogs to get No. 31 and the cover before they go for history on Monday night. Bet your Final Four picks for FREE by taking advantage of a 100% real cash bonus on your first deposit of $100 to $300 at MyBookie Sportsbook! (Must use bonus code PREDICT100).