Virginia Cavaliers vs. North Carolina State Wolfpack Pick 1/29/19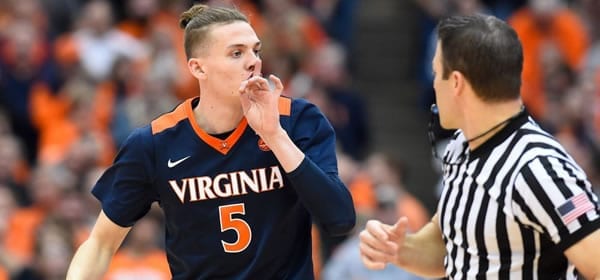 No. 3 Virginia Cavaliers (18-1, 16-3 ATS) vs. No. 23 North Carolina State Wolfpack (16-4, 12-8 ATS)
When: Tuesday, January 29th, 2019 – 7:00 pm ET
Where:
TV: ESPN 2
Point Spread: UVA -7.5/NC ST +7.5 (5Dimes)
Total: 133.5
Believe it or not, picking a Duke team with the three top NBA prospects on its roster to cover the spread on the road in a conference game takes more balls than you would think (It doesn't – it was straightforward and obvious. Don't bet against frickin' Duke).
My mission to go undefeated in my spot-start as the NCAA Basketball handicapper is off to a rollicking start, and it's let keep it going on Tuesday night as we take a look at UVA versus NC State. After suffering their lone loss of the season to the aforementioned Blue Devils, Virginia has bounced back with a vengeance, and their offense has looked as formidable as their pack-line defense. NC State, meanwhile, shook off a Louisville loss by upending The School That Zion Didn't Go To Clemson Tigers. Despite being on their home court for this one, NC State is currently getting 7.5-points from sports books and the total is set to a UVA-esque 133.5 points. Strap in, I think?
Wahoo for the Wahoos
The UMBC is stained in permanent ink across UVA's ledger, but a national championship for Kyle Guy and his merry band of cohorts would be too perfect to be true. So far, UVA has done nothing but prove the haters wrong, and they have all of the characteristics of a team poised to make a deep March run. Oh no – it's happening again. We're all getting sucked into UVA's upside. Somebody let me off of this ride!
Before they can contend for a national title, UVA still has to get through the gauntlet of the ACC. NC State's home-court is no joke, and UVA will need to maintain its balanced attack to come away victorious. That's always the buzzword for UVA: balance. Their offensive equity is divided evenly between Kyle Guy, Ty Jerome, and Deandre Hunter, and it's a recipe for success. This season, UVA has even shown flashes of offensive potential as Guy makes a full-on J.J. Redick impression, and they've scored 73.1 points per game in ACC play. According to KenPom, UVA has the second-ranked defense and offense, and their game plan of defensive disruption coupled with their elite shot-making should get the job done. Road games in the ACC are no joke, but if UVA plays its best game, the Wolfpack have no way of answering.
One-man Wolfpack
Unlike the days of Dennis Smith Jr. or T.J. Warren, there really is no one stand-out man on NC State's roster. Torin Dorn is the go-to guy both statistically and in a leadership capacity, but Markell Johnson's return was a bigger deal than I think the Wolfpack were willing to let on. With a balanced attack of their own, NC State has all of the makings of one of those 8-seeds that I talk myself into making the Elite Eight before they lose on a tip-in buzzer beater to Seton Hall in the Round of 64. I've seen this movie too many times before. I'm over it.
Forgive my tournament talk – it's virtually impossible to talk big picture about a team without mentioning the Big Dance. In order to secure their spot there, a W over one of the country's elite would sign, seal and deliver it. As mentioned above, Torin Dorn is a man amongst boys, and despite his many and versatile talents, Deandre Hunter may not be ready to deal with him. NC State's defense isn't anything special, but Kevin Keatts is a quality coach who may be able to figure out UVA's defensive scheme. The Wolfpack have been ravenous since ACC play started, and they're scoring 77.9 points per game in conference play. With the new clutch X-factor Braxton Beverley to turn to in times of distress, NC State may be able to throw enough curve balls at UVA to keep it close, or even sneak out a W.
Best Bet
It's hard to bet against a coach as handsome and likable as Tony Bennett, but NC State is perpetually one of the biggest Giant Killers we have in the college basketball landscape. With UVA's grinding defense and slow, demoralizing pace, I can easily see them being unable to separate themselves from the Pack, and the number is just too high. You know how in the NBA they say that the series doesn't start until someone wins on the other team's court? In college basketball, ACC play doesn't begin until NC State upsets Duke, UNC or Virginia. Or, at the very least, stay within 7.5 points. If it's not too much to ask.
Final Score Prediction: UVA 69 – NC State 67