[et_pb_dcsbcm_divi_breadcrumbs_module hide_homebreadcrumb="off" homebreadcrumbtext="Home" separator="sep-raquo" hide_currentbreadcrumb="off" homebreadcrumborientation="left" _builder_version="3.8″ fontsbreadcrumbs_font="Lato||||||||" fontsbreadcrumbs_text_color="#000000″ fontsbreadcrumbs_font_size="15px" fontsbreadcrumbs_line_height="16px" fontsseperator_font="||||||||" fontsbreadcrumblinks_font="||||||||" fontsbreadcrumblinks_text_color="#2567cf" custom_margin="25px|||" custom_margin_phone="30px|||" custom_margin_last_edited="off|desktop" custom_css_main_element="font-family: Helvetica Regular;" disabled="on" global_module="3641″ saved_tabs="all"][/et_pb_dcsbcm_divi_breadcrumbs_module]
Virginia Cavaliers vs. Duke Blue Devils Pick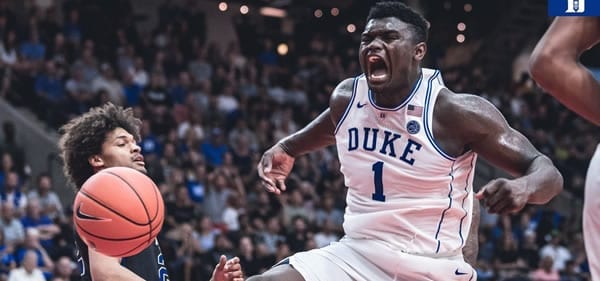 Virginia Cavaliers (16-0 SU, 13-3 ATS) vs. Duke Blue Devils (14-2 SU, 10-6 ATS)
When: Saturday, January 19, 2019 – 6 PM ET
Where: Cameron Indoor Stadium, Durham, N.C.
TV: ESPN
By: Dan Jamison, College Basketball Handicapper, Predictem.com
Point Spread: UVA +2/DUKE -2
Total: O/U 139
Last Time Out: Virginia smashed Virginia Tech 81-59; Duke lost 95-91 in overtime to Syracuse.
Scouting the Cavaliers:
Prior to last year, Duke had been a true house of horrors for Virginia, as the Cavaliers had lost 17 straight games in Durham against the Blue Devils. But this Virginia team seems poised to put aside all its old failures, and it's done so by developing its offense along with its defense. The Cavaliers play at the slowest pace of any Division I school, but they're efficient when they do have the ball, scoring an average of six points on every five trips down the floor. Kyle Guy has been the main catalyst for the Wahoos by upping his shooting percentage to 47.2 percent, and he's hit double figures in 10 consecutive games.
READ: AFC Championship Over/Under Total Pick
Scouting the Blue Devils:
The story for the past week has been about Duke and how it will adjust to losing Tre Jones, but the Blue Devils still have R.J. Barrett, Cam Reddish and Zion Williamson in their lineup, so Duke isn't exactly hurting for talent. Instead, this will be a test of just how far Duke's talented freshmen can take them as they face what might be their toughest test yet. Like Virginia, the Blue Devils have won with offense as well as defense, and they sit fourth in the nation in both categories. Unlike Virginia, Duke likes to push the tempo and get itself out in transition as often as possible. Whether the Blue Devils can still do that without their point guard, however, remains to be seen.
X-Factor:
The loss of Tre Jones. Mike Krzyzewski is at his best when Duke loses a key player and he has time to adjust his strategy to make up for that player's absence. One of the best examples of this came in 2001, when Duke lost Carlos Boozer to a broken foot against Maryland, lost to the Terrapins and then turned around and beat North Carolina on the road. Much has been made of Duke being vulnerable without Jones, but the reality is that Duke is still loaded with talent and Krzyzewski has been able to prepare to play Virginia without Jones since the loss to Syracuse.
Virginia will Cover if:
The Cavaliers handle the moment well and don't beat themselves. Virginia's offense is much improved over past Tony Bennett teams, but it probably won't be enough for this game to turn into an offensive showcase given how impressively both teams defend. But that's OK for the Cavaliers, because last year, they didn't get much from their offense against Duke and still managed to best the Blue Devils at Cameron. Virginia won that game because the Cavaliers coughed it up a mere five times for the entire contest, offsetting the margin Duke had in 3-pointers.
Betting Side note: Odds comparison is important and players tend to do it less and less these days because it is hard to spot a better line and then withdraw funds and move it to another sportsbook book before the game tips off. The solution is using bitcoin and the best bitcoin sportsbooks. In minutes you can fund a betting site and get a half point on the better. The best part however is you never have to keep your money at your sportsbook. 
Duke will Cover if:
The Blue Devils can catch Virginia off guard with their new strategy. When Duke has had to replace a key player in the past, the Blue Devils have kept their plans on how they're going to get past the injury silent until they actually get to play a game, so there's not much there for Virginia to scout. However, Virginia adjusts quickly to what opposing teams and coaches throw at it, so it's vital that Duke build a big lead while Virginia is still trying to figure out what Duke is going to change with no Jones on the floor. If the Blue Devils can't get that big lead early, there's a good chance that they'll have missed their chance to take control of the contest.
Dan's Pick to Cover the Spread:
Let's get one thing straight: Duke without Tre Jones is better than a lot of teams in the nation. The Blue Devils aren't going to be hurting in most situations, no matter how long it takes Jones to recover. But that said, I've got to go with the Cavaliers here simply because I think this matchup is a nightmare for Duke.
What makes Virginia so difficult to prepare for is that the Cavaliers are unlike any opponent in college basketball. They have the defense, yes, but unlike other great defenses like Michigan or Texas Tech, the Wahoos have the offense to match. There's also the contrast in styles between Virginia's patient strategy and Duke's ideal of pushing the pace from the word go. The problem with pushing the pace is that you need a good point guard to do it, and Duke's point guard is out with a shoulder injury.
I know that Krzyzewski is among the best in the business at making adjustments to his squad, but any adjustment here is going to result in Duke playing slower, not faster, and a slower pace plays right into Virginia's hands. Duke cannot win if it has to play Virginia's game, and the fact that I'm getting two free points with the Cavaliers only makes them more appealing. I like Virginia to get its second straight win in Durham and establish itself as the premier program in the ACC to this point in the season, and I'd be willing to take them on the money line to maximize my payout.
TIRED OF YOUR CREDIT CARD NOT WORKING AT SPORTSBOOKS? IT WILL AT MYBOOKIE+ GET a $1000 Free Play!