[et_pb_dcsbcm_divi_breadcrumbs_module hide_homebreadcrumb="off" homebreadcrumbtext="Home" separator="sep-raquo" hide_currentbreadcrumb="off" homebreadcrumborientation="left" _builder_version="3.8″ fontsbreadcrumbs_font="Lato||||||||" fontsbreadcrumbs_text_color="#000000″ fontsbreadcrumbs_font_size="15px" fontsbreadcrumbs_line_height="16px" fontsseperator_font="||||||||" fontsbreadcrumblinks_font="||||||||" fontsbreadcrumblinks_text_color="#2567cf" custom_margin="25px|||" custom_margin_phone="30px|||" custom_margin_last_edited="off|desktop" custom_css_main_element="font-family: Helvetica Regular;" disabled="on" global_module="3641″ saved_tabs="all"][/et_pb_dcsbcm_divi_breadcrumbs_module]
Patriots vs. Chiefs: AFC Championship Pick to Cover the Spread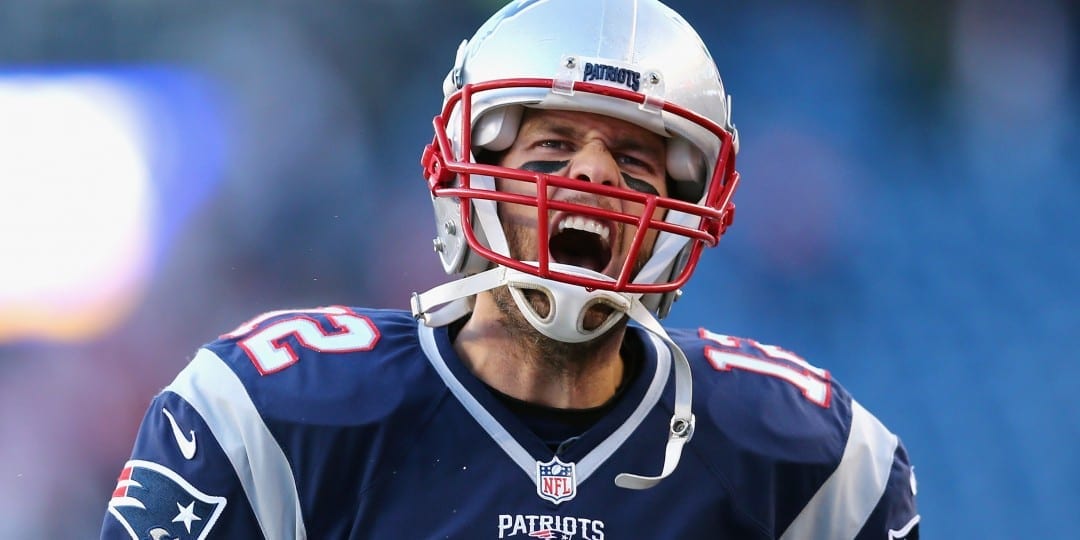 New England Patriots (12-5 SU, 10-7 ATS) vs. Kansas City Chiefs (13-4 SU, 10-6-1 ATS) AFC Championship Preview and PIck to Cover the Spread
When: Sunday, January 20th, 6:40PM ET
Where: Arrowhead Stadium, Kansas City, MO
TV: CBS
Point Spread: Opened at NE +3/KC -3. Line has held steady until time of print.
Over/Under: Opened at 57.5 and has dropped to 55.5.
Money Line: Pats +148/Chiefs -170
Power Ratings: KC by 6.
Quick Recap of Last Weekend's Divisional Playoff Games
Both teams destroyed their opponents on their home fields. The Patriots beat up the Chargers 41-28 in a game with a completely misleading final score, as the Pats were up 35-7 at halftime.
The Chiefs romped the red-hot Colts in a game that turned a lot of heads. Count me as one of the knuckleheads that thought Luck and Co. would come out of Arrowhead with a straight up win. Boy I was wrong. The Chiefs took a 24-7 lead into the locker room at at the half and it was one of those games that you "just knew" was over.
NFC Championship Pick: Rams Take On The Saints!
The Weather: Arctic Blast?
Earlier this week, a potential sub-zero "Arctic Blast" was in the forecast for Kansas City and it was feared that this weekend's match up would be one of the coldest in NFL history, but since then, conditions have gotten better and are now expected to be as high as 32 and as low as 21. Chiefs QB Patrick Mahomes was quoted as saying that he's not planning on wearing a glove on his throwing hand.
Injury News
Both teams are very healthy. Chiefs Safety Eric Berry sat out last week's game with a heel, but is probable for Sunday's AFC Championship game.
Variables to Consider
When I think NFL playoffs, I think New England Patriots. How can you not? They've been a mainstay in post-season play for as long as I can remember. Also in the background of that mental picture, is Foxboro. The Pats seemingly always have home field advantage, don't they? So that leaves one to wonder how Belichick, Brady and Co. have fared away from home. The answer is somewhat shocking. They're 3-4 both straight up and ATS. Could the road be Tom Terrific's kryptonite? Unbelievably, this will be the first time in 68 games in which Brady's team is the point spread underdog (that's 1218 days for you stat rats) and only the second time since 2007 that they've come into a game as a playoff underdog.
On the other side of the field lives yet another enigma. Chiefs coach Andy Reid, who has won 61% of his career regular season games, but has struggled in playoff games, going 11-13 overall, including 1-4 with the Chiefs. In his defense, those four losses were by a combined total of 11 points! I'm giving this guy a pass here as he's more likely to regress to the mean rather than suffer more bad beat losses. He was up handily in a couple of those games, so you better believe he's gained wisdom when it comes to clock management. My bet is that he's learned from those mistakes.
GET A FEEL FOR THE GAME AND THEN JUMP IN USING THE LIVE BETTING FEATURE AT BOVADA SPORTSBOOK YOU'LL RECEIVE A 50% BONUS TOO!
Home Field Advantage This Deep in the Playoffs is HUGE
Home teams have won each of the last 10 conference championship games. Arrowhead is a tough place to play. The Chiefs have only given up 17.4 points per game, compared to 34.3 on the road. The Chiefs haven't allowed 30 points at home in 34 games.
The Total May Be the Best Bet Sunday
I believe the way you beat the Chiefs is to run the ball. Furthermore, the Patriots are 7-1 when Sony Michel gets at least 18 carries and 6-0 when he scores a TD. Belichick is surely aware of this success, as well as KC's tendency to allow a generous number of rushing yards.
On the flip side, the Chiefs have had excellent success of their own running the ball vs. the Patriots. In the past two contests vs. the Pats, Kareem Hunt went for 15/185/1 and 22/246/3 (rushing) as well as as a receiver with 5/98/2 and 5/105/1. Damien Williams has been used in the same exact roll and has played exceptionally well as of late, so I expect similar results. He also has fresh legs, as he didn't see double digit carries until Week 15.
With the above mentioned, lots of runs equals lots of clock rolling. Add in some cold weather, which doesn't help the passing game and we may end up seeing more of a grinder than an aerial attack. The total opened at 57.5 and has moved down to 55.5 (at time of print Friday afternoon). I don't have a crystal ball, nor am I a fan of buying points, but I'm likely to be betting the UNDER 56 (buying a half point at -120 to make it a round 8 touchdowns) as well as the spread which I'll get to below.
The Historicals
The teams met at Foxboro back on October 14th, in which the Patriots came away with a 43-40 win. New England dominated the time of possession at 36 to 24 mins. N.E. gashed the Chiefs run D, carrying the ball 38 times for 173 yards. The Pats picked KC off twice and interestingly, had no penalties in the game. The Chiefs defense has gotten better since October, so I don't anticipate the high scoring affair we saw earlier this season.
Last season on September 7th, the teams met up at Foxboro with a different result. The Chiefs came away with a 42-27 win, rushing the ball 27 times for 185 yards. Kareem Hunt ran (and caught) wild that day and played like a man possessed. This opened things up for Tyreek Hill, who also went off, catching 7 balls for 133 yards and a touchdown.
How the Public is Betting the New England/Kansas City Game
Fairly even! The Chiefs are getting 54% of the wagering action at -3 and the books appear to like their position, as they haven't moved the line an inch. Surprisingly, but not surprisingly, the squares (uneducated general betting public) are betting the OVER to the tune of 58%. I'm somewhat surprised by this as earlier in the week that guy in the news room that predicts outdoor conditions as poorly as an old-fat-tout with a red phone, had been calling for inclement weather, which included temps around zero along with snow and wind to boot. One would think general common sense would make a guy look at betting the under, but when it comes to football and squares, Joe bettor is always more likely to favor rooting and excitement/entertainment value (more points) over looking at a bet as an investment. For the average football gambler, it's tough to imagine this game going under when you look at the past two contests and see all those points. This weekend presents us with a completely different set of variables though. Win, lose or draw, the correct play (based on logic) going into this game was and still is to bet the under.
Betting Trends Worth Noting
The Chiefs are 4-1-1 ATS in their last 6 after allowing less than 15 points in their last game.
The Chiefs are 17-5 ATS after rushing for 150 yards or more in their last contest.
KC is 13-5 in their last 18 games vs. the American Football Conference.
K. City is 5-2 ATS in their last 7 games at Arrowhead Stadium vs. a team with a winning record.
The Patriots at 2-7 ATS in their last 9 Conference Championship games.
N.E. is 1-4 in their last 5 games played on a grass field.
The Pats are 2-5 against the spread in their last 7 games vs. the Chiefs.
UNDER is 8-2 ATS in the Pats last 10 games.
The UNDER is 4-1 ATS in the Pats last 5 away from home.
UNDER is 4-0 in the last 4 KC playoff games.
The UNDER is an astounding 50-22-1 in the KC's last 73 home games.
Kevin West's Pick to Cover the Point Spread
The point spread winner of the AFC Championship game could very well come down to one play. I don't see a blowout by either team like last week. Again, no crystal ball here, but my handicapping prowess tells me that the Chiefs are going to be able to run the ball well as Bill Belichick's top strategy will likely consist of keeping Pat Mahomes in the pocket. With all the run-game success, the Patriots defense is going to be forced to respect the ground-game more than they want to, which will open up big play opportunities for Tyreek Hill, who has torched New England in his last two games against them with stat lines of 7/133/1 and 7/142/3. Belichick's secret sauce has always been to take away the other team's best weapon. The problem here is KC has three legit paths to success: 1. Run game. 2. Hill Deep. 3. Kelce over the middle. This offense is ridiculously dynamic. Plug one leak and another one sprouts. I don't think it's defensible and especially at home, where Arrowhead is and has always been one of the toughest venues in the league. I'm betting the Chiefs at -3.
Off the Wall Prop Bet
Lost in all the frakus is Sammy Watkins. We hear about Mahomes, Hill and the newly famed Damien Williams. We aren't hearing anything about Sammy Watkins. This guy is a slick receiver who is as good as anybody in the league. He just hasn't been able to stay healthy. He'll undoubtedly see the weaker of the two Pats DB's and is somebody I will be looking to take a shot at in prop bets. I was hoping to find game MVP, but haven't located that bet offering yet. The best I've found so far is "Most receiving yards this weekend" which was at +1200 (12-1). This is obviously a longshot, but it has legs. I'm limiting the bet to a lunch money play though, as noted above, I believe we see a bunch of rushing attempts Sunday. Find 100's of playoff football prop bets as well as reduced odds -105 (saves you BIG money) at 5Dimes Sportsbook!