Washington Huskies vs. North Carolina Tar Heels Pick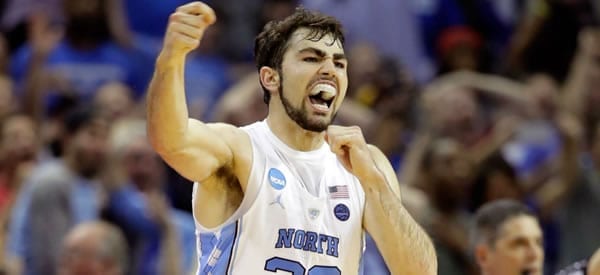 Washington Huskies (27-8 SU, 18-16-1 ATS) vs. North Carolina Tar Heels (28-6 SU, 21-11-2 ATS)
When: Sunday, March 24, 2019 – 2:40 PM ET
Where: Nationwide Arena, Columbus, Ohio
TV: CBS
Point Spread: WASH +11.5/UNC -11.5
Total: O/U 148
Last Time Out: Washington beat Utah State 78-61; North Carolina beat Iona 88-73.
Scouting the Huskies:
This was a genuinely maddening team this year. Washington was the best the Pac-12 had to offer, but the Huskies were very inconsistent, playing Gonzaga to the buzzer but losing to a horrendous California team. So do they have a chance against the likes of North Carolina? That honestly depends on what kind of defensive efforts they can give. Washington does boast a top-20 defense, ranking 18th in the nation at KenPom, and the main reason for that is the steals. Washington ranks ninth in the country at nine steals a game, and the Huskies used that to their advantage against Utah State, forcing 21 turnovers in the game. They'll have to get a similar number against Carolina in order to keep the season alive.
Scouting the Tar Heels:
That game was a little bit unexpected for the Tar Heels, as Carolina had a difficult time getting rid of pesky Iona. Roy Williams blamed his team's mindset more than anything the Gaels did, and if that's the case, that's actually a good thing because the veteran is one of the best at getting through to his team and letting them know just how ticked off he is. Remember, Williams famously got steamed at his team following a blowout loss at Michigan, and the Tar Heels quickly responded, beating Gonzaga among others.
The key to beating North Carolina is with defense. The Tar Heels are a strong shooting team, averaging 46.4 percent from the field, but every one of their losses has come when they've been held below that number. In four of their six losses, they failed even to break 40 percent from the floor. Winning a scoring contest with Carolina is impossible, a team needs to clamp down and stop the Heels from getting good looks. Against Iona, the Heels were right around their average and only stopped things from getting worse by stepping up on defense.
X-Factor:
Tempo. Washington isn't the kind of team that's going to push the ball, and that's a major change of pace from the breakneck type of game that Carolina loves. One of the best ways to beat a team that loves to run is to keep them from running and make them play your kind of game. At the same time, a team that does not like to run can find itself in a deep hole early and have a significant issue getting itself back in the contest. The team that's able to assert its will is going to be the team that's most likely to get a result.
Washington will Cover if:
The Huskies can make at least 50 percent of their shots. There is no way to sugarcoat this: Washington is going to get destroyed on the glass. The Huskies are not a good rebounding team, and the Tar Heels are one of the nation's best. If there's a missed shot, there is an excellent chance that the Heels will come up with the ball. The one defense against that is to make your shots, and Washington has to do it.
North Carolina will Cover if:
The Heels can take care of the ball. Washington's only real path to pulling off the stunner is if the Huskies can force North Carolina into mistakes and create easy baskets. Otherwise, North Carolina really doesn't have a weakness that Washington can exploit. If the Heels do what they need to do, they should be in control.
Dan's Pick to Cover the Spread:
North Carolina's first half against Iona is nothing to overreact to. It's actually fairly typical for a No. 1 seed to get pushed by a 16 and then go on a run that makes people forget the slow start entirely. As long as you survive the first game, that's all that matters, and the Heels not only survived, they won by 15 points. This is not a vulnerable team; this is a team that's likely to come out and play great to make up for what they didn't do in their first game of the tournament.
There's another factor at play here: Washington's weaknesses match up beautifully with what North Carolina does well. The Huskies can be pushed around inside, and few teams push around better than North Carolina. The Heels will be able to give themselves second chances throughout the day, and that's a great way to set yourself up to cover.
Don't expect any miracles here. The Pac-12 was as maligned as it was for a reason.
Take the UNC Tar Heels -11.5