2021 ACC Season Win O/U Bets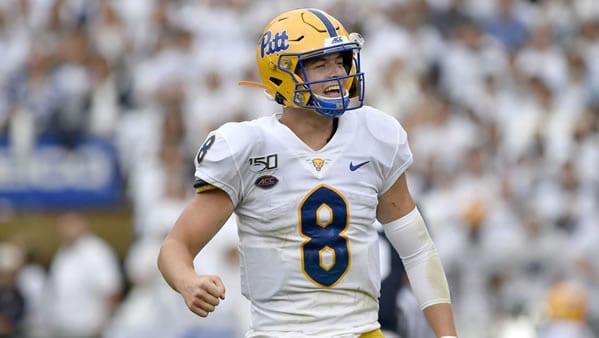 Clemson and North Carolina might get all the attention out of the ACC this season, but there are plenty of solid betting options at BetOnline for team totals from this basketball conference. With 14 teams in the league, there will always be a couple of squads that slide through the cracks. We've taken a look at each team's totals, talent, schedules, and experience to decide which teams we want to ride and which ones we'll probably fade in what we hope is a regular college football season. Here are a few of our best over and under options.
Miami Hurricanes, Under 9 Wins
This O/U number seems too high, mainly because Miami's probably going to lose its opener by multiple scores against Alabama. So already, half your margin for error is probably gone before the season is fully a week old. Of course, if Miami can somehow beat Alabama, this bet should be money, but considering that "Alabama -16.5" would have cashed in Week 1 12 times in Nick Saban's 14 years in Tuscaloosa (West Virginia and Virginia Tech managed to hold the margin to 10), there's little reason to think that Miami is going to do anything different against the Tide.
The good news is that the rest of the schedule is actually not that bad, except for the fact that there's a trip to North Carolina in there and that this team has absolutely no idea how to play as a favorite. In two years in Coral Gables, Miami coach Manny Diaz is 3-9 ATS when the Hurricanes are laying a touchdown or more, and Miami has lost the game outright on five occasions. With a loss in Chapel Hill, the Hurricanes would either have to run the table the rest of the way or win their bowl game and considering Miami has lost 10 of its past 11 bowls and that many sportsbooks don't count the bowl game as part of the bet, you really don't want to find yourself sitting on nine wins.
Unfortunately, that's probably exactly what you'll be facing. Appalachian State, Michigan State, and Central Connecticut should all be winnable games, but road trips to Pittsburgh and Florida State will not be easy, nor will a Virginia Tech squad that came to Miami and won in 2019. There's just too much that can go wrong here for me to believe in the Hurricanes to hit this number. Eight or nine wins seems like the correct number for this team.
Pittsburgh Panthers, Over 7 Wins
With how the oddsmakers are sleeping on Pitt, you'd never know this team has three straight winning seasons to its name. It doesn't hurt that the Panthers play in the Coastal, giving them a relatively manageable ACC slate. The non-conference schedule should set the Panthers up well for success, as Pitt has three weak opponents and a Tennessee team that has a new coach and only returns 12 starters. With Georgia Tech as the ACC opener, there's every reason to expect the Panthers to be 5-0 when they roll into Blacksburg to face Virginia Tech.
That's where the bet gets a bit dicier because the Panthers have never done particularly well against the Hokies at Lane Stadium. You'll want to circle that game as an under play because all four of the teams' ACC meetings in Blacksburg have seen 34 points or less, and the Panthers haven't scored more than 17 on VT as an ACC member. Home games with Clemson and Miami don't help matters, but November should allow the Panthers to make up for it.
Pitt closes with winnable road games at Duke and Syracuse, along with hosting North Carolina and Virginia. The Tar Heel game might be more winnable than it looks for the Panthers because it's a Thursday night trap game, and Carolina will be coming off tricky games with Notre Dame and Wake Forest in its previous two weeks. Virginia is also a winnable game, as the Panthers have won three of their past four matchups with the Cavaliers. This bet might feel like a loser in October but have some patience. The Panthers should be able to reward you with seven or eight wins this season.
Wake Forest Demon Deacons, Over 6.5 Wins
This bet is all about whether the Deacons can start fast because if they can, they're going to cash this bet with several games to spare. The good news is under Dave Clawson, Wake has been a quick-starting team. The Deacons have started 4-0 or better in three of his past four non-COVID seasons, and the one exception was because the ACC gave the Deacons a conference game and Notre Dame during the first four weeks of the schedule.
Things should be more of a return to form this time. None of Wake's first eight games are particularly scary, as they get four of their first five at home, and the lone exception is a trip to Virginia. The non-conference slate provides them two gimmes, and they follow that with a rebuilding Florida State in Winston-Salem. If they can get by the Seminoles, the Deacons could very well be 6-0 when they get to the middle of October, and Games 7 and 8 are against Army and Duke, both of which are very winnable games. The Blue Devils do come off a bye, but Wake has won three of its past four matchups against Duke and should like its chances here.
The big problem is that if Wake doesn't cash by Game 8, it's going to be difficult to cash the bet at all. The Deacons play three of their final four games on the road, and two of those include Clemson and North Carolina. There is hope in the other two games, as the Deacons have won consecutive trips to Boston College and have beaten N.C. State in eight of the Wolfpack's past nine visits to Winston-Salem. Ideally, Wake finds itself sitting pretty by the time it rolls into Chapel Hill on Nov. 6 and gets back to the form it's shown under Clawson. The Deacons have won either seven or eight games in each of Clawson's past four non-pandemic seasons, and this year's schedule sets up well for that to happen again. With a bit of luck, the Deacons could have a nine-win season for the first time since 2007.
N.C. State Wolfpack, Under 6.5 Wins
On paper, N.C. State should not be a six-win team. On the field, the Wolfpack might be exactly that, in large part because the schedule is not set up well for this team to succeed. A Sept. 11 trip to Mississippi State could be a real problem, as State has dropped seven of its past eight games against SEC opponents. Two weeks after that comes Clemson, which has won the Textile Bowl in 15 of the last 16 matchups against the Wolfpack.
The schedule gets no friendlier from there. Even if State should be 3-2 when it comes into the second half of its schedule, the second half of the slate begins with back-to-back trips to Boston College and Miami, and the Wolfpack's final road game of the year is at Wake Forest, where they're 2-10 over their past 12 trips down Interstate 40. Lose all three of those roadies, and the Wolfpack will have to find a way to win in Tallahassee against Florida State and win the season finale with North Carolina just to get to seven victories.
All of that assumes that State doesn't stub its toe in any of its home games outside of Clemson. When you're counting on a team to go 6-1 at home to make your totals bet happen, that team better be either a genuine contender to win the national championship or be playing its home games in one of the toughest stadiums in the country for a visiting team.
ANOTHER GREAT PLACE TO BET ON COLLEGE FOOTBALL SEASON WINS: BOVADA SPORTSBOOK! CREDIT CARDS WORK THERE, YOU RECEIVE A GENEROUS 50% SIGN UP BONUS AND YOU GET REBATES ON ALL YOUR BETS!
CLICK HERE TO SIGN UP NOW!
N.C. State has neither of those factors working in its favor. The Wolfpack do have plenty of experience on their side and a history of getting over the line, as they've gone 7-6 or better in five of their past six non-COVID seasons under Dave Doeren. But having 19 starters back isn't likely to be enough to get the job done against this slate. The Wolfpack missed Clemson last season and got Duke, Georgia Tech, Florida State, and Wake Forest at home last year, but the Blue Devils and Yellow Jackets are gone from the schedule, and the Seminoles and Demon Deacons are now tricky road trips. The final equation adds up to a team that's likely to be a six-win squad that's criminally underrated in its bowl game and cashes nicely in the postseason, but for this bet, the Wolfpack are likely to come up one win short of the number you need.
Duke Blue Devils, Over 3.5 Wins
No, you didn't accidentally click on the college basketball preview: this is really a recommendation to bet Duke to go over its win total in football. The Blue Devils didn't hit it last year in a 2-9 slop fest, but there's reason to believe in Durham. First, Duke was minus-19 in turnovers a year ago, which is usually something that gets cleaned up from season to season. If the Blue Devils can cut their turnovers to single digits, which they should, given that they have an excellent coach in David Cutcliffe, they'll have no problem being better than last year.
Second, Cutcliffe knows how to get blood from a stone. Going 74-88 all-time at Duke is a minor miracle, and there's no doubt that he'll get the most out of his team with normal practices. Third, Duke gets to play non-conference games again, and the Blue Devils have a very soft non-conference slate. It doesn't get much easier than Charlotte, North Carolina A&T, and Kansas, and even though Northwestern will be a challenging fourth non-conference game, the Blue Devils tend to play well against the Wildcats (the teams are 10-10 against each other overall.)
Worst-case, Duke, should roll into ACC play at 3-1, which means that you just need one ACC game out of eight to go the Blue Devils' way to win this bet. Georgia Tech comes to Duke in the Blue Devils' sixth game of the season, and the Yellow Jackets have lost three straight in Durham, all of them by at least 14 points. That might just be enough to cash.
Georgia Tech Yellow Jackets, Under 4.5 Wins
This doesn't look good. The Jackets start with two games they should win fairly comfortably in Northern Illinois and Kennesaw State, but the schedule quickly turns nightmarish in a hurry, as Georgia Tech follows by going to Clemson and hosting North Carolina, which should be the two strongest teams in the ACC this year.
It doesn't get easier from there. Georgia Tech has had real problems with Pittsburgh, losing four of its past five meetings with the Panthers, and the less said about the Yellow Jackets' past two trips to Duke, the better. Based on history, there's a very real chance that Tech could be 2-4 going into its bye week, which would require three wins out of six for this ticket to cash.
Unfortunately, Tech doesn't have the ability to play four soft non-conference foes because the Jackets have that pesky rivalry with Georgia, which has lately been about as much of a rivalry as Bulldozer vs. Dandelion when the Yellow Jackets have hosted. The last time Georgia Tech won at home against the Bulldogs, the Y2K virus was seen as "Trouble Ahead," as Georgia has won on its previous ten trips to Dodd Stadium. Throw in road trips to Miami and Notre Dame (yet another tough non-conference game), and the Jackets might have to beat Boston College and sweep the Virginia schools in order to get to five wins. This line seems a bit too tough; four wins might be the ceiling for Tech this year. Bet YOUR NCAA football season wins bets FREE this season by taking advantage of a 100% REAL CASH bonus on your first deposit of $100 to $300 at MyBookie Sportsbook! (Must use bonus code PREDICT100).
100% REAL CASH up to $300

USE BONUS CODE:
PREDICT100