College Football Season Win Bets – Analysis & Picks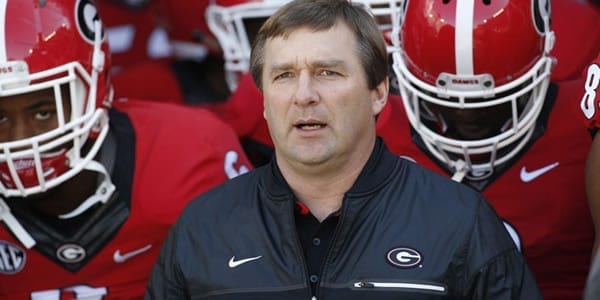 Summer means one thing: it's time to prepare for the college football season. With only two months to go before the first games, now's the time to get some picks in on the over/under bets and take advantage of a few spots where teams are either underrated or overrated. We've taken a look at some of the biggest names in college football and their projected win totals offered at 5Dimes to give you a sense of whether you should bet them on the over or the under.
Alabama Crimson Tide
2018 record: 14-1
Total wins: 11
Betting on a team to go 11-1 is usually not a great play, but Alabama's good enough to hit that mark. First, the Crimson Tide are just as good as they were a year ago, if not better. Tua Tagoviloa is a year older and a year wiser, and that's a scary thought given how much he carved up defenses in the 2018 campaign.
So, can the Tide get through this slate? I think so. Their one real trap game is Mississippi State because they've got to go to Starkville the week after facing LSU. Beating the Tigers is never easy, and coming down from that high can be a tough thing to do. If Alabama is going to lose a game, Mississippi State is probably the one because of where it falls on the schedule. The rest of the slate is pillow soft, as the only other tricky test is at Texas A&M — and the Tide has a bye week before facing the Aggies, giving them two weeks to prepare for the trip to College Station. Auburn will not be easy at the end of the year, but the Tide does have an FCS opponent before that game, and that's really it for the challenges, as South Carolina is still two or three years away and the rest of the schedule is either in Tuscaloosa or against Duke in Atlanta.
This bet looks like a push or a win, as Alabama is good enough to go 12-0, but I could see them going 11-1. If you're going to bet it, I like the over.
---
Auburn Tigers
2018 record: 8-5
Total wins: 8
Man, what a bear this schedule will be. You might be surprised to see Auburn listed at only eight wins until you take a look at what the Tigers have coming up this year. The opener is tricky, an improving Oregon team on a neutral field. That game could easily go in either direction. Things don't get easier when they enter the SEC, where their first three games are at Texas A&M, home to Mississippi State and at Florida. Surviving that at 2-1 will be an outstanding accomplishment for the Tigers.
It doesn't end there. After getting through the first three, Auburn still has to go through LSU in Baton Rouge, and they've got Georgia and Alabama waiting for them on the Plains. In short, Auburn has seven games that it could easily lose even if it plays its best. To hit this bet, the Tigers will have to win at least three of those games AND avoid the kind of schedule losses that can happen in the SEC. For example, the week before LSU, Auburn has to go to Arkansas. The Razorbacks don't pose the same threat as LSU or Florida, but is Auburn going to be mentally ready to handle a trip to Fayetteville sandwiched between those games?
Bottom line, there's a lot that can go wrong with this schedule, and it's why I'm skittish about taking Auburn to beat this win total. The Tigers certainly could manage it, as they're a talented bunch, but the slate of games did them no favors. I think they're going to go under this time around.
---
Boise State Broncos
2018 record: 10-3
Total wins: 10
Sometimes, the schedule really does you a favor. That's precisely what happened with Boise State this year as it opens the year with Florida State. Once upon a time, this would have been a beast of an opener, especially with the game being played in Jacksonville. When this home-and-home was scheduled, that's exactly what it looked like. Florida State was coming off an Orange Bowl win and was nine months away from capturing a BCS championship with a perfect season.
But that was 2013. This Florida State team went down the tubes last season and now projects to be little more than a speed bump for Boise State. That's a good thing because the Broncos will likely have a true freshman under center against the Seminoles and will use that game to get their feet wet. Other than that, the schedule sets up beautifully for the Broncos. Of their Mountain Division rivals, they drew the weakest one away in Colorado State, while Air Force, Wyoming and New Mexico all make the trip to the Blue. Unless the quarterback position proves to be a question that Boise can't answer, the only real challenges on the Broncos' schedule are at Brigham Young and at Utah State, the latter of which figures to be the only real threat to the Broncos winning the Mountain Division.
Make no mistake there, the Aggies are very good and are very capable of beating Boise State on any field, especially playing in Logan. But unlike Utah State, which has to visit a criminally underrated Fresno State and plays non-conference games with the likes of LSU, Boise State just doesn't have much that can test it on its schedule. I don't think the Broncos are as good as they've been in the past, but their record won't reflect that. Boise State should be a good bet for 10 or 11 wins.
---
Central Florida Knights
2018 record: 13-1
Total wins: 10
Can the Knights keep this going? On the one hand, Central Florida now faces a rebuild because McKenzie Milton is out for the season after his horrific leg injury against rival South Florida a year ago. The Knights had no answer behind him at quarterback and lost to LSU in the Fiesta Bowl. On the other, even without a quarterback, UCF outplayed the Bayou Bengals in the first half and nearly knocked LSU out of the game in the first quarter before an ill-timed unsportsmanlike conduct penalty gave the Tigers new life and proved the Knights' undoing.
So now former Notre Dame quarterback Brandon Wimbush steps into the void and gets his chance to lead the Knights. He struggled in South Bend, but he's got the athletes around him to find success in UCF's offense and the schedule to lead them to success. First, UCF doesn't have to play Memphis. That's huge because the Tigers are the best in the American's West Division. Second, South Florida comes to Orlando. Playing a rival at home always helps. Third, UCF is a better team than either Stanford or Pittsburgh and should win both games comfortably.
But the concern is the two other solid teams in the American East, Temple, and Cincinnati. UCF drew both of them on the road, which could lead to problems. Luckily, the Knights get Connecticut at home before facing the Bearcats, and the Huskies were the worst team in the nation last year, so this is essentially a walkover for UCF. The real concern is Temple.
But Temple alone isn't enough to derail the Knights. UCF might not get another 12-0 campaign, but I think 11-1 is very much within reach. I'm taking the over here.
---
Clemson Tigers
2018 record: 15-0
Total wins: 11.5
Yes, that's right: to take this bet, you are betting on a perfect season for Dabo Swinney's crew. Clemson is an outstanding team, probably the most talented in the entire nation. But the Tigers are prone to one screw-up per season where they just don't play their kind of football for whatever reason. Last year, they got away with it by surviving Texas A&M and Syracuse. This year, they have to go to Syracuse, and Texas A&M is a year older and a year better than it was a season ago. Given that they have to play those two games back-to-back, that suggests a schedule loss is very possible for the Tigers.
The rest of the ACC doesn't look that challenging outside of a late-season road tilt at N.C. State, but that's the problem with this bet: Clemson has absolutely no margin for error if you're taking the over. You can't even push if the Tigers screw up one game like you can with other favorites. If Alabama goes 11-1, you get your money back. If the Tigers do it, you lose.
Can Clemson go unbeaten? Of course, it can, it did exactly that last year. But the Tigers had to survive two close calls to do it, and I don't think they'll do so a second time. But here's the thing: it doesn't matter, because absolutely nobody should be betting the over. Think about it: if you take the over, you're essentially betting a 12-game parlay at -110. Nobody would ever do that, so why would you? Instead, if you want to bet the over, take the money you would have spent on that bet and bet Clemson on the money line every week, rolling the profits into each new bet. Even if Clemson averages -1000 a week for the season, you'll still more than quadruple your original investment. Betting the over only makes you just under double your money. It's a no-brainer.
Bottom line: stay away from the over. Either bet the Tigers every week or take the under.
---
50% Cash up to $250

Florida Gators
2018 record: 10-3
Total wins: 9
My feelings on the Gators are pretty clear: I'm not impressed. Florida was a very soft nine-win team last year and got to 10 wins on the strength of a win over a Michigan team that was missing several starters and was a shell of itself in the bowl game. The schedule gets a lot tougher for the Gators, namely in the form of their road games in the SEC.
Honestly, Florida could lose all four of its SEC road games, and the rest of the schedule isn't exactly a cakewalk. The Gators face two neutral-site games against Miami and Georgia, the latter of which is going to be the sternest test on the schedule. Auburn also comes to Gainesville this year, which makes for a simply brutal October that will test whether or not Florida can achieve the expectations placed on this program.
I don't see it happening. Florida's fortunate that Florida State isn't the same team it's been in past years, but a robust SEC slate is likely going to be too much for the Gators to overcome. This team rode a soft schedule last season to a respectable mark, but they've not shown that they are really ready to compete in the SEC East. Actually, even though they won 10 games last year, they seemed to take a step back behind Kentucky as well as Missouri last year. It wouldn't surprise me at all to see Florida finish third or fourth in its own division. I'd take the under.
---
Florida State Seminoles
2018 record: 5-7
Total wins: 7.5
On the surface, 7.5 seems modest for a program with Florida State's history. But are the Seminoles even capable of winning eight games this year after winning just four games against FBS competition last season?
I don't think so. The opener is a beast with Boise State meeting the Seminoles in Jacksonville, and they'll follow that two weeks later against an underrated Virginia squad in Charlottesville. N.C. State won't be an easy game, Clemson is on another level, and Wake Forest is a tough out in Winston-Salem. Syracuse and Miami are tough home games, and Boston College in November won't be a pleasant trip in terms of weather. Throw in a trip to Gainesville against a Florida squad that showed a lot more than Florida State did last year, and there's little reason to suggest that the Seminoles can really get to eight wins.
Honestly, I think Florida State could struggle to reach six wins against this schedule. The Seminoles didn't show much last year and have been heading in the wrong direction for the past few seasons. The reality is, most of the Atlantic Division has passed the Seminoles by, and Florida State is going to have work to do to get back to its past glory. I'd take the under on this one.
---
Georgia Bulldogs
2018 record: 11-3
Total wins: 10.5
Is this the year that Kirby Smart avoids the head-scratching defeat? He'll have to for them to hit the over here because Georgia's schedule is simply loaded. The good news for Georgia is that other than Florida and Auburn, every quality opponent on the Dawgs' schedule has to go between the hedges. This is Georgia's year to be the road team in its annual game with Florida in Jacksonville, so the Dawgs will only play three SEC road games…and those three are Auburn, Tennessee, and Vanderbilt, with the latter two posing little threat.
But that home schedule…oh boy. Notre Dame, South Carolina, Kentucky, Missouri, and Texas A&M are all challenging games, and while Georgia should be favored in all of them, they won't have a walkover in any of them. Notre Dame and Texas A&M pose the biggest threats to the Bulldogs outside of Auburn, which is where Georgia will really be tested. In fact, Kirby Smart has never won in an SEC West stadium, which means he'll need to either break that trend this season or get the Dawgs through a gauntlet without a slip-up.
Honestly, Georgia has the talent to go 11-1. But that doesn't mean it will necessarily happen for the Dawgs. Georgia has a lot that can go wrong with this schedule and very little room for error. I'd honestly stay away from this bet; there are better and safer options than gambling on Georgia in a situation where anything from 10-2 to 12-0 is a reasonable outcome for the Dawgs.
---
Iowa State Cyclones
2018 record: 8-5
Total wins: 8
I love what Matt Campbell has done in Ames. He's turned the Cyclones into winners, and the truth is that they have a good shot at getting to that eight or nine-win mark. To get there, there's the not-so-small matter of beating Iowa. The Hawkeyes have been a major stumbling block for Campbell, who is 0-3 against his in-state rival. What makes matters worse is that the Cyclones have dropped three straight to the Hawkeyes in Ames, and that just can't continue.
Should Iowa State get through that game, the Cyclones have an excellent shot at a 7-1 start with West Virginia, Baylor and Texas Tech providing winnable road tests. With Kansas coming to Ames, that should be enough even if they fall to both Oklahoma and Texas. This will be close, but it feels like a nine-win season here.
---
LSU Tigers
2018 record: 10-3
Total wins: 9
Nine wins for a team that should have won 10 in the regular season last year shouldn't be that tough, right? Well, it's not that simple. LSU should be solid, but the SEC is going to be a challenge as always, and the schedule is not particularly kind to the Tigers. A trip to Texas is a particularly challenging second game of the season, and the Bayou Bengals have to go to Alabama as well. Lose both of those, a likely outcome, and LSU loses its margin for error the rest of the way.
So can Ed Orgeron's crew navigate the rest of the schedule? It's possible but tough. Florida is a coin flip, as is Auburn and Mississippi State. Only one of those games is on the road, but remember, LSU has no margin for error if it loses in Austin and in Tuscaloosa. The Tigers would have to sweep them all, and that's a pretty tall order for any team. Utah State is a tricky test at home and trips to Vanderbilt, and Ole Miss are far from gimmes, making it very likely for the Tigers to absorb a third loss on the strength of this schedule.
There's also one factor LSU has to concern itself with that few other teams do: the potential for a hurricane to wipe out a game. LSU could find itself in the path of a hurricane, which could wipe out one of the more manageable games on its slate.
There's just too much that can go wrong for me at this price. I think LSU could make a run at the title, but the schedule is simply brutal and sets the Tigers behind the 8-ball before they've even kicked a ball. I'd rather trust a safer bet, so I'd stay away from LSU here.
---
Miami Hurricanes
2018 record: 7-6
Total wins: 8.5
Miami seemed to be back and ready to challenge for the ACC title — until they actually had to go through with playing the games. A slow start at LSU was written off after five wins, but then Virginia exposed the Hurricanes in Charlottesville, and Miami went into a tailspin from there. Far from winning the ACC Coastal and challenging Clemson for the ACC, the Canes instead went 7-5 and didn't even come close to winning its bowl game, getting throttled by Wisconsin.
So can Miami break through this year under Manny Diaz? It's a tough call. Florida in the opener is no picnic, but the schedule gets a lot easier after that. Miami plays nine of its games in the state of Florida, leaving only to play North Carolina, Pittsburgh, and Duke. That's good news. The bad news is that last year, Miami wasn't all that great when it came to playing at home. The Hurricanes managed to lose in Miami Gardens to a very mediocre Duke squad last year, and they barely snuck by what proved to be an inferior Florida State squad.
So how should you bet this one? Honestly, I'd lean toward the under or just staying away. Two of the Canes' opponents have brand new coaches, making it difficult to predict how Miami will react in those matchups. Beyond that, Miami should be the most talented team on the field in most games that it plays, but it's not clear that the Hurricanes know how to be a real team. When Miami has been challenged, it tends to fall apart. That's the kind of trait that leads your 10-2 to turn into a 7-5 or 8-4. Miami has the talent to win 10 games, but I'm not sure it has the discipline.
---
STOP LOSING TODAY! START WINNING WITH DOC'S TEAM OF PROFESSIONALS! GET A FREE NO STRINGS ATTACHED $60 FOR THIS WEEKEND'S GAMES!
Michigan Wolverines
2018 record: 10-3
Total wins: 9.5
Are two mistakes going to be enough for Michigan? Against this schedule, I lean toward no. One thing Jim Harbaugh can't be accused of is challenging his squad, as Michigan will face one of the most difficult schedules in the Big Ten. The second game against Army is a dangerous one, as the Black Knights nearly beat Oklahoma last season and run a dying breed of an offense, making it difficult for its opponents to prepare for its triple option.
Survive there, and Michigan still has to navigate trips to Wisconsin and Penn State, which it'll be lucky to come out of unscathed. The home schedule is no picnic either, as Notre Dame, Iowa and Ohio State all make the trip to Ann Arbor this year. Obviously, the Wolverines would rather face those opponents at Michigan Stadium as opposed to on the road, but all three are talented teams that are capable of going to Ann Arbor and stealing a win…especially Ohio State, which has won three in a row at Michigan.
Add it all up, and I think 9-3 is the most likely outcome for Michigan. 10-2 is possible, but I think the Wolverines stumble and lose one game they shouldn't, which likely costs them on this bet.
---
Michigan State Spartans
2018 record: 7-6
Total wins: 7.5
God willing, you wiped the Redbox Bowl from your mind. Michigan State's 7-6 loss to Oregon was one of the most unwatchable sporting events of 2018 at any level, as both teams couldn't get out of their own way in the nightmarish contest. But that was how it was for Michigan State, which couldn't have scored against its marching band in November. Over its final four games, the Spartans put up a combined 32 points, failing to break double digits in three of them. In six of their games last year, the Spartans scored 14 or less, and only the defense really kept them in the contest.
So can Michigan State find an offense this time around? It's uncertain, but what's not debatable is that it's going to be tough for Michigan State to get to eight wins. The Spartans go to both Ohio State and Michigan as well as Wisconsin and Northwestern, and it's conceivable that they could lose all four of those games. If they do, there's no room for error on a home schedule that includes Penn State and Arizona State, and that's a big worry for me considering just how bad this offense was last season. It's tough to take the under on a low number, but that's what I recommend here.
---
Mississippi State Bulldogs
2018 record: 8-4
Total wins: 8
There's a fair amount to like here with Mississippi State, starting with the schedule. Seven of the Bulldogs' opponents will come to Starkville this year to deal with the cowbells, and the road games are mostly reasonable. Louisiana will be played at a neutral site in the Superdome, and that's not a game Mississippi State should have much trouble with. Beyond that, Southern Miss and Kansas State are only average, and Kentucky projects to take a step back after losing several top players to graduation. Throw in that the Bulldogs have a bye before facing Tennessee, and it's reasonable to think Mississippi State could be 5-1 when LSU rolls into Starkville on Oct. 19.
That's where things get a bit tricky. On the one hand, the Bulldogs would have six games left, and four of them are at home. On the other, one of the home games is Alabama, which is likely to go in the loss column for Mississippi State. Abilene Christian and Ole Miss should be winnable games, as should a trip to Arkansas. That's eight wins, but that only gets you a push, so the bet will come down to three games: at Auburn, LSU at home and at Texas A&M.
Can the Bulldogs do it? It depends on if they can get one of those victories and handle the rest of the schedule. The best shot would seem to be LSU, but that's a tall order because the Tigers are excellent in Starkville. Since the series moved from Jackson to Starkville in the early 1990s, LSU is 11-2 in Starkville.
So that history leaves this looking like a push. Mississippi State has the talent to get above eight wins, but the schedule in the SEC just doesn't allow for much of a margin for error. I'd guess the over is more likely to hit than the under, but I think you'll just end up getting your money back.
---
Nebraska Cornhuskers
2018 record: 4-8
Total wins: 8
If you read our piece on the chances for the College Football Playoff, you might remember that I'm not high on the Huskers making it to the last four. But winning eight games? That's another matter entirely. Trips to Colorado and Illinois could provide a stumbling block, but Nebraska should be 4-0 when Ohio State comes into Lincoln in the last week of September. The Huskers get Iowa and Wisconsin at home, they drew Maryland and Indiana out of the East along with Ohio State, and their toughest road game of the season is at Purdue.
To hit the over here, Nebraska has to win all six games where it's a clear favorite, win at either Purdue or Minnesota and pick up two wins out of four home games with Ohio State, Northwestern, Wisconsin, and Iowa. I think a 9-3 season is very much within reach for the Huskers, and I like them to hit the over on this one.
---
Notre Dame Fighting Irish
2018 record: 12-1
Total wins: 9.5
After a great regular season, the Irish got creamed on the biggest stage by Clemson, making people wonder if maybe Notre Dame should consider just declining the next time it gets selected for a major bowl game. But the Irish's postseason issues don't matter here; what matters is whether Notre Dame can get 10 wins out of this schedule.
I like their chances. The schedule sets up for two real trouble spots: at Michigan and at Georgia. The Georgia game is probably Notre Dame's toughest of the season, and it'll go a long way in deciding if the Irish can actually be something special. Michigan won't be easy, but the Irish have an advantage in that they don't play the week before facing the Wolverines, while Michigan goes to Penn State the week before. That game is a coin flip, and it wouldn't shock me to see Notre Dame pull the win out. If the Irish can win at Michigan, this is pretty much a sure thing for them to hit 10 wins.
If they don't, the biggest hurdle to them getting to 10 is probably the final game of the season at Stanford. The rest of the schedule is filled with home games and one trip to Duke that could be a challenge in November, but nothing the Irish shouldn't be able to handle. Given how Stanford fell apart last year and lost by three touchdowns to Notre Dame, I think the Irish can handle the Cardinal. This will be a tight one, but I like Notre Dame's chances for a 10-win season and another embarrassment in a bowl game.
---
Ohio State Buckeyes
2018 record: 13-1
Total wins: 10
Well, Ryan Day, it's all in your hands now. The Buckeyes sent Urban Meyer out as a winner, and now they begin the transition to Day. His first order of business will be to find a quarterback, whether it's Georgia transfer Justin Fields or another option on his roster, and the answer to that question will determine whether Ohio State can notch a 10-win season in Day's first year.
The second game is a trap, as it's against Cincinnati and ex-Buckeye coach Luke Fickell, who knows many of Ohio State's players and knows how to prepare for them. Survive it, and the Buckeyes' first real test comes Sept. 28 against what should be an improved Nebraska squad. The Huskers still have work to do to get back on their feet, but a trip to Lincoln is a real concern for Ohio State. So is a game at Northwestern, but the Buckeyes will have the advantage of getting 13 days to prepare for the Wildcats, which should mitigate the trip to Evanston.
If Ohio State gets through the Wildcats, the rest of the slate is very reasonable. Wisconsin could pose a challenge at home, but otherwise, there shouldn't be a game that gives Ohio State a problem until Nov. 23 against Penn State. Odds are, Ohio State will be no worse than 9-1 when the Buckeyes meet the Nittany Lions, which means this bet comes down to whether you think they can get a split against Penn State and Michigan. To me, that seems very reasonable, so I'm going to take the over here, expecting no worse than a push.
---
Oklahoma Sooners
2018 record: 12-2
Total wins: 10.5
This one could be a challenge. Oklahoma is a very good team that's bringing back the experience from a College Football Playoff appearance, and they're bringing in a quarterback from the team that boat-raced them in the semifinals, as Jalen Hurts takes center stage in Norman. But at 10.5 wins, this will be tough. Oklahoma only gets one mistake before you lose your bet, so it's essential to analyze this team and what it's got to get through to give you a win.
The opener is tough. Oklahoma has gotten burned by Houston before, and the Cougars looked good for a large chunk of last season. Plus, they're now coached by ex-West Virginia coach Dana Holgorsen, so that'll bring a totally new look to their attack. Oklahoma has to be ready from the beginning, or they'll get caught in this trap.
Beyond that, there's a trip to an improving UCLA and the standard Big 12 schedule, so primarily, this bet comes down to whether you think Oklahoma can win its two rivalry games, in Dallas against Texas and at Oklahoma State in Stillwater. Remember, Oklahoma only has room for one slip-up before your bet goes down, and these are probably the two toughest games on the slate. If you believe that the Sooners are still top dog against the Longhorns and in the Big 12, you should take Oklahoma here. The Sooners' best chance at taking a loss is of course against Texas, but they have other potential pitfalls. Iowa State won't be scared of going to Norman considering it won there two years ago with a backup quarterback, and Baylor is tough to beat in Waco.
At the end of the day, however, it really comes down to Dallas. If Oklahoma can win at the Cotton Bowl, the Sooners look good for 11 wins. If not, the under is likely to hit.
---
Oklahoma State Cowboys
2018 record: 7-6
Total wins: 6.5
Either the oddsmakers haven't looked closely at Oklahoma State's schedule, or they're betting against the Cowboys getting production from the quarterback position because there is no way that Oklahoma State should only win six games in the regular season. Heck, based on their schedule, the Cowboys might have six by the end of October.
Here's what's on the slate in the season's first month: an opener at Oregon State, which was possibly the worst team in the Power 5 last season, home to McNeese State, a tricky trip to Tulsa, a beast of a trip to Texas and Kansas State at home. Realistically, the Cowboys can expect to start 4-1 against that group, with 3-2 being an acceptable number. Beyond that, they go to Lubbock while Texas Tech — which wasn't all that good last year — is still adjusting to life after Kliff Kingsbury and then have home games remaining with Baylor, TCU, Kansas, and Oklahoma.
The first three of those home games are very winnable, and even though Oklahoma is loaded, weird things sometimes happen to the Sooners in Stillwater. Plus, Oklahoma State was a beaten up team last year, and Mike Gundy still squeezed a 7-6 season out of his group.
And I'm supposed to bet against him doing that again when his team is a year older after playing several freshmen? No way. This won't be like the years when Gundy had the Cowboys competing for national championships, but eight wins is a reasonable expectation in Stillwater this season. I think Oklahoma State hits its over quite comfortably.
---
Oregon Ducks
2018 record: 9-4
Total wins: 9
Has Oregon grown up enough to make itself a 10-win squad? The Ducks really should have done it last year, but they gave one away against Stanford that kept them at eight wins in the regular season before they won one of the worst bowl games of all time against Michigan State. This time, they have three major trouble spots on the schedule, and none of them are at home. Stanford fell apart last season, but the Cardinal showed that they were still a talented team when they embarrassed Pittsburgh in their bowl game a year ago. Going to Stanford is never an easy trip, and that's especially true when a team is making their first road trip of the season, as Oregon will.
But the first test will come far before that game, as Oregon opens the season in Texas against Auburn. The Tigers looked scary good in their bowl game last year, suggesting unrealized potential on their part. If they're ready to go, this could be the kind of game that gives Oregon real problems. So could Washington, which lost in overtime in Eugene last season and will be anxious to make up for that setback and prove that the Ducks haven't regained ground on them.
So the question here is whether Oregon can avoid a bad loss while navigating through the challenges on its schedule. For me, I think the Ducks are going to struggle with doing that. Oregon still has to go to USC and Arizona State down the stretch, and I'm not convinced they get out of that stretch unscathed. The Ducks look like they're a year away from truly being back, and I think they're going to be an eight or nine-win squad this year.
---
Penn State Nittany Lions
2018 record: 9-4
Total wins: 8.5
If Penn State is going to return on this bet, the Nittany Lions' young players are going to have to grow up fast. The Nittany Lions have posted top-15 recruiting classes in the past two seasons, and that's critical because Penn State has been hit hard by player departures for the NFL. Without either quarterback Trace McSorley or an established running back, this Penn State team will be young, talented and very inexperienced.
The plus side is that the Nittany Lions get a forgiving schedule to start the season. Idaho and Buffalo should give Penn State's young squad a chance to get its feet wet, and while Pittsburgh and Maryland pose a challenge in terms of rivalry games, neither team is anything special. Penn State is the more talented squad in each of its first five games of this season.
The problem comes in the sixth game when the Nittany Lions have to go to Iowa. The Hawkeyes made some significant strides a season ago, and for a young squad, this trip to Iowa City might be a bridge too far. The same is probably true for a Nov. 23 visit to Ohio State, as the Buckeyes could be in a position to lock up the Big Ten East that week and have the advantage of playing at home. Throw in a visit from Michigan, and Penn State is going to be hard pressed to do better than 9-3 for this season.
Honestly, I think this team is too young to trust them to do any better than 8-4. Penn State looks like it could be in for a big year in 2020, but in 2019, I like the under.
---
---
Tennessee Volunteers
2018 record: 5-7
Total wins:7
Seven wins shouldn't be a tough target for a program with Tennessee's history, but that's where the Volunteers have fallen in recent years. Tennessee now longs for the days of Phil Fulmer after falling to the scrap heap, and the end of last season suggests that the Volunteers might still be longing for those days after this season is over. Actually, the Volunteers should start out 3-0 given their opening stretch of Georgia State, BYU and Chattanooga, but the difficulty ramps up in a hurry.
The Vols open SEC play with a trip to Florida, and they haven't beaten the Gators in Gainesville since 2003. That's followed by a visit from Georgia, and the Bulldogs pasted the Vols 41-0 in Knoxville two years ago. Mississippi State follows, and then it's the Third Saturday in October, which has been nothing but one beating after another for Tennessee for 12 years. Alabama shows no signs of slowing down, and that means there's a good chance that Tennessee starts 0-4 in SEC play.
The schedule eases a little after that, but that still leaves Tennessee needing to run the table against a slate that includes trips to both Kentucky and Missouri. There's also a visit from Vanderbilt to end the season, and in a true sign of just how far the Vols have fallen, a loss here would make this year's Tennessee seniors the first senior class to graduate from Tennessee without beating Vanderbilt since 1927. Last year's performance was particularly galling because Tennessee needed only a win to reach a bowl game and got throttled 38-13 by the Commodores.
Really, that's the biggest issue for the Volunteers. They're not the most talented team, but they're also lacking in the heart department. Against an SEC schedule, a group that doesn't have the heart to gut out close games ends up losing them. I think that's exactly what Tennessee will experience this year.
---
Texas Longhorns
2018 record: 10-4
Total wins: 9.5
Texas appears a dark horse contender for a major run at the College Football Playoff, and that's in large part to how favorable the schedule is for the Longhorns. Texas doesn't have to travel to Oklahoma State. It gets to play LSU at home, and its one road non-conference game is at Rice at the Texans' stadium in Houston, making it more of a neutral site, and it doesn't face the Big 12's strongest teams until it's had a chance to get some wins and build up a solid winning streak.
Therein lies the question: can the Longhorns beat Oklahoma in Dallas again? They seem to be the more experienced squad this time around, as the Sooners will again be breaking in a new quarterback. However, Jalen Hurts is no freshman, just as Kyler Murray wasn't, so it's not like Oklahoma will be hurting for knowledge under center. This game is truly a coin flip and easily Texas' biggest problem spot on the schedule.
If the Longhorns beat the Sooners, I really don't see two other games on the schedule besides LSU that Texas could lose. Iowa State and Baylor will not be easy, but I cannot see the Longhorns losing both of those games after beating Oklahoma. Maybe one of them will trip Texas, but if the Longhorns can beat the Sooners, a loss to LSU and Iowa State would still leave Texas sitting at 10-2 and in the money for this bet.
So this bet really comes down to one question: how well will Texas play in Dallas? If you think the Horns can beat Oklahoma again, I'd say the over is a smart wager for you. If not, take the under or stay away entirely.
---
Texas A&M Aggies
2018 record: 9-4
Total wins: 7.5
Get the damage done early. That's essentially what Texas A&M has to do to provide a return on this bet because the Aggies will be up against it when it comes to the end of the season. First, there's the good news: there are zero reasons Texas A&M should be any worse than 3-1 when it's done with non-conference games. The second game of the year will be tough, as it's at Clemson, but the Aggies then follow that with a slew of games in Texas. Of their first 10 games, eight of them are in the Lone Star State, with trips to Clemson and Ole Miss marking the only time the Aggies will leave Texas until Nov. 23.
That setup is in part because of playing its annual game with Arkansas in Arlington at the Cowboys' stadium, but Auburn, Alabama and Mississippi State will all come to College Station this season, and if Texas A&M can simply win two of those three, there's a good chance that they're going to pay out on this bet.
But are the Aggies ready to compete at the level needed to win eight against this schedule? Remember, Kentucky at home is replaced by a trip to Georgia, and LSU should have beaten Texas A&M if not for a blown call in overtime that gave the Aggies new life. If Texas A&M loses both of those games and falls to Alabama and Clemson, there is no margin for error left.
I can't see Texas A&M running the table against the remaining eight games. Seven of them is doable, but I think either Mississippi State, South Carolina, Auburn or Mississippi finds a way to trip the Aggies and force them to take a step back this year. I can't recommend the over here.
---
USC Trojans
2018 record: 5-7
Total wins: 7.5
Get ready for a new look at USC. The Trojans will debut the air raid under new offensive coordinator Graham Harrell this year, as the ex-Texas Tech quarterback tries to bring his old system to Los Angeles. Truthfully, Harrell wasn't even supposed to be the offensive coordinator this year, as USC initially hired Kliff Kingsbury, only to watch the Arizona Cardinals make him their head coach.
So, can Harrell succeed in the role? He did just fine at North Texas, which rose to prominence last season during a dream campaign. But he's going to have a tough road to hoe if the Trojans can't fix the offensive line, which allowed 27 sacks. In the air raid, that could get even worse as the offensive line tires out quickly.
Plus, this schedule doesn't seem all that manageable. A USC should be able to get to eight wins without issue, but a look at the schedule reveals that BYU is the first of four tough tests that could lead to four consecutive losses for S.C. They don't play Washington State, which is a big benefit, but Oregon at home and Arizona State and California on the road are a tough way to finish the season. There are too many things that can go wrong here for me to take this bet.
---
Utah Utes
2018 record: 9-5
Total wins: 8.5
This could be a great play given the way the schedule sets up for Utah. First, the Utes didn't draw Oregon or Stanford from the North Division, minimizing the number of challenging games from the tougher of the two Pac-12 divisions. Second, they'll play seven home games this year as well as make the short trip south to Brigham Young. Third, they got both Washington State and California at home, meaning one of their road trips against the North is to a pathetic Oregon State squad, opening up what should be an easy win opportunity away from home.
The toughest team that the Utes will see at home all season is Washington State, and while that won't be a picnic, it's played Sept. 28, five weeks into the season. In all likelihood, that won't be enough time for Mike Leach to properly replace Gardner Minshew, which should give the edge to Utah. Doing the math, that means that a 7-0 home record and a win at Oregon State would mean Utah only has to find one more win away from home in order to make this bet pay off. Their best chance is likely the first one against BYU, but USC is also a reasonable option given the Trojans' offensive struggles and system overhaul.
I think Utah can claim at least one of those games, and that should be enough breathing room. This one's a little more precarious than I'd prefer, but I like the Utes to get to nine wins.
---
Washington Huskies
2018 record: 10-4
Total wins: 10
This schedule seems really manageable if Washington can avoid the head-scratcher. Under Chris Petersen, Washington always seems to get caught at least once in a game that it has no business losing. Last year, it was California. In recent years, it's been Arizona State. This year, it's probably Arizona.
The Wildcats are a tough out in Tucson, and the game comes at the worst possible time: sandwiched between a trip to Stanford and a rivalry showdown with Oregon in Seattle. Given that those two games are likely to decide the Pac-12 North, it's highly probable that Washington isn't ready to play against Arizona and gets picked off by the underrated Wildcats.
Beyond that, however, the schedule is set up well for Washington to have some real success. Oregon and Washington State will both be tough, but both of them will play the Huskies in Seattle this year. So will Utah, and Washington will get two full weeks to prepare for the Utes.
All in all, this schedule sets up reasonably well for Washington, so long as the Huskies can win the games that they're supposed to win. If they can avoid that trademark head-scratching defeat, 10 wins are very much within reach for Washington. Even if they do suffer one head-scratcher, which I think will come at Arizona, they can still hit 10 wins if they can best their rivals in the Northwest. Washington might have a few question marks, but the Pac-12 is soft enough that the Huskies can meet this goal. I like the over.
---
Washington State Cougars
2018 record: 11-2
Total wins: 8
2018 was a year to remember for Washington State, as Gardner Minshew proved the perfect quarterback for Mike Leach's offense and led the Cougars to a 10-win season. But Minshew is gone, and now the Cougars have to find their next quarterback to manage a somewhat trying schedule. The good news is that Washington State has a wealth of experience returning on defense, which will be vital in the third game of the season against Houston, as that game could be the first one to 60 points wins. Otherwise, Washington State's first real test should come against Utah.
The Cougars have traditionally done well against the Utes, but this time, Utah is the team with the experience, and the game is in Salt Lake City. But if they survive it, they should safely hit the over. Realistically, the only other trouble spots on the schedule are a trip to Oregon, which Washington State has won four straight against, and a visit to Washington, which has won six straight over the Cougars and hasn't lost to Washington State in Seattle since 2007.
I'm not sure that the Cougars will win either of those games, but they don't have to in order to hit this bet. As long as Gage Gubrud or Trey Tinsley can serve as a competent leader of Leach's offense, Washington State should do no worse than 8-4, which would earn a push. I think 9-3 is more likely, which would earn bettors a win. Take the over here.
---
Wisconsin Badgers
2018 record: 8-5
Total wins: 8.5
If you picked Wisconsin on the over last year, my deepest sympathies. The Badgers started the year ranked fourth in the nation a season ago and ended up lucky to make it to a bowl game at all. Now the Badgers face much more modest expectations, but still, have a lot of work to do in order to reach this total.
First, there's the opener. South Florida badly underachieved last season, but the Bulls are still a talented group and would love to make a statement by beating a team from the Big Ten at home. Given that Wisconsin found a way to lose at home to BYU, the Badgers would be wise to be on upset alert here. Survive that, and Wisconsin still doesn't get much time to breathe. The Big Ten did the Badgers no favors by giving them Michigan and Ohio State from the East Division, both of which will likely be too much for this team to handle. The Big Ten opener is with the Wolverines, and while it's in Madison, Michigan is likely to be far too advanced for Wisconsin at that point of the schedule.
Also a big concern is a back-to-back set of games with Iowa and Nebraska near the end of the season, as well as a rapidly improving Minnesota squad that took possession of Paul Bunyan's Axe for the first time since 2003 last year in Madison and will be anxious to end the Badgers' streak of seven straight wins in Minneapolis.
Add it all up, and I just don't see Wisconsin meeting the expectations. The Badgers have three mistakes allowed, and two of them are likely to be used up by Michigan and Ohio State. With at least four other land mines on the schedule and a possible fifth in a home game with Northwestern, I'd expect Wisconsin to take at least two losses from that set. My gut says 8-4 is the likely outcome for the Badgers, leaving them just short of the total.

1% Cash Back
---
Pay less per bet &
get largest betting menu