NCAA Football Playoffs: Final Four Odds Analysis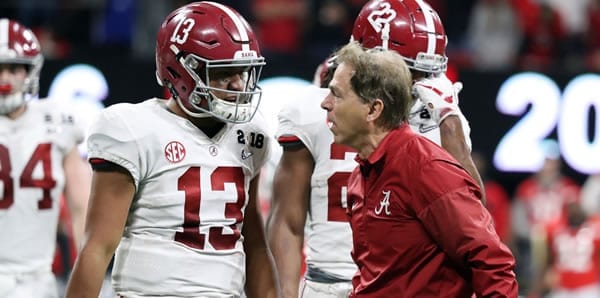 It might seem like college football is a long ways off, but with less than three months between now and the first games of the season, futures bets are already on the table, and there are a few good values out there if you know where to look. Today, we're taking a look at who's likely to make it to the College Football Playoff — and which favorites simply aren't worth your money.
Alabama Crimson Tide
Will make it: -280
Won't make it: +200
Surprise, surprise, Alabama's here again. Betting on the Crimson Tide to make the College Football Playoff has been perhaps the safest bet in college football since the playoff started. Even in a year where Alabama clear-ly didn't deserve it after failing to win its division in the SEC and watching the SEC championship game at home, the Tide still got into the playoff and managed to win the playoff in the process. There's a reason that the Crimson Tide is going off at -280 to make the Final Four, and it's because betting against Nick Saban's crew is generally not a smart way to make money.
Another reason is because of the schedule. This is the last year where Alabama can be mocked for its sched-uling because the Tide is making a genuine effort to beef up its scheduling in future seasons after non-conference neutral site games haven't worked out in terms of giving them a real test (see Louisville and Flori-da State). In coming years, the Tide will be playing true home-and-homes with the likes of Texas, Notre Dame, and Oklahoma, and they've just added a two-for-one against South Florida, taking a genuine risk by playing a good American team on the road.
But in 2019, the Crimson Tide's big-name non-conference opponent is…Duke?
No, we haven't accidentally run the college basketball preview early. Alabama's one game against a Power 5 team outside of SEC play is genuinely against Duke and not only that, it's Duke without quarterback Daniel Jones, who departed for the NFL with the sixth pick in the draft. Truthfully, Alabama might have gotten a stiffer test from Zion Williamson and R.J. Barrett than they will from David Cutcliffe's team. Nothing against the Blue Devils, but they're a rebuilding squad that's likely going to be fighting for an appearance in a minor bowl game at the end of the campaign. There's little reason to suspect they'll be much more than a speed bump against mighty Alabama.
The rest of the schedule is similarly underwhelming. Tennessee remains in a funk as Bama's permanent part-ner from the East, South Carolina isn't an easy game on the road, but it's a manageable trip in the SEC East, Texas A&M is still a year away from being where Jimbo Fisher wants and LSU has to come to Tuscaloosa. There is little reason to think Alabama will be anything less than 9-0 when it rolls into Starkville, Miss., on Nov. 16 to play Mississippi State, and that marks the first real test for Alabama. Of course, the counterpoint to that is that Bama has won 11 straight against Mississippi State, and in four of its past five trips to Starkville, the Bulldogs managed seven points or fewer.
Really, the only significant risk on the Tide's schedule is the Iron Bowl, and given the strides that Tua Tagovai-loa has made as the Alabama quarterback, it's hard to see that stopping Alabama. Even if it does, the past has proven that a loss in the Iron Bowl is not necessarily enough to derail Alabama from the playoff. The fact re-mains that college football is about when you lose, and Alabama losing at the end of the season will not be enough to offset another 11-0 start.
A defeat might be enough to bring down another team, but college football is also about the name on the jersey, and history has proven that being named Alabama is worth a few spots in the eyes of the polls and committee. So to bet against Alabama, you're betting that one of two things are going to happen: either Ala-bama will lose at least twice, or the Tide will lose the SEC championship in such a way that there's no way the committee can justify giving them a spot in the top four.
I don't see either one happening. Alabama's worst-case to me looks to be 11-1, and while Georgia very nearly knocked Alabama out of the game early last year, I don't see the Bulldogs running away with it if the teams meet again in Atlanta. That potential matchup seems like it would be a one-score game in either direction, and that's not going to be enough to knock the Tide out. It's a lousy price, but it's a lousy price for a reason: Alabama is that good.
Clemson Tigers
Will make it: -300
Won't make it: +280
Good luck finding reasons why Clemson isn't going to make it to the playoff. The offense is scary good, and the Tigers figure to be even better on that side of the ball than they were a season ago. Question marks do exist on defense, but I'm not going to bet against a Brent Venables-coached defense. That's the kind of thing that comes back to haunt you in the prediction business because it's a foolish thing to do. Venables' defense held Alabama to 16 points last year, and there's no reason to expect him to do anything less than build his cur-rent crop of defenders up to a championship level.
The one thing that could be Clemson's downfall is the schedule if the Tigers suffer a head-scratching slip-up that previously plagued them before this past year's 15-0 run. Clemson simply doesn't have enough on its schedule to be able to recover if the Tigers screw up and lose to a subpar team as they did in 2016 or 2017. Luckily for Clemson, Syracuse isn't considered subpar after last year, which could matter because the Orange host the Tigers in the season's third game, and unlike the rest of the conference, the Orange believe they have no reason to fear Clemson. That game will most likely feel like a championship atmosphere, even though it's going to be played in September.
But otherwise, Clemson's schedule is pretty manageable. The Tigers don't have to worry about traveling to Texas A&M this year, and their only real challenge beyond Syracuse is a November game at N.C. State. That could be a trap game, but Clemson doesn't fall victim to traps very often under Dabo Swinney. Over the past four years, the Tigers have lost just four games, and two of them were to Alabama.
That's a remarkable mark, and with Trevor Lawrence back for two more years, the Tigers show no signs of slowing down. I want to find a reason to tell you to pick against Clemson, but I just can't. The defense is the one area where the Tigers are vulnerable, but they're led by perhaps the best defensive mind in the game. Plus, the ACC has taken a step back, other than Syracuse. This league doesn't seem prepared to test the Ti-gers, and I don't think anyone else will either. Clemson looks pretty safe.
Georgia Bulldogs
Will make it: +125
Won't make it: -165
If ever an SEC program might wish it wasn't in the SEC, this might be the one. Georgia was absolutely one of the four best teams in the country last year, but because Notre Dame is Notre Dame, the Bulldogs found themselves on the outside looking in and then completely mailed in their Sugar Bowl appearance with a loss to Texas.
So what's going to happen this time, with the Bulldogs still clearly the class of the SEC East and showing no signs of slowing down? That depends on how well coach Kirby Smart adjusts to his new coordinators, how well another monster recruiting class fills Georgia's losses on the defensive side of the ball and whether the Bulldogs can navigate a beast of a schedule.
First, there's good news on the scheduling front. No team in the SEC and perhaps no team in the nation will travel fewer miles than Georgia this season. The Bulldogs won't play a single game this season that's more than 120 miles away from the Georgia state line, as they'll visit Vanderbilt, Tennessee, Auburn, and Georgia Tech and make their annual trip to Jacksonville, Fla., to play Florida. Every other game is between the hedges in Athens, and the SEC title game is an hour away in Atlanta. That means that Georgia won't visit Missouri, Kentucky, or South Carolina.
But there's plenty to worry about for Smart's crew. LSU is gone from the schedule, but replacement Texas A&M won't be an easy game, even at home. Neither will Notre Dame, which returns a trip from two years ago by visiting Athens in Week 4. A loss to the Irish wouldn't be the worst thing in the world — as long as it's the only one. That's the real concern for Georgia: under Smart, the Bulldogs have yet to win a game in an SEC West stadium. So far, they've visited Mississippi, Auburn, and LSU and have left as losers on all three occa-sions. None of those places are easy stadiums to visit, but Georgia has lost each visit by at least 20 points, and the Bulldogs really have no margin for error because they share a league with Alabama.
That's Georgia's other concern: the Bulldogs have had their national championship hopes dashed by the Crimson Tide in consecutive years, and each time, Georgia was in control in the first half but couldn't hold the lead. To get the job done, Georgia is either going to have to find a way past Alabama or run the table on the rest of its schedule.
So if you're considering taking Georgia, the real question is how much you believe in Smart and quarterback Jake Fromm. Fromm has made great strides in the past two seasons, but he's still prone to the occasional head-scratching performance, and he's going to have to avoid that against Auburn, Notre Dame, and other tough opponents to get the Dawgs to the promised land.
At a price of +125, there's enough here to get me interested. Georgia's by no means a safe bet with its de-fensive losses, but I think Fromm's matured enough to get the Bulldogs through the slate and into the playoff, and Smart is one of the brightest young coaches in the game. The gamble is worth it in my opinion.
Oklahoma Sooners
Will make it: +105
Won't make it: -145
They did it with Baker Mayfield. They did it with Kyler Murray. Can they do it with Jalen Hurts? Nobody's going to come in with a bigger chip on his shoulder than Hurts after how things ended at Alabama, where he won a championship and then lost his spot to Tua Tagovailoa in the College Football Playoff in January of 2018. How-ever, he showed that he could still get the job done in the SEC title game against Georgia when he came out of the bullpen to rescue the Crimson Tide against the Bulldogs.
So can he get the job done in Norman? It's tough to say. On the one hand, the Big 12 schedule is very favora-ble for the Sooners until they get to the last two road games of the year at Baylor and Oklahoma State. They don't have to go to Iowa State or Texas Tech, and their only Big 12 road game in the first four is at Kansas, the easiest road trip in the Big 12.
But the non-conference schedule is an absolute bear, and the Sooners could be walking into a trap before Hurts has had a chance to get used to Lincoln Riley's offense. First, they open with a solid Houston team that's coached by old Big 12 rival Dana Holgorsen and looking to prove itself after the Cougars got embarrassed in their bowl game against Army. Should they survive that test, the Sooners walk into a dangerous trap two weeks later against an underrated UCLA squad. The Bruins weren't much of a test last season in Norman, los-ing 49-21 to Oklahoma, but once they figured things out under Chip Kelly, they played much better down the stretch. UCLA won't get a lot of respect nationally, but the Bruins are a dangerous foe, and they could easily surprise the Sooners if Oklahoma isn't careful.
And if the Sooners can get through that unscathed, there's a burnt orange nemesis waiting for them. Texas resurrected itself to torment the Sooners, and though Oklahoma won the Big 12 title over Texas last season, there's a sense that the Longhorns are further along than Oklahoma, and the reality is that only one team from the Big 12 is going to get into the playoff this year.
So to take the Sooners, you've got to believe that they can beat the Longhorns not once, but twice because Oklahoma is going to have to go as the Big 12 champion in order to go at all. The schedule doesn't give the Sooners a forgiving loss until the end of the season, and even though both Baylor and Iowa State are likely to be quality foes, losing in November is a major red flag to the committee. I can easily see Oklahoma in the playoff, but the presence of Texas and the late load of the schedule makes me nervous. I'd jump on this at +150, but at +105, there's too much uncertainty for me to take the risk with the Sooners to survive their bat-tle with the Longhorns.
Ohio State Buckeyes
Will make it: +160
Won't make it: -210
Taking a quarterback who wasn't able to start at another football power has worked well for Oklahoma's Lin-coln Riley, so why not for Ryan Day at Ohio State? That's the formula the first-year Buckeye coach will be try-ing as Ohio State learns to live without Urban Meyer on its sidelines, as ex-Georgia quarterback Justin Fields steps into the backfield of the scarlet and gray.
But is Fields ready for the responsibility? Unlike Jalen Hurts, Fields has mostly been riding the pine in Athens, stuck behind Jake Fromm and rarely able to get in and show what he could do for more than a few plays. Now he's taking the reins and trying to shake off the rust from being No. 2, which is no easy feat.
Luckily, the schedule is forgiving. The Buckeyes' slate isn't soft by any means, as Florida Atlantic isn't a pusho-ver and Cincinnati is coached by ex-Buckeye head man Luke Fickell, who knows Ohio State as well as anyone in the nation. But Ohio State should still win both at home, and the Big Ten slate is very manageable. Ohio State's eastern road trips include Rutgers and Indiana, which are probably the easiest road games in the en-tire conference. Penn State, Michigan State, and Wisconsin all come to Columbus, and a trip to Lincoln shouldn't be too bad unless Scott Frost can move up the timetable for rebuilding Nebraska.
That leaves two real issues for the Buckeyes: Northwestern and Michigan. Pat Fitzgerald's Wildcats consist-ently punch above their weight, and that game will be played on a Friday night, making it doubly dangerous for the Buckeyes. The good news, though, is that Ohio State has a bye before facing Northwestern, so Day will have plenty of time to put the preceding game with Michigan State out of his players' minds before facing this trap game.
The real bear is The Game against the Wolverines. This year, it's in Ann Arbor, and Michigan is going to be hungry after getting embarrassed by Ohio State yet again last year. Truth be told, The Game hasn't been much of a game as of late, as Ohio State has won 16 of the past 18 meetings with the Wolverines and carries a seven-year win streak into this year's meeting. But therein lies the problem: the seven-year run is the long-est the Buckeyes have ever had in this rivalry, matching the stretch from 2004 to 2010. Michigan stopped the run there in 2011 with a win in Ann Arbor, and that to date is the last time the Buckeyes have failed to beat their greatest rival. Jim Harbaugh is now 0-4 against Ohio State and feeling the heat, making this the Buck-eyes' most dangerous game by a mile.
But that said, the pieces are in place for Ohio State to make a run to the playoff if Day can prove himself a competent college coach. Given that he went 3-0 last season during Meyer's suspension, I think it's possible. If Fields is ready to play, Ohio State offers excellent value at +160 to come out of the Big Ten and reach the playoff.
Michigan Wolverines
Will make it: +300
Won't make it: -420
Talk about earning it. Michigan is really going to have to earn every inch to make it to the playoff this year thanks to a schedule that's a lot tougher than it appears at first glance. First, there's the second week of the season against an extremely dangerous Army squad. Army nearly shocked the college football world last sea-son when the Black Knights went down to Oklahoma and took the Sooners to overtime before succumbing. They're even more experienced than they were a year ago, and they will be no pushover for the Wolverines. But because they're Army, Michigan's going to get no credit for winning this game, making it an all-risk, no-reward situation.
Survive that, and the Wolverines have a challenging fixture with Wisconsin in Madison, never an easy trip. A home tilt with Iowa will be no picnic, and the Wolverines follow that up with a visit to Penn State and a home game with Notre Dame. Survive there, and the Wolverines still have to deal with a home game with Michigan State, which has won two straight in Ann Arbor, and Ohio State, which owns a seven-game win streak over Michigan. In short, this is going to be a very tall task for Jim Harbaugh to get the Wolverines to Indianapolis unscathed, and even if he does, they'll still have to beat the Big Ten West champion to make it to the playoff.
And they'll be doing all of that while making the transition to the spread offense. Michigan tried this once be-fore with Rich Rodriguez with disastrous results, but Harbaugh's new offensive coordinator Josh Gattis plans to bring the Wolverines forward into today's college game, which is intended to make life easy for quarter-back Shea Patterson. Odds are that it will do that, but it will take time. The spread isn't something you pick up overnight and automatically have success with. The Wolverines are going to need a few games to get every-one on the same page, and this schedule simply doesn't allow that.
Will Michigan be one of the best four teams in the nation by the time all is said and done? I think that might be the case, but by then, I think it will be too late for the Wolverines to get into the playoff. I expect that the Wolverines' unfamiliarity with the offense will cause them to get picked off by either Wisconsin or Army, and that means Michigan can't lose again and make the playoff. That task seems beyond the Wolverines with this slate of games. I expect a 10-2 campaign for Michigan, which would leave them just outside the top four of the playoff. They're not a bad bet at +300 to make it, but I think I'd rather put my money with a safer option.
Notre Dame Fighting Irish
Will make it: +400
Won't make it: -600
Well, we all know what happened to Notre Dame last year: the Irish ran through the season without getting touched — in large part because their schedule was a joke after the Michigan game — and then promptly got whacked by Clemson in a game they should never have been selected for in the first place.
That isn't going to happen this time around. If Notre Dame makes it to the playoff, the Irish will have had to earn their spot because they've got to make two of the toughest road trips in the nation: at Georgia and at Michigan. I do commend the Irish for continuing to schedule quality home-and-homes even with their ACC agreement, and they've certainly set themselves up for a challenge this year with these two games. Georgia squeezed by Notre Dame in South Bend two years ago, and Notre Dame pulled out a nice win over Michigan last season. Going to both of them in the same season is a Herculean task, and realistically, a split will not knock Notre Dame out of the race as long as they don't get blown out in either game. Win at Georgia and lose by a touchdown or less to Michigan, or vice versa, and Notre Dame will likely be in great shape for a selection at 11-1.
Notre Dame is set up well if it can get itself a split because the rest of the schedule shouldn't provide much of a challenge. The ACC rotation gave the Irish both of the Virginia schools and Boston College at home, and their road trips will be at Louisville and Duke. Louisville would have been a challenge two years ago, but right now, the Cardinals are a disaster and will be little more than cannon fodder if Notre Dame is really a playoff contender. As for Duke, the Blue Devils will be just average, and Wallace Wade Stadium is the least intimidat-ing trip in the ACC. Notre Dame's toughest game against ACC competition might be Virginia, and the rest of the schedule isn't anything special. USC comes to South Bend this year, as does Navy, and there's no way Notre Dame is going to blow its playoff shot on a trip to Stanford at the end of the season, even if the Cardi-nal are the third-most challenging road game on the slate.
But that said, Ian Book is going to be throwing to a new set of receivers this time around, and the Irish's beefed-up schedule is likely to be too much for them to overcome. I don't see them winning in Athens or Ann Arbor, and 10-2 isn't going to be enough to get them to the playoffs. I think Notre Dame is a good bet for a New Year's Six Bowl, but I just don't believe in them enough to believe they can get past Michigan and claim that playoff spot. They're actually not going off at a bad price at +400, and I'd certainly rather take them than Florida, but there's too much that can go wrong here for me to feel confident in taking Notre Dame.
Auburn Tigers
Will make it: +500
Won't make it: -900
Does any team have a tougher set of permanent rivals than Auburn? Every year, the Tigers are guaranteed to end the season with Georgia and Alabama, two of the three most dominant teams over the past two years of college football. Thankfully for Auburn, both the Bulldogs and the Crimson Tide will make the trip to the Plains this year, and they've got a game with Samford in between them, so they won't be facing the two super-powers in consecutive weeks.
But the rest of the schedule? Oh boy. Auburn's schedule looks like one of mine on NCAA Football 13, as the Tigers haven't really given themselves much of a chance to breathe during this slate. OK, Kent State and Tulane won't strike fear into anyone's hearts, but a neutral-site showdown with Oregon and a tough trip to Texas A&M isn't exactly easing into the schedule. Nor is an October where Auburn doesn't play a single game in the State of Alabama. The Tigers will visit Florida, Arkansas, and LSU in October, and the chances of them surviving that stretch with an unbeaten mark is incredibly bleak. In fact, a 2-1 mark in that stretch of games will be an outstanding achievement.
Should the Tigers get by that, they won't have to leave Jordan-Hare Stadium again until the SEC championship game. But even that presents a land mine because the opponent waiting in Atlanta is almost certain to be Georgia, which means that even if the Tigers get through the schedule unscathed, they'll have an angry Bull-dogs team waiting for them playing 70 miles from its campus. We saw how well that worked two years ago. In case you've forgotten, Auburn got spanked by Georgia and then handed Central Florida its national champi-onship by getting worked by the Knights in the bowl game.
So to take Auburn, you've got to believe that the Tigers can survive two of the most brutal three-game stretches in the nation. In essence, you have to think that Auburn is good enough to win the national cham-pionship, or the risk is too high even to consider this pick. To do so, you'll be betting on a freshman quarter-back, either Joey Gatewood or Bo Nix. While a true freshman can win (hello, Trevor Lawrence), I wouldn't bet on it happening in back to back years. Auburn's got too many risks for me to make this pick.
LSU Tigers
Will make it: +450
Won't make it: -750
Ed Orgeron is a heck of a recruiter and always has been. He's showing that he might know a thing or two about coaching as well. Last season LSU navigated a tough slate to win nine in the regular season (and it should have been 10 if the referees hadn't botched a call in overtime that would have won the Tigers the game at Texas A&M) and then did what nobody else in college football could by beating Central Florida in the bowl game. Now, can Orgeron take 16 returning starters and get them into the playoff?
It won't be easy. LSU has the unenviable task of navigating through a tough Week 2 non-conference game at Texas, which could be a battle between two of the best teams in the country. A loss would not be fatal to LSU's playoff hopes, but a win would do a world of good and give LSU one free mistake in the SEC gauntlet. The Tigers might very well need that free mistake because trips to Mississippi State and Alabama will be a load to deal with. In both cases, LSU will have to play a mistake-free game to pull it off — and even that might not be enough against Alabama in Tuscaloosa.
They'll also have to avoid the land mine that is their home game with underrated Utah State, which happens to be the week before Florida comes to Baton Rouge. That's a problem because LSU is likely to have a laser focus on the Gators after losing a game it had no business losing a year ago. But the Aggies are a genuine power at the mid-major level, and they're good enough to beat LSU if they catch the Bayou Bengals on a day where they aren't 100 percent. That game has trap written all over it.
In truth, LSU's best hope might be to lose a close game at Alabama and run the table the rest of the way. An 11-1 LSU would be very attractive to the playoff, and the Tigers wouldn't have to go through the prospect of an elimination game against Georgia in Atlanta. Joe Burrow is a good enough quarterback to win at this level, and if LSU can find a quality tailback to supplement his throws, the Tigers will be in great shape to make a run at the playoffs.
There is a lot that can go wrong here. LSU is far from a finished product and plays in the same division as Ala-bama. The Tigers have very little margin for error if they're going to make it. But if you buy Vegas' line that the Bayou Bengals should be a 1.5-point favorite over Texas, then LSU is going off at a very enticing price at +450. If they played in any league, but the SEC, I'd jump on this line for sure, and even with their situation, it's still a reasonable bet. LSU has the pieces in place to make this an attractive dark horse selection.
Washington Huskies
Will make it: +500
Won't make it: -900
While researching the Huskies, I came across a rhetorical question comparing the Pac-12 to the American Ath-letic Conference, stating, "Would an undefeated team from the Pac-12 really ever get left out of the playoff?"
Honestly, I think the answer might be yes. With Clemson's dominance of the ACC, Michigan and Ohio State looking strong in the Big Ten, Texas reclaiming its past prominence in the Big 12 and the SEC remaining domi-nant across several schools, the Pac-12 has become the weakest of the Power 5 schools. Washington wasn't even close to being considered for the playoff last year, which is what happens when you lose three regular season games. But with an offense that looks a lot stronger than last season, can the Huskies break through and get to their second playoff in three years?
Honestly, I don't see it. First, the defense is a major red flag for me. Washington has been strong on defense under Chris Petersen, but the Huskies have to replace nine starters this season. That's the kind of loss that an Alabama or Clemson can absorb, but Washington hasn't yet shown that it can recover from that and still play at a first-class level.
Beyond that, the Huskies' schedule simultaneously sets up well and is loaded with land mines. The opener with Eastern Washington is the kind of game all major coaches absolutely hate to play. It's a dangerous trap because the Eagles are an excellent FCS team that would be very competitive in the lower levels of FBS (and nearly beat Washington in 2014), but the Huskies will get no credit whatsoever for winning this game and will see their playoff hopes immediately dashed if they should lose. The same is true for their non-conference game at Brigham Young, which is a better team than it gets credit for and proved it by going to Wisconsin and winning. But again, that game is one Washington is supposed to win.
They've also got to go to Arizona, and as the likes of Oregon, Washington State and Utah can attest, you do not want to bring a top team down to Arizona. The Wildcats might be an afterthought in the college football world, but they are tough to beat in Tucson, and they usually save one strong performance a year for an un-suspecting Top 15 foe. This game is also sandwiched between a challenging trip to Stanford and Oregon's visit to Seattle, making it a classic trap game for the Huskies.
Otherwise, the schedule is favorable because Oregon, USC, Utah and Washington State will all come to Seat-tle this season. But is the schedule too favorable? There's nobody like Auburn on the schedule like there was last season, and the Huskies honestly might need that kind of game to impress the selection committee. Without it, there is virtually no margin for error for Washington. Even one loss is probably going to be enough to end Washington's hopes of reaching the playoffs, and the Huskies' schedule appears soft enough that even an undefeated campaign might not be enough to get them there.
To take Washington, you've got to believe that the Huskies can replace their lost starters on defense well enough to run the table AND that at least one of the other four Power 5 conference champions (Washington is not getting into the playoff without a Pac-12 title) will stumble at some point this season. Washington looks like a good bet to return to the Rose Bowl this year, but that's not the bet. The bet is Washington at +500, and that's not high enough to entice me. I'd stay away from the Huskies.
Oregon Ducks
Will make it: +500
Won't make it: -900
What about the Pac-12 North's other possibility, the Oregon Ducks? Well, even though they've got to go to Seattle, the Ducks actually might have a better shot than Washington at reaching the playoffs.
For one thing, the Ducks aren't replacing most of their defense. In fact, Oregon will have 17 starters back in uniform, making them one of the most experienced teams in the Pac-12. Plus, one of the newcomers is high-ly touted defensive end Kayvon Thibodeaux, the No. 1 rated recruit in the nation. He's far from the only blue-chipper who will be wearing the green and gold of the Ducks this year, as Mario Cristobal signed the top re-cruiting class in the Pac-12.
The schedule itself is both favorable and challenging, an ideal combination. Yes, the Ducks have to go to USC and Washington, but neither trip is impossible to win. Plus, unlike Washington, Oregon will play a neutral-site game with Auburn, and a win could springboard the Ducks into the CFP conversation before the calendar even hits September. They don't have to play a trap game at Arizona, they don't have to visit Mike Leach's Washington State squad, and they got five of their nine Pac-12 games at home this season.
That's the good news for the Ducks. However, none of it is going to mean anything if Justin Herbert doesn't continue the upward trend that he's showed at quarterback. If he can take another step forward and really lead his team, the pieces are in place for the Ducks to make a run. The problems are two: Oregon has to get help from Auburn, and it likely cannot afford to lose a game. The Ducks did well by scheduling a tough SEC West foe, but Auburn has a brutal schedule that could easily see the Tigers go 7-5. Even if the Tigers' losses are to the besides Oregon are to the likes of Alabama, Georgia, LSU and Mississippi State — all of whom would be very reasonable losses, 7-5 is still 7-5 and would knock a lot of the luster off an Oregon victory over Auburn. The Ducks realistically need the Tigers to go 9-3 or better to make sure that a win over Auburn is im-pressive enough. If it is, Oregon might be able to escape losing one Pac-12 game, as long as it's to the right team.
However, I wouldn't bet on Oregon being OK with one loss. Realistically, the Ducks need to be thinking run the table to get into the playoffs. They have the ability to do it, and they have the coach to do it. Mario Cris-tobal has always been thought of as a good coach who never got a chance to show what he could do with real talent because he was previously coaching Florida International. Well, now he's coaching real talent and could guide it to the playoff if everything breaks his way. I personally think Oregon is a year away from that level, but with a few breaks, it could happen this year. If you're looking for a real longshot to back, you could do worse than the Ducks.
Nebraska Cornhuskers
Will make it: +500
Won't make it: -900
In a few words: Are you kidding me? Nebraska is here because people think Scott Frost is a miracle worker after turning Central Florida from 0-12 to being the only undefeated team in the nation in just two years, and many people still remember the days of Tom Osborne winning big in Lincoln.
Sorry, but those days are long gone. Nebraska hasn't even shown that it's ready to compete at the Big Ten level, let alone the national level. The Cornhuskers have the third-longest conference title drought in the Big Ten, ahead of only Indiana and Minnesota, who shared the Big Ten title in 1967 and haven't won anything since. And no, I didn't forget to count Maryland (2002 ACC champions) or Rutgers (2012 Big East champions). Nebraska hasn't won a thing since 1999, going 0-7 in conference championship games since Frank Solich best-ed Texas in the Big 12 title game.
When even Rutgers has won more recently than you have, that's a bad sign. The Huskers will be better than last year's 4-8 because Frost is an excellent coach and the schedule is pillow-soft, as they get Ohio State and Iowa at home and their toughest road game is probably Purdue, but that doesn't mean Nebraska's ready to make a run for the College Football Playoff. Remember, this is a team that lost to Troy in Lincoln a year ago. To make the playoff would require a run like Kansas in 2007 (a year where the Jayhawks memorably humiliated the Huskers 76-39), and those Jayhawks were far ahead of where the Huskers are.
Nebraska feels like an eight or nine-win squad to me. That won't come close to the playoff, and there's simply no reason they should be going at a similar price to Texas or LSU. I'd need their +500 to be tripled for me to get interested; I'm not touching Nebraska at that amount.
Florida Gators
Will make it: +350
Won't make it: -530
I'm not particularly high on the Gators. Yes, optimism is very high in Gainesville after Florida went 10-3 last season. But let's take a more in-depth look into who the Gators actually beat last season. Other than Missis-sippi State, whom coach Dan Mullen knew like the back of his hand after spending nine years in Starkville, Florida's only good win was LSU, and that was before the Tigers figured out their identity and put together a strong finish.
The rest of their wins? Charleston Southern, Colorado State, Tennessee, Vanderbilt, South Carolina, Idaho, a simply dreadful Florida State and a Michigan squad that was completely toothless when half of its team sat out the bowl game. Meanwhile, they lost in Jacksonville to Georgia, fell at home to Kentucky and got smoked in the Swamp by what was then a struggling Missouri team. Color me unimpressed, and that's before you throw in the turmoil at Florida that has seen star corner Chris Steele transfer to Oregon and others follow him out the door.
And now we're talking about Florida making the College Football Playoff? Sorry, I don't come anywhere close to seeing it. For starters, the Gators have to find a way past Georgia. Kirby Smart's men don't show any signs of slowing down. Beyond the Dawgs, the schedule did Florida no favors. Taking Georgia out of the equation, because Florida always plays the Bulldogs in Jacksonville, there are three tough trips in the SEC East the Ga-tors could face this year: Kentucky, South Carolina, and Missouri.
Florida drew all three of them on the road.
Granted, the Gators can't beat Missouri in either location lately, but going to both Columbias in the same sea-son won't help matters. Neither will a trip to Baton Rouge, where LSU is sure to be fired up after last year's narrow loss to Florida. And if that wasn't bad enough, Florida did itself no favors with its own scheduling by scheduling Tennessee-Martin and Towson and the same mediocre Florida State team. Sure, there's a neutral site game with Miami in Orlando, but if making the playoff was the goal, Florida REALLY could have used a true road game in Orlando as part of that home-and-home with Central Florida that it was too arrogant to consid-er.
And if the Gators somehow survive all of that, they've probably got to get through Alabama in the SEC title game. The rule of the playoff is that you can't lose your conference title game and make it to the playoff, and you definitely can't lose it if you schedule two FCS squads.
Forget making the playoff, I honestly think Florida will be lucky to get back to double-digit wins. Auburn comes onto the schedule as the Gators' non-LSU opponent from the West, and that's definitely no easy game. Given the schedule and the turmoil surrounding this offseason, I don't think Florida is one of the four best teams in the SEC, let alone the entire country. This seems to be the easiest call on the board, which is why the Gators are going off at -530 to miss the playoff.
Honestly, that's crazy that it's that low. There is no reason the Gators should be paying less than Texas or LSU to make the playoff. If you want to bet this, bet against Florida.
Texas Longhorns
Will make it: +450
Won't make it: -750
After the Sugar Bowl win over Georgia, Texas quarterback Sam Ehlinger declared, "We're back…!" He might not be wrong. If Texas can play like it did last season, this bet could be a nice dark horse. The Longhorns have to find a way to replace their entire front seven, which could really hurt, but Texas plays in the right confer-ence to survive without a defense, as the Big 12 is full of schools that think defense is entirely optional.
Plus, the area where Texas has experience on defense is the most crucial part of playing defense in the Big 12: its secondary. With Brandon Jones, Caden Sterns and B.J. Foster in the secondary, the Longhorns have the defensive backs needed to stop any passing attack.
On the offensive side of the ball, the Longhorns should shine. Ehlinger grew quite a bit last season, and now that he's had some success under his belt, The running game has to be better in order to keep Ehlinger healthy, as he didn't play against Baylor or Iowa State because of a shoulder injury. But if Texas can keep him on the field, the pieces are in place for the Longhorns to take a step forward and become the top team in the Big 12.
The schedule is also favorable. First, Maryland is gone from the schedule, and that's huge for Texas because, for whatever reason, the Longhorns couldn't figure out how to beat the Terrapins. LSU is a much tougher matchup on paper than Maryland, but the Tigers don't have the same mental block the Terrapins presented. LSU will also do much more for Texas' strength of schedule, and the Bayou Bengals are coming to Austin this year, giving Texas a chance to notch an early signature win at home.
When they get into the Big 12, the schedule is again favorable to the Horns. Texas doesn't travel to Oklahoma State or Kansas State, and they've got an excellent shot to take down Oklahoma in Dallas as the Sooners try to move on from Kyler Murray. The trap games come late in the season at Iowa State and Baylor, and while the Longhorns do have to travel to Fort Worth, TCU fell apart last season, so this trip shouldn't be as scary as it's been in recent years.
Add it all up, and Texas is going off at a really nice price at +450. The Longhorns won't have a smooth ride by any means, as Oklahoma is always tough and the road games have the potential to become brutal, particular-ly if Iowa State and Baylor continue the progress they made last season. But there's a lot to like here about the Longhorns' chances, and there are worse teams than Texas who aren't giving as much of a return as the Longhorns would. If you're looking for an underdog to back for the playoff, Texas could be the one.