MWC Title: Hawaii Rainbow Warriors vs. Boise State Broncos Pick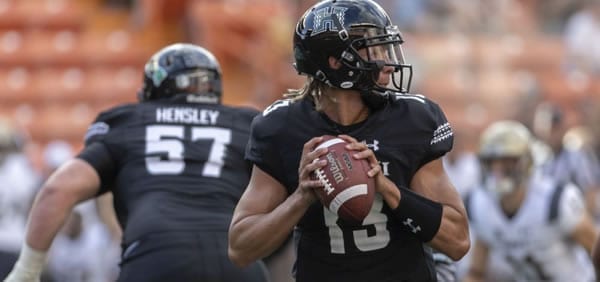 Hawaii Rainbow Warriors (9-4 SU, 7-6 ATS) vs. Boise State Broncos (11-1 SU, 6-5-1 ATS)
Mountain West Conference Title Game
Date and Time: Saturday, December 7, 2019 at 4PM EST
Where: Albertson Stadium, Boise, Idaho
TV: ESPN
Point Spread: HAW +13.5/BSU -13.5
Over/Under Total: 64
The Hawaii Rainbow Warriors come to Albertsons Stadium on Saturday to take on the Boise State Broncos for the Mountain West Conference Championship. The 11-1 Broncos took care of business last week in a tough game, a 31-24 win over Colorado State. It was their fifth win in a row, as they finish the regular season unbeaten in conference at 8-0. They now await a Hawaii squad that capped off their regular season with an easy win over Army late Saturday, 52-31. With nine wins, they now look for what would truly be a landmark victory for this coach Nick Rolovich-led bunch.
What Game One Tells Us
Unfortunately, for prospective Hawaii backers, game one wasn't a good sign of what might happen this time around. Even with Boise needing to go into the barrel for quarterbacks after Hank Bachmeier was injured, it showed why the battle for who would be the starting QB for Boise came down to the final hours, as his fill-ins have been capable, namely Jaylon Henderson who has started the last three games. Bachmeier is questionable for the title game. If not for beating Hawaii before when playing three quarterbacks, the iffy status of Bachmeier would be more of a concern.
A 59-37 win for Boise was fairly routine. After building up a 31-7 lead in the 2nd quarter, the Hawaii offense was never able to get in a rhythm, as they abandoned the run game and relied on the pass with mixed results. Boise saw most of their heavy-hitters shine on the day, with WR John Hightower going for 141 yards and two touchdowns, while George Holani and Robert Mahone were both big on the ground, each running in touchdowns. Will the Hawaii "D" be able to do better this time around against a home Boise offense they couldn't contain a few months ago?
More Picks: SEC Title Game: Georgia vs. LSU Pick
Will Hawaii Matchup Advantages Manifest Better?
Hawaii had a decent case to cover the spread the first time around, without some things they were counting on actually coming to pass on the field, with four turnovers not helping. And "pass" is the operative word, as a vital Rainbow Warriors' air-attack wasn't able to get off. QB Cole McDonald threw three TDs but didn't really get off the way he would have liked. The Boise secondary has been the one part of the Broncos' defense that has been iffy this season. Opposing quarterbacks have put up numbers on this defense and McDonald is hoping for better this time around after not getting off the way he wanted to in the first game.
Or will we actually see things go worse this time around? This time, the road-trip isn't any easier. Coming off tough games, they now have to pick up and go to Boise once again. And this time, the weather difference between Honolulu and Idaho will be starker, the stakes are higher, and the Broncos have the light at the end of the tunnel plainly in sight, which can have an energizing effect.
Making it Hard for the Rainbow Warriors
While 9-4, it's an imperfect group, to say the least. On the one hand, this is a Hawaii squad that beat two Pac-12 teams this season, while winning their last four games to arrive in this spot with some good momentum. But there are certain football facts that are going to be hard for them to buck against the Broncos. For a 9-win team, it's a bit unusual to see a group scoring 35 a game and giving up 32 on average. With the Broncos, you have a solid team that might be better in certain areas than others. With Hawaii, the defense is a downright liability.
That's not just in theory, either, as Hawaii yielded a season-high in points to Boise when they first played, showing that the Broncos match up pretty well in this spot. With Holani, Mahone, and others, Boise will pick apart a Hawaii run-defense that gives up an average of 205 yards per game. It resonated in the first game, and it's not clear why it won't again this week.
Hawaii Too Incomplete?
It feels wrong to say anything bad about a program that turns their fortunes around as Hawaii has. But the journey from conference doormat to champion is a long one. While some of their issues have been addressed, a lot of them remain. Often, especially against the lesser conferences like they have faced, their offense was able to camouflage their other shortcomings. Against teams like New Mexico, Nevada, and San Jose, they looked the part. In conference losses to Boise, Air Force, and a down Fresno team, we saw a different side—an uglier side. We saw a team whose defense lets them down and is simply not a unit befitting a conference champion. Against the bigger dogs in the conference, they have already shown themselves not to be up-to-snuff, falling to Boise and Air Force by a combined score of 115-63.
Take the Home Favorite
I could be wrong, and I don't want to summarily dismiss the wherewithal and overall grit of a Hawaii team that turned around their program so dramatically. But whatever formula for success Hawaii has stumbled on resonates less in this particular setting on this field and against this complete and strong of a team in Boise. This isn't an indictment on Hawaii as a team, but rather a reflection of how they just don't match up that great in this spot. I see Boise getting the conclusive win at home.
Loot's Pick to Cover the Point Spread: I'm betting on the Boise State Broncos minus 13.5 points.
$100% Cash up to $500

STOP LOSING TODAY! START WINNING WITH DOC'S TEAM OF PROFESSIONALS! GET A FREE NO STRINGS ATTACHED $60 FOR THIS WEEKEND'S GAMES!