Oklahoma Sooners vs. Baylor Bears Pick ATS 11/16/19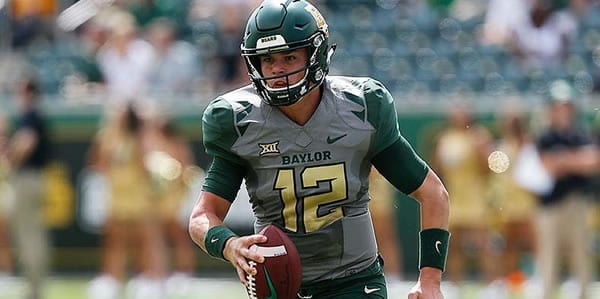 Oklahoma Sooners (8-1 SU, 4-5 ATS) vs. Baylor Bears (9-0 SU, 5-4 ATS)
College Football Week 12
Date and Time: Saturday, November 16, 2019 at 7:30PM EST
Where: McLane Stadium, Waco, Texas
TV: ABC
Point Spread: OKLA -10/BAY +10 (5Dimes)
Over/Under Total: 67
The Oklahoma Sooners take on the Baylor Bears in a high-stakes Big 12 Conference matchup in Waco on Saturday. This match is a potential signature moment for a resurgent 9-0 Baylor program that still has a lot to prove. On Saturday, they narrowly avoided a loss at the hands of a dogged TCU team, winning in overtime, 29-23. They now take on an Oklahoma team looking for a big win. On Saturday, they bounced back from a loss to beat Iowa State, but just barely, 42-41. Will Oklahoma confirm conference supremacy? Or will Baylor show that they're back in the spotlight for real?
Where Each Team Stands Heading Down the Stretch
You don't hear a ton about Baylor for a 9-0 team. One can understand the skepticism, but for a program that had bottomed out, this is a great development for them. The competition has been a bit lacking, and some close results have people wondering what will happen when they go up against the big dogs, which they do this week. Despite the unbeaten record, they haven't gotten much separation in the Big 12, beating Iowa State by 2, Texas Tech and West Virginia by 3, and then going to overtime last week to beat TCU. Still, they didn't do any worse against Iowa State than Oklahoma did last week in a narrow 42-41 win. And they beat a KSU team by 19 that gave the Sooners their only loss of the season a few weeks ago.
After looking so good to start the season, the Sooners hit a rough patch. Struggles from an ATS standpoint got even worse, culminating in a 7-point loss to Kansas State as 23.5-point favorites a few weeks back. A massive struggle against Iowa State on Saturday, where only a failed two-point conversion to end the game saved them, we saw more issues. Among them is a defense that has started to betray them lately. Whether they can turn it around here on short notice will determine if they have a special season or merely another good one.
The Contrast of Competence and Explosiveness
While Baylor has some massive talent, they probably don't match up with the Sooners in terms of athletes. They don't have the stars that the Sooners have on both sides of the ball. They don't have the exposure and have somewhat quietly gotten to this spot. But they have a quiet kind of solid competence that could go a long way, strengthened by its balance on both sides of the ball. Sure, Oklahoma has the top-ranked offense in the nation. They average over 48 points a game. They can explode through the air or on the ground. They have a star at QB in Jalen Hurts with weapons like CeeDee Lamb, Charleston Rambo, Kennedy Brooks, and other guys who will be playing on Sundays one day. At coach is the boy wonder Lincoln Riley. When pondering the Sooners, they make a big splash in your mind.
The Bears, however, are more understated. But there is nothing they do poorly. On defense, they are solid against the run and the pass alike. They can apply a nice pass-rush. They're stiff against the run, as they look to stem the Sooners' ground-game this week, no small task with a few talented backs and Hurts nearing 1000 yards on the ground. Led by Grayland Arnold, the secondary can make plays while also playing stout. They're not great, but they're solid across all areas. Giving up an average of fewer than 20 points playing in this conference says something, and it's six points less than what Oklahoma allows per game.
The balance on offense for Baylor could really pay off in this spot. QB Charlie Brewer is on-point, accurate, and with this offense on the move. He has 16 TDs against just four picks while having run in 7 scores. He leans on backs John Lovett and JaMycal Hasty, plus a slew of other contributors in the backfield. The same applies aerially, with Denzel Mims, Tyquan Thornton, RJ Sneed, Josh Fleeks, and others. Against a sideways-looking Oklahoma defense, there is no reason to think a home Baylor offense can't meet or exceed what Kansas State and Iowa State did the last few weeks.
Sooners Looking to Get it Together
After starting the season 7-0, the Sooners have seen their defense threaten to upend the entire operation. Only a failed two-point conversion last week against the Cyclones kept them from dropping two straight against conference opposition. After weeks of giving up point totals in the teens and twenties, Oklahoma has now allowed a combined 89 points in their last two games. And that's a definite concern going into Waco to take on a Baylor offense that's probably better and in as good a position to thrive than their last two opponents. Getting the Sooners' offense to produce isn't a problem, but can the defense stem the flow? Not that great against the pass lately, they have been getting gashed on the ground. When that's happening, it's not easy to cover big numbers.
Take the Home Dog
I don't question whether Oklahoma can revert form or that maybe there is a little bit of a smoke-and-mirrors aspect to Baylor's success. But if you're going to ding Baylor for close games against conference opponents, what happens to how the Sooners have looked the last two games? At some point, it's not the eyes that deceive you. You see what it is. And what it is might not paint the Sooners in a great light as double-digit road favorites against an undefeated team. I see Baylor hanging tough and getting the cover. I'll take the Bears.
Loot's Pick to Cover the Point Spread: I'm betting on the Baylor Bears plus ten points.
100% Free Play up to $1,000