[et_pb_dcsbcm_divi_breadcrumbs_module hide_homebreadcrumb="off" homebreadcrumbtext="Home" separator="sep-raquo" hide_currentbreadcrumb="off" homebreadcrumborientation="left" _builder_version="3.8″ fontsbreadcrumbs_font="Lato||||||||" fontsbreadcrumbs_text_color="#000000″ fontsbreadcrumbs_font_size="15px" fontsbreadcrumbs_line_height="16px" fontsseperator_font="||||||||" fontsbreadcrumblinks_font="||||||||" fontsbreadcrumblinks_text_color="#2567cf" custom_margin="25px|||" custom_margin_phone="30px|||" custom_margin_last_edited="off|desktop" custom_css_main_element="font-family: Helvetica Regular;" disabled="on" global_module="3641″ saved_tabs="all"][/et_pb_dcsbcm_divi_breadcrumbs_module]
Sentry Tournament of Champions Value Bets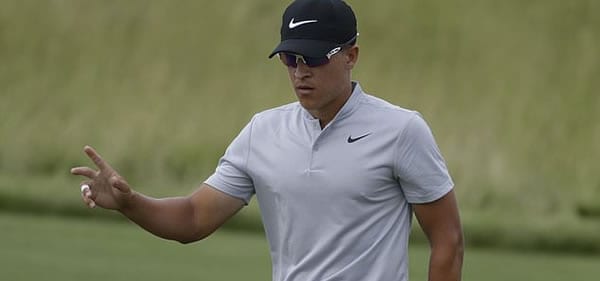 Event: Sentry Tournament of Champions
When: anuary 2-6, 2019
Where: Plantation Course – Kapalua, Hawaii
TV: The Golf Channel
The perks that come with being a professional athlete in any sport are quite outstanding, but the players on the PGA Tour may have some of the best fringe benefits around. Any player that can manage a victory on Tour is paid handsomely and earns several exemptions, including to the loftiest places like Augusta, Georgia.
Additionally, winners get an invite to the season-opening Tournament of Champions, and it's hard to think of a better place to open the New Year than in Hawaii. I'm sure the golfer's wives and families appreciate the winter vacation, and it is essentially paid for in that the TOC has no cut, so even the last place competitor is getting paid. A guy could literally shoot 100 for four days and cash a check around what the average worker in the US gets paid in a year. The struggle is definitely not real on Tour in that regard.
Over the course of a season, the cream does eventually rise to the top to win so the TOC is routinely one of the strongest fields you can find. Dustin Johnson will defend his 2018 title against Justin Thomas, Rory McIlroy, Jason Day and Bryson DeChambeau. Brooks Koepka, Francesco Molinari and Jon Rahm are also in attendance along with a handful of first-time winners on Tour, making this a very competitive and wide-open event despite the short field of 34 golfers. Tiger, Phil and Justin Rose are the only eligible players that are sitting the TOC out. This event has been very kind to the biggest names in recent years with each of the last seven championships being won by a household name like Patrick Reed, Jordan Spieth or Dustin Johnson.
The Plantation Course is a superb venue to start the New Year, and it certainly has some uniqueness when compared to other Tour courses. For starters, the 7,411-yard course plays at par-73 with only one par-three on the back alongside two par-fives. The 17th and 18th holes stretch out to almost 1,200 yards by themselves, but you only get nine stokes to navigate them at even par. The course has some of the greatest views of any PGA location, and the set-up is really designed with scoring in mind. That is good considering most PGA players are probably not at their peak right now, but the generous fairways and easy-rolling greens help the scoring pace remain very high. Nothing less than 16-under par has won here since 2008 and at least 21-under has been necessary to win in each of the last four TOC's with Jordan Spieth hitting 30-under par in 2016. The sheer talent of this field will require the winner to be on top of his game and making a ton of birdies is part of the deal at Kapalua.
Each week, we take a look at the online betting sites and highlight the best values on the board. We make a short, middle and long odds pick to win and break down why these players are expected to contend. Here are our picks to win the 2019 Tournament of Champions.
Jon Rahm (8 to1 odds to win)
Rahm is one of the few true favorites in this field that I trust to put up a truly winning effort. Much of that trust is built off his Hero World Challenge win, and at just 24 years old, he isn't among the players that are taking long breaks this time of year. For the most part, the young guns stay in shape and travel the world to play in premiere events outside the framework of the traditional Tour schedule. That keeps them ready to go, and they almost always have less rust to shake off once January comes around. Rahm finished 2018 as the 2nd ranked player in off-the-tee performance and came in 20th in overall tee-to-green metrics. He is a machine when it comes to getting quality birdie looks, and a top-30 putter earned the 3rd most birdies during the last regular season. That is a nice stat to fall back on when the scoring pace is scheduled to be ultra-fast. There is a little more bust potential with Rahm outside the top-120 in scrambling so he will likely fall back if he is missing greens, but there is little reason to think that will be the case this week. His top-20 driver distance will get him in spots to be aggressive on the par-fives, and an eagle or two could be the difference this week between a good result and a great one.
Cameron Champ (20 to 1)
The Texas A&M product won his card by finishing 6th on the Web.com last year and promptly won the Sanderson Farms event in October in one his very first PGA starts. He continued to produce with a 6th place run at the RSM Classic and appears to be well beyond what we usually see from Tour rookies. Even as an amateur, he showed the ability to go head-to-head with the best at the 2017 U.S. Open where he was inside the top-10 after the weekend and missed the low-am title by one stroke. In an era where the long ball is common, Cameron stands out in averaging 328 yards per drive. That is massive, even by Tour standards and that length has him hitting very short irons into greens. He has used that to hit over 75% in his young career, and the 11th rated GIR putter has him at 5.85 birdies per round. He is not particularly good around the greens and is short on PGA experience, but these kids have no fear anymore. Most first time TOC participants would be much further down the board, but the word is out on Champ. Getting him in the 20-1 range might not seem like a substantial value, but he is a legitimate threat to survive this star-studded field.
Bubba Watson (33 to 1)
Bubba had a milestone season in 2018 that first saw him win his 10th career PGA title, but he didn't stop there, adding eleven and twelve by the time it was all said and done. I still doubt Watson can win a Major outside of The Masters, and even the Players and Playoff events might be out of his reach, but he is still a factor in this kind of tournament. Bubba is typically ready to go to start the season and has multiple top-10s on his TOC record. He hasn't tee'd it up officially in 2018-19 but has a T12 at the Hero World Challenge and a T6 at the QBE Shootout to show he is in good playing shape. Watson can still hammer it off the tee and is top-15 in eagles as a result. His putter seems to be trending toward Tour average, and that drags his birdie and scoring averages down when you look at them as a whole, but he wins or comes very close to winning when that putter is on. I like that he has solid results at Kapalua which suggests he knows how to putt here and you aren't going to find any other top-5 FedEx finishers at 33 to 1.
Good luck and good golf!
Note: Tech issue resulted in this article being posted after the tournament start.