[et_pb_dcsbcm_divi_breadcrumbs_module hide_homebreadcrumb="off" homebreadcrumbtext="Home" separator="sep-raquo" hide_currentbreadcrumb="off" homebreadcrumborientation="left" _builder_version="3.8″ fontsbreadcrumbs_font="Lato||||||||" fontsbreadcrumbs_text_color="#000000″ fontsbreadcrumbs_font_size="15px" fontsbreadcrumbs_line_height="16px" fontsseperator_font="||||||||" fontsbreadcrumblinks_font="||||||||" fontsbreadcrumblinks_text_color="#2567cf" custom_margin="25px|||" custom_margin_phone="30px|||" custom_margin_last_edited="off|desktop" custom_css_main_element="font-family: Helvetica Regular;" global_module="3641″ saved_tabs="all"][/et_pb_dcsbcm_divi_breadcrumbs_module]
2018 Home Run Derby Picks & Preview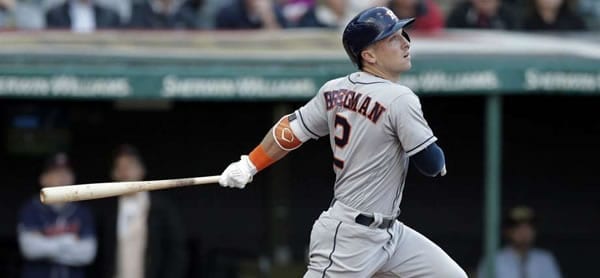 Time: 8 PM ET
Date: Monday, July 16th
Venue: Nationals Park
Location: Washington, D.C.
TV: ESPN
by Bryan Bash
It's almost time for MLB's All-Star festivities, and that means the crowd-pleasing Home Run Derby is right around the corner. The dimensions of Nationals Park are: 402 feet to center, 337 feet to left, 335 feet to right, 377 feet to left-center and 370 feet to right-center. So, if anybody has a slight edge, it's the lefties, albeit a minuscule one. The Derby is a bracket-like competition akin to the NCAA Men's Basketball Tournament if it started in the Elite Eight. Participants have four minutes to accumulate as many long balls as possible in this single-elimination format. Advantage goes to the higher seed, who has the opportunity to put the pressure on the lower seed by teeing off first. In the first round and semifinals, each player is allowed one 45 second timeout, while in the finals both participants are permitted two stoppages. However, one is for 45 seconds and the other just 30. Players have the opportunity to earn 30 seconds of bonus time if they're able to accumulate two or more home runs equal to or greater than 440 feet. Seven of the eight participants belong to National League clubs, while the Houston Astros Alex Bregman is the lone American League representative in the Derby. Let's take a gander at each player's odds at Bovada and try to decipher who's worth putting some coin on Monday night.
Bryce Harper (+350) – 2-seed
The hometown kid is the favorite, and that's not surprising news. Having accrued 23 homers thus far, Harper's tied for 7th in MLB. His longest shot for the year is 409.57 feet, and he's averaging .213 with 53 RBI and a .367 on-base percentage. To say that Harper's had a disappointing first half would be an understatement. However, he's homered in two of his last four games. Unfortunately, he's only gone 2 for 16 (.125) with 3 RBI in the previous four. With the +350 line, Harper would need to win 22.2% of the time to make this a profitable bet. He possesses the power and advantage of familiarity at Nationals Park, but he's just swinging the bat too erratically for my taste this season. Bryce will be a popular pick, but the numbers tell a different story this year. We're definitely not buying Harper's stock here.
Jesus Aguilar (+375) – 1-seed
The big-man has produced the most homers of anybody in the field here so far this year with 24. Only Judge (25), Trout (25), Lindor (25), Ramirez (28) and Martinez (28) have had more dingers thus far. Aguilar's the most powerful dude in this field, and his longest knock of the year is 396.21 feet. On the year, Aguilar's averaging .307 with 68 RBI and a .375 on-base percentage. The 6′ 3″ 250 lbs. mammoth has been hot lately with five homers in his last seven contests. Over the past week, Aguilar's gone 10 for 27 (.370) with five home runs, three extra-base hits, and 12 RBI. His placement as one of the favorites is quite justifiable, the only thing that scares me is his size and speed. This is a competition that rewards quickness and rapid-fire ability, and I think the big-man will struggle in this format. With the line, he'd need to win 21.1% of the time to make it a profitable bet for us, and we're just not convinced he'll be able to be akin to a Gatling gun out there. Avoid Aguilar.
Kyle Schwarber (+400) – 5-seed
The big lefty has hit 17 home runs this year, which is tied for 34th in the League. His longest dinger traveled 405.29 feet. Of all the Derby participants, Schwarber's recorded the highest exit velocity (117.1 mph) of a home run this season. Overall, Kyle's batting .247 with 39 RBI and a .374 on-base percentage. This past week, Schwarber's gone four of 16 (.250) with an extra-base hit but no home runs. He's one of two Chicago Cubs players in the field along with Baez, both who possess great power. However, Schwarber falls into the lackadaisical realm as well commensurate with Aguilar. His price of +400 means he'd need to win 20% of the time to make our bet profitable, and I don't trust him to win once let alone one out of every five. It's a no-go on Schwarber.
Rhys Hoskins (+550) – 8-seed
Hoskins has the fourth-best odds, but he's hit the fewest home runs (14) of all participants. In three games at Washington this year, Hoskins went two for 13 (.167) with one homer and three RBI. His average this year is .254 with 56 RBI and a .364 on-base percentage. We're not sure how the eighth seed has the fourth best odds, but we're quite sure we're not buying his stock. Hoskins hasn't hit a home run since June 29th. He'd need to win 15.4% of the time to justify laying a bet on him, and that'd be akin to lighting your own money on fire. Consequently, don't do that unless you're into the whole pyromaniac thing.
Javier Baez (+550) – 6-seed
According to the line, Baez has a 15.4 % chance to take the Home Run Derby. Baez (.289 AVG, 18 HR, 66 RBI & .323 OBP) has the highest average exit velocity (92.4) of all Derby participants. His longest bomb this year traveled 403.56 feet, and he's been heating up lately. Over the past week, Baez has gone 9 for 28 (.321) with two extra-base hits, two home runs, and five RBI. This Chicago Cub has recorded five home runs in his past five games. Baez is my pick to win the whole shindig, as he has to topple Muncy and then faces the winner of the Harper/Freeman showdown before a finals appearance against Aguilar, Hoskins, Bregman or teammate Kyle Schwarber. Baez's combination of power and quickness is the perfect recipe for success in this Home Run Derby format. According to our calculations, he'll win nearly 33% of the time, so we have a 17.6% edge against the +550 mark. Baez is the best buy of the bunch.
Max Muncy (+650) – 3-seed
Muncy's having a breakout year for the Los Angeles Dodgers, blasting 21 homers in the process. His 92.1 mph average exit velocity is second-best compared to all other Home Run Derby contestants. However, Muncy's gone cold with only one homer in his last eight games. Over the past week, Muncy's gone 5 for 24 (.208) with one homer and one RBI. Muncy averages .272 with 39 RBI and a .414 on-base percentage. With his line, he'd need to win 13.3% of the time to justify the bet, and we think the big stage and bright lights will be a little too much for Muncy. Kudos to the great start to the year though.
Freddie Freeman (+650) – 7-seed
Freeman's the best first basemen in MLB, and he has the record the longest home run of all the Derby participants (409.63 feet). He's top ten in the National League in home runs, RBI, walks and numerous other statistics. For the sake of brevity, Freeman's a beast. He's batting .313 with 16 homers, 60 RBI, and a .404 on-base percentage. Freddie's been hot lately too, going 9 for 20 (.450) in the past week with four extra-base hits and three RBI. However, he did not record a dinger during the stretch. His pathway to the top of the bracket is a tough one, having to face Harper and then the winner of Baez/Muncy if he advances. Freeman's a great ballplayer, and he'd need to win 13.3% of the time to justify a bet on him. It probably won't happen, but he's in the top half of potential winners of the eight. I wouldn't be stunned if he won, but I wouldn't bet any hard-earned dough on it either.
Alex Bregman (+950) – 8-seed
The lone representative for the American League hailing from the Houston Astros, it's Alex Bregman (.285 AVG, 19 HR, 61 RBI & .384 OBP). His 19 homers are tied for 19th most in the Majors thus far. Bregman's been heating up lately, with three dingers in his past six contests. In those six games, Bregman's gone 11 for 25 (.440) with two extra-base hits and six RBI. Bregman's undersized and gets overshadowed by bigger bats on his team such as Altuve, Correa, Springer, and Gattis. However, this dude's got some pop, and it would not be surprising to see him contend at this Home Run Derby. Especially since he's got the weight of the entire American League on his shoulders, he should be extra motivated to prove the haters wrong. How he has the worst odds of all eight is mesmerizing. Not only can he knock 'em out with regularity, but he's got the clutch factor too. Numerous times he's come up with the clutch, game-winning hits oft home runs this season. His mark pegs him for a 9.5% chance to win this thing, and he's definitely got a better shot than that. Therefore, there's some value in betting on the heaviest underdog in this spot. He may just shock the world, and I'd rate him as a top half pick in this crop of MLB Sluggers. However, as stated above Baez is the best buy of the bunch.
<div class="widget105"><!-- [et_pb_line_break_holder] --><h4 class="baseball">Baseball Sportsbooks</h4><!-- [et_pb_line_break_holder] --><table id="dimeline"><!-- [et_pb_line_break_holder] --> <tr><!-- [et_pb_line_break_holder] --> <th></th><!-- [et_pb_line_break_holder] --> <th width="110px">10¢ to:</th><!-- [et_pb_line_break_holder] --> <th width="110px">20¢ to:</th><!-- [et_pb_line_break_holder] --> </tr><!-- [et_pb_line_break_holder] --> <tr><!-- [et_pb_line_break_holder] --> <td><div class="col1"><a href="https://record.commission.bz/_BhTQDVOVie23_O3IiMN7EWNd7ZgqdRLk/1/"><!-- [et_pb_line_break_holder] --> <img src="https://www.predictem.com/wp-content/uploads/2018/06/SportsBettingDark.png" width="150" alt="SportsBetting" /></a><!-- [et_pb_line_break_holder] --> </div></td><!-- [et_pb_line_break_holder] --> <td>-200</td><!-- [et_pb_line_break_holder] --> <td>-279</td><!-- [et_pb_line_break_holder] --> </tr><!-- [et_pb_line_break_holder] --> <tr><!-- [et_pb_line_break_holder] --> <td><div class="col1"><a href="https://www.predictem.com/betting-sites/heritage-sportsbook/"><img src="https://www.predictem.com/wp-content/uploads/2018/06/heritage-xs.png" width="150" alt="Heritage" /></a></div></td><!-- [et_pb_line_break_holder] --> <td>-200</td><!-- [et_pb_line_break_holder] --> <td>-240</td><!-- [et_pb_line_break_holder] --> </tr><!-- [et_pb_line_break_holder] --> <tr><!-- [et_pb_line_break_holder] --> <td><div class="col1"><a href="https://affiliates.5dimes.eu/tracking/Affiliate.aspx?idBook=1&mediaTypeID=220&AffUrlID=80&LandingPageID=2"><img src="https://www.predictem.com/wp-content/uploads/2018/06/5Dimes_sm.png" width="150" alt="5Dimes" /></a></div></td><!-- [et_pb_line_break_holder] --> <td>-195</td><!-- [et_pb_line_break_holder] --> <td>-266</td><!-- [et_pb_line_break_holder] --> </tr><!-- [et_pb_line_break_holder] --></table> <!-- [et_pb_line_break_holder] --><div class="widget-footer"><a href="https://www.predictem.com/best-sportsbooks/mlb-dimeline/">See all Dimeline Sportsbooks</a></div><!-- [et_pb_line_break_holder] --></div><!-- [et_pb_line_break_holder] --><!-- [et_pb_line_break_holder] --><style><!-- [et_pb_line_break_holder] --> #dimeline {border: 0px;}<!-- [et_pb_line_break_holder] --> #dimeline th{color:#000;}<!-- [et_pb_line_break_holder] --> #dimeline td{padding: 2px; text-align: center;}<!-- [et_pb_line_break_holder] --> #dimeline td, #dimeline th{padding: 8px 2px; text-align: center;border-bottom: 1px solid #bbb;}<!-- [et_pb_line_break_holder] --> .img-hover {border: 1px solid #fff; padding:5px}<!-- [et_pb_line_break_holder] --> .img-hover:hover {background: #edeef0; border: 1px solid #008156; margin-top:1px; padding:5px}<!-- [et_pb_line_break_holder] --></style>

<aside><!-- [et_pb_line_break_holder] --><div class="widget105"><!-- [et_pb_line_break_holder] --><h3>Biggest Sportsbook Bonuses</h3><!-- [et_pb_line_break_holder] --><div class="widgetlist"><!-- [et_pb_line_break_holder] --><div class="col1"><!-- [et_pb_line_break_holder] --><img src="https://www.predictem.com/wp-content/uploads/2018/04/bovada.png" width="150" alt="Bovada" /><!-- [et_pb_line_break_holder] --></div><!-- [et_pb_line_break_holder] --><div class="col2"><!-- [et_pb_line_break_holder] --><span class="list"><b>50% Cash</b></span><br><!-- [et_pb_line_break_holder] --><span class="list">5x Rollover</span><!-- [et_pb_line_break_holder] --> </div><!-- [et_pb_line_break_holder] --> <div class="col3"><!-- [et_pb_line_break_holder] --><a href="https://www.predictem.com/betting-sites/bovada/"><button class="btn-widget">Review</button></a><!-- [et_pb_line_break_holder] --></div><!-- [et_pb_line_break_holder] --></div><!-- [et_pb_line_break_holder] --><div class="widgetlist"><!-- [et_pb_line_break_holder] --><div class="col1"><!-- [et_pb_line_break_holder] --><img src="https://www.predictem.com/wp-content/uploads/2018/04/intertops.png" width="150" alt="Intertops" /><!-- [et_pb_line_break_holder] --></div><!-- [et_pb_line_break_holder] --><div class="col2"><!-- [et_pb_line_break_holder] --><span class="list"><b>50% Cash</b></span><br><!-- [et_pb_line_break_holder] --><span class="list">4x Rollover</span><!-- [et_pb_line_break_holder] --> </div><!-- [et_pb_line_break_holder] --><div class="col3"><!-- [et_pb_line_break_holder] --><a href="https://www.predictem.com/betting-sites/intertops/"><button class="btn-widget">Review</button></a><!-- [et_pb_line_break_holder] --></div><!-- [et_pb_line_break_holder] --></div><!-- [et_pb_line_break_holder] --><div class="widgetlist"><!-- [et_pb_line_break_holder] --><div class="col1"><!-- [et_pb_line_break_holder] --><img src="https://www.predictem.com/wp-content/uploads/2018/05/gt-bets.png" width="150" alt="GtBets" /><!-- [et_pb_line_break_holder] --></div><!-- [et_pb_line_break_holder] --><div class="col2"><!-- [et_pb_line_break_holder] --><span class="list"><b>150% Cash</b></span><br><!-- [et_pb_line_break_holder] --><span class="list">4x Rollover</span><!-- [et_pb_line_break_holder] --> </div><!-- [et_pb_line_break_holder] --> <div class="col3"><!-- [et_pb_line_break_holder] --> <a href="https://www.predictem.com/betting-sites/gtbets/"><button class="btn-widget">Review</button></a><!-- [et_pb_line_break_holder] --></div><!-- [et_pb_line_break_holder] --></div><!-- [et_pb_line_break_holder] --><div class="widget-footer"><a href="https://www.predictem.com/best-sportsbooks/bonuses/">See all sportsbook bonuses</a></div><!-- [et_pb_line_break_holder] --> </div></aside>