[et_pb_dcsbcm_divi_breadcrumbs_module hide_homebreadcrumb="off" homebreadcrumbtext="Home" separator="sep-raquo" hide_currentbreadcrumb="off" homebreadcrumborientation="left" _builder_version="3.8″ fontsbreadcrumbs_font="Lato||||||||" fontsbreadcrumbs_text_color="#000000″ fontsbreadcrumbs_font_size="15px" fontsbreadcrumbs_line_height="16px" fontsseperator_font="||||||||" fontsbreadcrumblinks_font="||||||||" fontsbreadcrumblinks_text_color="#2567cf" custom_margin="25px|||" custom_margin_phone="30px|||" custom_margin_last_edited="off|desktop" custom_css_main_element="font-family: Helvetica Regular;" global_module="3641″ saved_tabs="all"][/et_pb_dcsbcm_divi_breadcrumbs_module]
7 Reasons Why I'm Betting the Toronto Blue Jays Tonight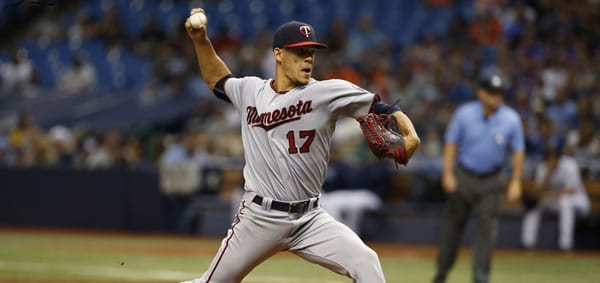 Minnesota Twins (45-53) vs. Toronto Blue Jays (46-53) Pick
When: Tuesday, July 24th, 2018, 7:05 PM EST
Where: Rogers Centre, Toronto, Ontario, Canada
Weather: 77 degrees with a 50% chance of Thunderstorms. (Roof closes in bad weather)
Betting Odds: Min. opened as a -112 favorite and are now at -103. Tor. is now -107. The line has gone in favor of the Jays despite only receiving 43% of the public's picks. This indicates sharp action, and for good reason as you'll read below.
Twins Not Many Wins
Tonight the Minnesota Twins take on the Toronto Blue Jays in the second game of a three-game set at the Rogers Centre. Last night, Minny beat up a host of Jays relievers in a "bullpen game" for Toronto, as the Jays had hoped Marco Estrada would be ready to come off the DL, but he wasn't, so they threw six different pitchers out of the pen and it ended up being a garbage game.
Excluding last night's garbage win, the Twins could be viewed as "cold" dropping all three games out of the all-star break to none other than the Kansas City Royals, a team that now sits at 30-69.
On the flip side, the Jays had won three straight out of the break, beating up on the lowly Orioles. Let's take a look at a bunch more reasons why sharp bettors are backing Toronto tonight.
7 Reasons Why I'm Betting the Toronto Blue Jays Tonight
The Twins aren't hitting lately. Here's tonight's lineup along with their average over the past 4 games:
1. Joe Mauer (L) 1B .444
2. Eddie Rosario (L) LF .176
3. Brian Dozier (R) 2B ..063
4. Eduardo Escobar (S) 3B .385
5. Robbie Grossman (S) DH .231
6. Max Kepler (L) CF .214
7. Taylor Motter (R) RF .000
8. Jorge Polanco (S) SS .250
9. Bobby Wilson (R) C .167
The above listed averages include only 2 dingers, both by Kepler, a left handed bat who is unlikely to go yard vs. Borucki, a lefty who doesn't give up home runs.
The Twins don't win on the road. The team is only 17-32 away from Target Field. They only hit .231 away from home along with a low 0.298 on base average and 0.370 slugging percentage. The team ranks 26th in hits on the road out of 30 teams. They rank 28th out of 30 for at bats as well. Can't win games if you're not getting plate appearances. Also, two of their hottest hitters in July (Cave/Garver) aren't even in the lineup tonight.
They're weak against left-handed starters. The team has gone 11-16 vs. southpaws this season. Mauer (.311), Grossman (.298) and Rosario (.275) are really the only bats in the lineup that have decent averages vs. LHP. As noted above, Grossman and Rosario have been cold lately.
Berrios will one day be a GREAT pitcher, but it isn't now. More importantly, he sucks on the road. Even I admit that the first thing I think when I hear the name "Berrios", that I'm not going to bet against "that guy". It's because we've all seen him be SUPER dominant at times. When looking at statistics, this doesn't apply to his road outings though. This season, he's 2-5 with a 4.78 ERA. (career road ERA is even higher at 5.39) It's not that he's giving up a ton of hits as he's only allowing a .251 batting average and has a somewhat respectable WHIP of 1.27, it's the fact that he's given up a crazy amount of long balls. THIRTEEN in 49 innings! That's an INSANE amount of home runs, almost 3x what an average pitcher allows. The Rogers Centre is the 7th ranked ballpark for homers allowed this season.
The Twins bullpen sucks too. Their road ERA is 4.78. if Berrios is ineffective, they hand the ball to yet another pitcher who is probably going to struggle.
Now let's take a look at Toronto. I really like this young lefty Ryan Borucki. He's done well in his short stint in the bigs and has pitched very well in his two home starts with a nifty 1.93 ERA and 1.07 WHIP. He's given up a respectable 13 hits and only 2 walks while fanning 13. Even more impressive, one of his two home starts was vs. the New York Yankees, where he went 7 strong, only allowing one earned run.
The Jays are a good team when playing at home. Despite having a losing record overall, the team defends the home field well, with a 36-28 record..
Toronto's bullpen is "mostly" strong. The team has gone 16-8 at home when a tie game has been handed over to them. Their home ERA is an acceptable 3.78 with a 1.26 WHIP. They are stellar with the K, fanning 210 over 200 innings. The one stupor is that they've allowed 31 homers over those 200 innings, which is about 10 too many. Keep in mind Minnesota has only homered twice since the all-star break, both by Kepler who is somewhat cold overall.
Interesting Betting Trends
The Twins are 6-20 in their last 26 road games.
Min. is 11-28 in the last 39 meetings in Toronto.
Minnesota is 25-51 in their last 76 road games vs. a left-handed starter.
The Twins are 2-5 in their last 7 games vs. a left-handed starter.
Minny is 9-24 in their last 33 road games vs. a team with a winning home record.
The team is 8-20 in Berrios' last 28 road starts.
Toronto is 15-7 in their last 22 home games.
The Jays are 4-0 in their last 4 games vs. a right-handed starter.
Here's a couple that don't mean jack, but interesting to say the least:
The Twins are 2-14 n their last 16 games with Wendelstedt behind home plate.
MLB home teams are 20-8 in Wendelstedts last 28 games behind home plate.
Kevin's Pick to Win
We have a team that doesn't play well on the road, doesn't hit lefties well, and isn't hitting lately, vs. a team that's won 3 of their last 4 games and playing at home, and at almost even money. The Blue Jays at -107 are a no-brainer tonight. Editor's note: Make them an even better bet by getting +102 at BetOnline.
<div class="widget105"><!-- [et_pb_line_break_holder] --><h4 class="parlays">Best Parlays</h4><!-- [et_pb_line_break_holder] --><!-- [et_pb_line_break_holder] --><table id="parlay"><!-- [et_pb_line_break_holder] --> <tr><!-- [et_pb_line_break_holder] --> <th><span class="team"></span></th><!-- [et_pb_line_break_holder] --> <th>2 Team Parlay</th><!-- [et_pb_line_break_holder] --> <th>3 Team Parlay</th><!-- [et_pb_line_break_holder] --> <th>4 Team Parlay</th><!-- [et_pb_line_break_holder] --> </tr><!-- [et_pb_line_break_holder] --> <tr><!-- [et_pb_line_break_holder] --> <td><a href="https://affiliates.sportbet.com/tracking/Affiliate.aspx?idBook=2&mediaTypeID=220&AffUrlID=80&LandingPageID=55"><img src="https://www.predictem.com/wp-content/uploads/2018/06/sportbet-sm.png"></a></td><!-- [et_pb_line_break_holder] --> <td>2.74 to 1</td><!-- [et_pb_line_break_holder] --> <td>6.24 to 1</td><!-- [et_pb_line_break_holder] --> <td>13 to 1</td><!-- [et_pb_line_break_holder] --> </tr><!-- [et_pb_line_break_holder] --> <tr><!-- [et_pb_line_break_holder] --> <td><a href="https://record.bettingpartners.com/_5vfuDOH_H2wWPf2JTsWUjGNd7ZgqdRLk/1/"><img src="https://www.predictem.com/wp-content/uploads/2018/06/bovada_sm.png"></a></td><!-- [et_pb_line_break_holder] --> <td>2.64 to 1</td><!-- [et_pb_line_break_holder] --> <td>6 to 1</td><!-- [et_pb_line_break_holder] --> <td>12.3 to 1</td><!-- [et_pb_line_break_holder] --> </tr><!-- [et_pb_line_break_holder] --> <tr><!-- [et_pb_line_break_holder] --> <td><a href="https://record.webpartners.co/_jGZUKO3JWgwmunhzcKAZ62Nd7ZgqdRLk/1/"><img src="https://www.predictem.com/wp-content/uploads/2018/06/mybookie-sm.png"></a></td><!-- [et_pb_line_break_holder] --> <td>2.64 to 1</td><!-- [et_pb_line_break_holder] --> <td>6 to 1</td><!-- [et_pb_line_break_holder] --> <td>12 to 1</td><!-- [et_pb_line_break_holder] --> </tr><!-- [et_pb_line_break_holder] --></table><!-- [et_pb_line_break_holder] --><div class="widget-footer"><a href="https://www.predictem.com/best-sportsbooks/parlays-odds/">See all Sportsbook Parlays</a></div><!-- [et_pb_line_break_holder] --></div><!-- [et_pb_line_break_holder] --><!-- [et_pb_line_break_holder] --><!-- [et_pb_line_break_holder] --><style><!-- [et_pb_line_break_holder] --> #parlay {border-collapse: collapse;<!-- [et_pb_line_break_holder] --> width: 100%; border: 0px;<!-- [et_pb_line_break_holder] --> font-size: 14px!important;}<!-- [et_pb_line_break_holder] --> #parlay td, #parlay th {<!-- [et_pb_line_break_holder] --> border: 0px;<!-- [et_pb_line_break_holder] --> padding: 8px;<!-- [et_pb_line_break_holder] --> text-align: left;}<!-- [et_pb_line_break_holder] --> #parlay th {<!-- [et_pb_line_break_holder] --> padding-top: 5px;<!-- [et_pb_line_break_holder] --> padding-bottom: 5px;<!-- [et_pb_line_break_holder] --> font-weight: bold;<!-- [et_pb_line_break_holder] --> line-height: 14px;<!-- [et_pb_line_break_holder] --> text-align: center;<!-- [et_pb_line_break_holder] --> color: #000;}<!-- [et_pb_line_break_holder] --> #parlay tr {border-bottom: 1px solid #edeef0;}<!-- [et_pb_line_break_holder] --> .team {font-size: 16px;}<!-- [et_pb_line_break_holder] --></style>
<div style="width:340px; margin: 0 auto;"><!-- [et_pb_line_break_holder] --> <a class="twitter-timeline" data-width="340" data-height="500" data-link-color="#008156" href="https://twitter.com/PredictemPicks?ref_src=twsrc%5Etfw">Tweets by PredictemPicks</a> <script async src="https://platform.twitter.com/widgets.js" charset="utf-8"></script><!-- [et_pb_line_break_holder] --></div>