Arizona Diamondbacks vs. Washington Nationals Pick 4/15/21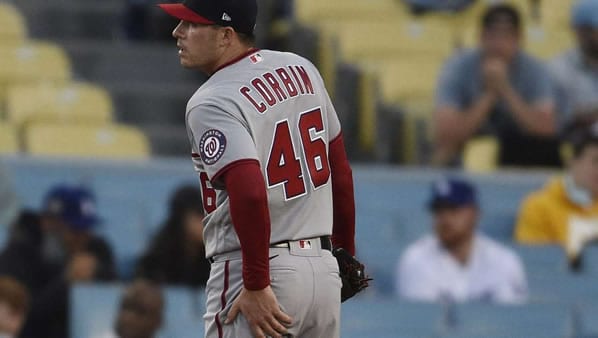 Arizona Diamondbacks (4-8) vs. Washington Nationals (2-6)
When: 7:05 p.m., Thursday, April 15
Where: Nationals Park, Washington
Moneyline: ARI +145/WAS -165 (BAS)
Runline: D-Backs +1.5/Nationals -1.5
Total: 8.5
Starting Pitchers: Merrill Kelly (0-2, 8.10 ERA, 1.70 WHIP) vs. Patrick Corbin (0-1, 12.46 ERA, 2.08 WHIP)
Consistently Inconsistent
How's this for an interesting situation: The Nationals took two out of three against the Cardinals at Busch Stadium, yet got outscored 16-14 for the series, in large part because St. Louis bunched 14 runs into one game but couldn't make a dent in the Nationals' pitching otherwise. What that says is that you never know what you're going to get from Washington's pitching, but so far, it hasn't been anything good when a team sees them for the second time.
In Game 2 of the Nationals' first three series, Washington has been lit up for 30 runs, which bodes very well for Arizona on Friday. But we've got Thursday to worry about first, and Patrick Corbin will be anxious to prove that he's better than what he showed in Los Angeles in one of those second-game disasters. Against the Dodgers, Corbin left in the fifth inning after giving up six runs on six hits. Corbin has been a big-game per-former for the Nationals in previous seasons, but April really hasn't been this team's month. In 2019, the World Series year, the Nationals started so poorly that they would have missed the playoffs in a 60-game sea-son, so slow starts are nothing new for this squad or these pitchers. With Max Scherzer and Stephen Stras-burg also getting off to less-than-dominant starts, it's not terribly surprising that Corbin has also struggled to start the year.
What is surprising is how long these struggles have gone on. Corbin now has lost eight of the past nine decisions in which he's started, with one no-decision. The Nationals have dropped nine in a row when he's taken the ball. Some of these haven't been his fault, as he has lost four one-run games. But each time, something has happened that's led to his defeat.
More Picks: Get our handicappers free daily MLB picks >>>
Flying East
This could be a rare situation where the road team is more rested than the home team. Arizona hasn't played since Tuesday, taking a travel day to get itself to the nation's capital. Washington, by contrast, played on Wednesday and did so in St. Louis, meaning the Nationals traveled and had to change time zones while Arizo-na was already acclimating itself to Eastern time.
This is usually a bigger deal in football, but it's very possible the Nationals could be thrown off their game a bit in the first few innings, which could give Arizona an advantage in the first five innings. If you're the type who likes to make a bet early and get out, the Diamondbacks in the first five could offer some value here.
Keeping Innings Alive
Here's an odd stat: The Diamondbacks actually lead the majors in at-bats, as they've sent 424 hitters to the plate and gotten something other than a walk or hit batsman. You might think that means Arizona is free-swinging, but the Diamondbacks actually have the fourth-highest walk total in the majors as well.
What that says is that Arizona is getting into bullpens and making pitchers work for their results. The Dia-mondbacks don't hit the ball particularly well, batting just .229 as a team, but they do just enough to send up five, six, or more hitters in most innings, which can really wear on a pitching staff. With Washington hit or miss as far as keeping runs off the board, this could easily turn into a situation that sees Arizona put up some solid numbers against a less-than-stellar Nationals bullpen.
Betting Trends
The Diamondbacks are 4-1 following an off day.
The Diamondbacks are 7-20 in their past 27 road games.
The Nationals are 1-4 in their past five as a favorite.
The Nationals are 1-7 when their opponent scored at least five runs in the previous game.
The over is 4-0-1 in the Diamondbacks' past five against the NL East.
The over is 6-0 in the past six games following a Nationals win.
The Diamondbacks are 17-35 in the past 52 meetings.
The over is 5-1 in the past six meetings.
Weather Report
There will be a chill in the air in Washington, with temperatures at 54 degrees and wind blowing toward the first-base dugout, heading northwest at 11 miles per hour.
Dan's pick
Corbin should be better because he can't be any worse, but Arizona is rested, and Corbin still isn't pitching well enough to get wins right now. The Diamondbacks are doing a solid job at the plate right now, and a pitcher like Corbin, who isn't exactly seeing much success right now, might have a hard time enticing Arizona to go after any bad pitches.
I think the conditions are right to take the underdog. Give me Arizona.