[et_pb_dcsbcm_divi_breadcrumbs_module hide_homebreadcrumb="off" homebreadcrumbtext="Home" separator="sep-raquo" hide_currentbreadcrumb="off" homebreadcrumborientation="left" _builder_version="3.8″ fontsbreadcrumbs_font="Lato||||||||" fontsbreadcrumbs_text_color="#000000″ fontsbreadcrumbs_font_size="15px" fontsbreadcrumbs_line_height="16px" fontsseperator_font="||||||||" fontsbreadcrumblinks_font="||||||||" fontsbreadcrumblinks_text_color="#2567cf" custom_margin="25px|||" custom_margin_phone="30px|||" custom_margin_last_edited="off|desktop" custom_css_main_element="font-family: Helvetica Regular;" global_module="3641″ saved_tabs="all"][/et_pb_dcsbcm_divi_breadcrumbs_module]
Atlanta Braves at Pittsburgh Pirates Pick 8/22/18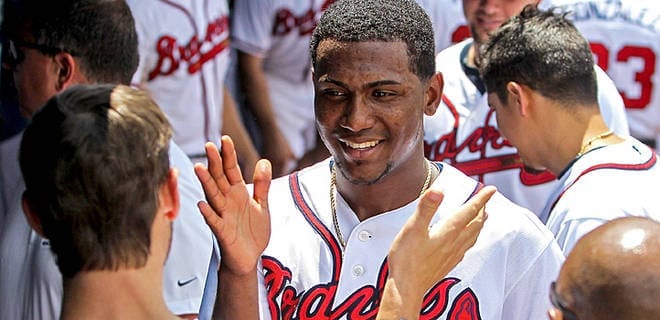 Atlanta Braves at Pittsburgh Pirates 8/22/18
Time: 7:05 PM ET
Where: PNC Park, Pittsburgh, PA
Listed Pitchers: Julio Teheran (Atl) & Trevor Williams (Pitt)
TV: FS – Southeast
Moneyline: Atlanta +105 / Pittsburgh -115
Over/Under: 8
The Braves are closing in on their first playoff appearance in five years, while the Pirates are in danger of fading from the playoff picture, heading into the finale of a three-game series Wednesday evening. How are we playing this contest with our daily free MLB picks?
MLB Betting Line
Wednesday's MLB betting odds opened Pittsburgh at around -115 over Atlanta, with an over/under of 8 runs. Both those figures were holding steady in early betting action.
The Pirates could also be found getting upwards of +180 giving the run and a half on the MLB run line.
Set-Up
Atlanta's taken the first two games of this series, winning Tuesday 1-0 and Wednesday 6-1. Those victories come as very welcome results, after the Braves got swept four games at home by Colorado last weekend.
At 70-55 overall Atlanta leads the NL East by two games over second-place Philadelphia. The Braves are also just a game and a half back of the Cubs in the battle for the best record in the National League.
The Pirates, meanwhile, are just 2-7 over their last nine games. At 63-64 Pittsburgh now trails those division-leading Cubs by 9.5 games in the NL Central, and sits 6.5 games behind Milwaukee in the battle for the second National League wild-card spot.
This series is the first encounter between these two teams this season.
Wednesday's Starting Arms
Williams (10-9, 3.53), by our strict standards, is 11/24 on quality starts this season, and six outs from being six for his last six. Last Friday he held the Cubs to one run and four hits through seven innings, and over his last six starts he's allowed just three runs through 36 innings (0.75 ERA). On the season Pittsburgh is 12-12 with Williams, with unders going 16-7.
In one start last year against Atlanta Williams allowed three runs through five innings of a 12-5 Pirates win.
Teheran (8-7, 4.24) is 12/24 on quality starts this year, and two for his last two. Last Thursday he held the Rockies to two runs and three hits through seven innings, and just before that he held the Brewers to one run and two hits through six frames. On the season the Braves are 13-11 with Teheran, with unders going 14-10.
In two starts last year against Pittsburgh Teheran gave up five runs – none earned – through 13 innings. Through no fault of his Atlanta lost both those games.
For handicapping purposes we're giving the Pirates and Williams a short edge in this pitching match-up.
Wednesday's Batting Splits
Atlanta ranks fourth in the Majors this year against right-handed pitching with a .257 team batting average, 12th with a .321 team OBP and 12th with a .419 team slugging percentage.
Pittsburgh ranks seventh against righties with a .256 BA, 15th with a .319 OBP and 15th with a .412 slugging percentage. But the Pirates have scored a total of just six runs over their last six games.
We will give the Braves a slight edge in the splits with the sticks for Wednesday.
The Bullpens
The Atlanta bullpen ranks 19th in the ML with a 4.17 ERA and 18th with a 1.36 WHIP.
The Pirates pen ranks 16th in ERA at 4.13 and 25th in WHIP at 1.42.
We'll call the comparison of these two bullpens a wash.
Totals Report
Unders are 35-29 in games played at PNC Park this year, which are averaging 8.1 total runs per.
Unders are 6-1 in Atlanta's last seven games.
Unders are 9-1 in Pittsburgh's last 10 games, thanks mainly to the Pirates cold bats.
Finally, both games in this series played under their totals.
Free MLB Picks
The Pirates might own a slight edge in Wednesday's pitching match-up, but they can't score any runs at the moment. In fact, we're wondering why they're favored for this game. On the other side, Atlanta is just playing better ball as of late. Plus it's getting the underdog price. We're betting the Braves in this spot.
Update: 12:04 EST – Intertops has the best odds on the Braves who are rising to become the favorite.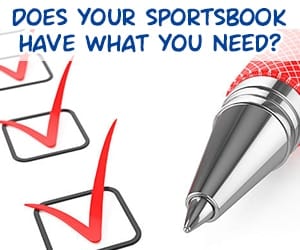 <div class="widget105"><!-- [et_pb_line_break_holder] --><h4 class="parlays">Best Parlays</h4><!-- [et_pb_line_break_holder] --><!-- [et_pb_line_break_holder] --><table id="parlay"><!-- [et_pb_line_break_holder] --> <tr><!-- [et_pb_line_break_holder] --> <th><span class="team"></span></th><!-- [et_pb_line_break_holder] --> <th>2 Team Parlay</th><!-- [et_pb_line_break_holder] --> <th>3 Team Parlay</th><!-- [et_pb_line_break_holder] --> <th>4 Team Parlay</th><!-- [et_pb_line_break_holder] --> </tr><!-- [et_pb_line_break_holder] --> <tr><!-- [et_pb_line_break_holder] --> <td><a href="https://affiliates.sportbet.com/tracking/Affiliate.aspx?idBook=2&mediaTypeID=220&AffUrlID=80&LandingPageID=55"><img src="https://www.predictem.com/wp-content/uploads/2018/06/sportbet-sm.png"></a></td><!-- [et_pb_line_break_holder] --> <td>2.74 to 1</td><!-- [et_pb_line_break_holder] --> <td>6.24 to 1</td><!-- [et_pb_line_break_holder] --> <td>13 to 1</td><!-- [et_pb_line_break_holder] --> </tr><!-- [et_pb_line_break_holder] --> <tr><!-- [et_pb_line_break_holder] --> <td><a href="https://record.bettingpartners.com/_5vfuDOH_H2wWPf2JTsWUjGNd7ZgqdRLk/1/"><img src="https://www.predictem.com/wp-content/uploads/2018/06/bovada_sm.png"></a></td><!-- [et_pb_line_break_holder] --> <td>2.64 to 1</td><!-- [et_pb_line_break_holder] --> <td>6 to 1</td><!-- [et_pb_line_break_holder] --> <td>12.3 to 1</td><!-- [et_pb_line_break_holder] --> </tr><!-- [et_pb_line_break_holder] --> <tr><!-- [et_pb_line_break_holder] --> <td><a href="https://record.webpartners.co/_jGZUKO3JWgwmunhzcKAZ62Nd7ZgqdRLk/1/"><img src="https://www.predictem.com/wp-content/uploads/2018/06/mybookie-sm.png"></a></td><!-- [et_pb_line_break_holder] --> <td>2.64 to 1</td><!-- [et_pb_line_break_holder] --> <td>6 to 1</td><!-- [et_pb_line_break_holder] --> <td>12 to 1</td><!-- [et_pb_line_break_holder] --> </tr><!-- [et_pb_line_break_holder] --></table><!-- [et_pb_line_break_holder] --><div class="widget-footer"><a href="https://www.predictem.com/best-sportsbooks/parlays-odds/">See all Sportsbook Parlays</a></div><!-- [et_pb_line_break_holder] --></div><!-- [et_pb_line_break_holder] --><!-- [et_pb_line_break_holder] --><!-- [et_pb_line_break_holder] --><style><!-- [et_pb_line_break_holder] --> #parlay {border-collapse: collapse;<!-- [et_pb_line_break_holder] --> width: 100%; border: 0px;<!-- [et_pb_line_break_holder] --> font-size: 14px!important;}<!-- [et_pb_line_break_holder] --> #parlay td, #parlay th {<!-- [et_pb_line_break_holder] --> border: 0px;<!-- [et_pb_line_break_holder] --> padding: 8px;<!-- [et_pb_line_break_holder] --> text-align: left;}<!-- [et_pb_line_break_holder] --> #parlay th {<!-- [et_pb_line_break_holder] --> padding-top: 5px;<!-- [et_pb_line_break_holder] --> padding-bottom: 5px;<!-- [et_pb_line_break_holder] --> font-weight: bold;<!-- [et_pb_line_break_holder] --> line-height: 14px;<!-- [et_pb_line_break_holder] --> text-align: center;<!-- [et_pb_line_break_holder] --> color: #000;}<!-- [et_pb_line_break_holder] --> #parlay tr {border-bottom: 1px solid #edeef0;}<!-- [et_pb_line_break_holder] --> .team {font-size: 16px;}<!-- [et_pb_line_break_holder] --></style>
<div style="width:340px; margin: 0 auto;"><!-- [et_pb_line_break_holder] --> <a class="twitter-timeline" data-width="340" data-height="500" data-link-color="#008156" href="https://twitter.com/PredictemPicks?ref_src=twsrc%5Etfw">Tweets by PredictemPicks</a> <script async src="https://platform.twitter.com/widgets.js" charset="utf-8"></script><!-- [et_pb_line_break_holder] --></div>