[et_pb_dcsbcm_divi_breadcrumbs_module hide_homebreadcrumb="off" homebreadcrumbtext="Home" separator="sep-raquo" hide_currentbreadcrumb="off" homebreadcrumborientation="left" _builder_version="3.8″ fontsbreadcrumbs_font="Lato||||||||" fontsbreadcrumbs_text_color="#000000″ fontsbreadcrumbs_font_size="15px" fontsbreadcrumbs_line_height="16px" fontsseperator_font="||||||||" fontsbreadcrumblinks_font="||||||||" fontsbreadcrumblinks_text_color="#2567cf" custom_margin="25px|||" custom_margin_phone="30px|||" custom_margin_last_edited="off|desktop" custom_css_main_element="font-family: Helvetica Regular;" global_module="3641″ saved_tabs="all"][/et_pb_dcsbcm_divi_breadcrumbs_module]
Atlanta Braves at Washington Nationals Pick (7/20/18)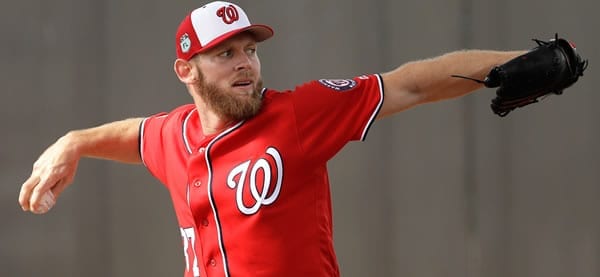 Event: Braves vs. Nats
Time: 7:05 PM ET
Venue: Nationals Park
Location: Washington, D.C.
TV: FOX Sports South
Moneyline: Atlanta (+164) / Washington (-174)
Over/Under: 8.5
By Bryan Bash
The second half of the MLB Season kicks off for the Atlanta Braves and Washington Nationals Friday night in the Nation's Capital. Nationals Park proved to be an excellent venue for the All-Star game, with capacity crowds and thrilling entertainment. Tuesday night, the American League All-Stars won their sixth consecutive All-Star game 8-6 in extra innings. AL and NL batters combined for a record ten home runs in the slugfest. One night prior, hometown hero Bryce Harper won the Home Run Derby competition outlasting Kyle Schwarber in the final. Now, it's back to reality for the players as all teams will be making their final push for the playoffs with roughly 65 games remaining. Friday night's NL East battle will be the first game of a three-game set to kick off the second half of the season. This is the 11th of 19 games slated between these two rival-clubs, and Atlanta leads the season series 6-4 thru 10 games. The Braves have outscored the Nationals 42-33 thus far. Anibal Sanchez is the scheduled starter for the Braves, while Stephen Strasburg is set to toe the rubber for the hometown Nationals.
Atlanta eyes NL East Championship
People knew the Braves had talent at the start of the year, but nobody pegged them as playoff contenders. After going 52-42 (.553) in the first half, nobody's questioning whether the Braves are good enough to get the job done anymore. Atlanta's currently in second place in the NL East Division, just half a game behind the Philadelphia Phillies for first place. Right now, the Braves own the second and final wild-card spot in the National League just half a game ahead of the Arizona Diamondbacks. Atlanta's been lead by their potent offense, which bolsters All-Stars Freddie Freeman, Nick Markakis, and Ozzie Albies. With 456 runs scored thus far, the Braves own the second-best offense in the National League. Only the Chicago Cubs have scored more runs in the National League, plating 476. Atlanta's arms have been quietly producing quality numbers as well, allowing 388 runs which is 7th-best in the National League. Their +68 run differential is third-best in the NL, behind only Los Angeles (+82) and Chicago (+114). On the road, the Braves are 27-22 (.551) this season.
Nationals look to make up ground
Washington's been a disappointment thus far, accruing a 48-48 (.500) thru their first 96 games. If the Nationals look to make it three straight NL East Divisional crowns, they'll have to get rolling in the second half. Currently, the Nats are in third place in the division and 5.5 games behind Philadelphia. First basemen Ryan Zimmerman is scheduled to return from his stint on the disabled list and suit up for the Nats Friday night versus the Braves. The veteran is in his fourteenth year in the League and his career numbers are .279 AVG, 256 HR, 953 RBI & .343 OBP. The 2009 Gold Glove and Silver Slugger Award winner may provide the spark the Nationals have been missing. 2015 NLCS MVP and 2016 Silver Slugger Award winner Daniel Murphy has been mired in a slump this year, and a turnaround in the second half would improve Washington's playoff chances dramatically. Murphy's hitting .253 with one homer and 12 RBI thus far. Another struggling Nationals player is All-Star Bryce Harper. The Slugger's hitting .214 with 23 homers and 54 RBI this season. At home, Harper's numbers are slightly better as he's hitting .231 with 11 home runs and 25 RBI at Nationals Park. Against the Braves, Harper is 6 for 32 (.188) with two dingers and five RBI this season. Washington's pitching staff has been solid so far, posting a 3.87 team ERA and 1.22 WHIP. Formerly a cause for much concern, the Washington bullpen has been bolstered by All-Star closer Sean Doolittle (3-2, 1.45 ERA & 0.54 WHIP). The left-hander's been sensational with saves in 22 of 23 attempts thus far, but he's on the DL with a toe injury at the moment. In his absence, the Nats have looked to Ryan Madson (2-4, 4.98 ERA & 1.54 WHIP) to fill the void. However, the right-hander's fallen considerably short in his attempt to do so. Madson's recorded just one save in Doolittle's absence. In his last four appearances, Madson's posted an 11.25 ERA and 2.50 WHIP. Madson's had four relief appearances versus the Braves this year, going 0-1 with a 6.00 ERA and 2.33 WHIP. At home, the Nationals are 22-24 (.478) thus far.
Sanchez vs. Strasburg
Anibal Sanchez has proven to be a strong pickup for the Braves rotation this year. The 34-year-old Venezuelan in his 13th year in the League has gone 4-2 with a 2.60 ERA and 1.02 WHIP. On June 3rd, Sanchez allowed two hits in seven scoreless innings earning a no-decision in a 4-2 Braves win against the Nationals. Sanchez also pitched three scoreless innings of relief against the Nats in an early season 8-1 drubbing. Consequently, Sanchez has posted a 0.00 ERA and 0.70 WHIP versus the Nationals thru 10 innings this season. On the road, the right-hander's 3-1 in six starts with a 3.18 ERA and 1.12 WHIP. In 23 career starts versus Washington, Sanchez's 9-1 with a 1.94 ERA and 1.08 WHIP.
Stephen Strasburg (6-6, 3.46 ERA & 1.09 WHIP) will be making his first start in over a month due to being on the disabled list with shoulder inflammation. The ninth year, oft-injured San Diego State product has made two starts versus Atlanta this season. On April 10th, Strasburg was dominant throwing eight scoreless innings in a victory over the Braves. In his most recent start versus the Braves, Strasburg allowed three earned runs in 6 2/3 innings which resulted in a 4-0 loss for him and the Nationals. Consequently, Strasburg's 1-1 in two starts versus the Braves this year with a 1.90 ERA and 0.85 WHIP. Nationals Park hasn't been much of an advantage this season for Strasburg as he's gone 2-4 in seven starts with a 4.50 ERA and 1.12 WHIP. In 29 career starts versus Atlanta, Strasburg's 11-10 with a 3.86 ERA and 1.27 WHIP.
Where's the value?
Oddsmakers peg Atlanta as a decent-sized dog here at +164 on the money line. Washington's a .500 team this year, with a sub-.500 record in their own ballpark. At -174, the Nationals would need to win this game 63.5% of the time for betting on them to be profitable. There's nothing but negative-value in such a bet. Strasburg is making his first start in over a month off the DL and Washington's just not the same team of years past. However, the Braves have been very good thus far and have taken six of the first ten games off Washington thus far. Factor in Anibal Sanchez's brilliant career numbers versus Washington, and there's value in taking the Braves to win on the money line in this one. At +164, Atlanta must win this game just 37.9% of the time to make it a profitable bet. According to our calculations, the Braves will win this game 55% of the time. Consequently, we have a whopping 17.1% edge going with Atlanta on the money line. Bet this game at BetOnline and take advantage of the soft line for it moves.
<div class="widget105"><!-- [et_pb_line_break_holder] --><h3>Biggest Sportsbook Bonuses</h3><!-- [et_pb_line_break_holder] --><!-- [et_pb_line_break_holder] --> <!-- [et_pb_line_break_holder] --><div class="widgetlist"><!-- [et_pb_line_break_holder] --> <div class="col1"><!-- [et_pb_line_break_holder] --> <img src="https://www.predictem.com/wp-content/uploads/2018/04/bovada.png" width="150" alt="" /><!-- [et_pb_line_break_holder] --> </div><!-- [et_pb_line_break_holder] --> <div class="col2"><!-- [et_pb_line_break_holder] --> <span class="list">50% Cash</span><br><!-- [et_pb_line_break_holder] --> <span class="list">5x Rollover</span><!-- [et_pb_line_break_holder] -->  </div><!-- [et_pb_line_break_holder] -->  <div class="col3"><!-- [et_pb_line_break_holder] --> <button class="btn-widget" href="#">Review</button><!-- [et_pb_line_break_holder] --> </div><!-- [et_pb_line_break_holder] --></div> <!-- [et_pb_line_break_holder] --><!-- [et_pb_line_break_holder] --><div class="widgetlist"><!-- [et_pb_line_break_holder] --> <div class="col1"><!-- [et_pb_line_break_holder] --> <img src="https://www.predictem.com/wp-content/uploads/2018/04/intertops.png" width="150" alt="" /><!-- [et_pb_line_break_holder] --> </div><!-- [et_pb_line_break_holder] --> <div class="col2"><!-- [et_pb_line_break_holder] --> <span class="list">50% Cash</span><br><!-- [et_pb_line_break_holder] --> <span class="list">4x Rollover</span><!-- [et_pb_line_break_holder] -->  </div><!-- [et_pb_line_break_holder] -->  <div class="col3"><!-- [et_pb_line_break_holder] --> <button class="btn-widget" href="#">Review</button><!-- [et_pb_line_break_holder] --> </div><!-- [et_pb_line_break_holder] --></div><!-- [et_pb_line_break_holder] --><!-- [et_pb_line_break_holder] --><div class="widgetlist"><!-- [et_pb_line_break_holder] --> <div class="col1"><!-- [et_pb_line_break_holder] --> <img src="https://www.predictem.com/wp-content/uploads/2018/05/gt-bets.png" width="150" alt="" /><!-- [et_pb_line_break_holder] --> </div><!-- [et_pb_line_break_holder] --> <div class="col2"><!-- [et_pb_line_break_holder] --> <span class="list">150% Cash</span><br><!-- [et_pb_line_break_holder] --> <span class="list">4x Rollover</span><!-- [et_pb_line_break_holder] -->  </div><!-- [et_pb_line_break_holder] -->  <div class="col3"><!-- [et_pb_line_break_holder] --> <button class="btn-widget" href="#">Review</button><!-- [et_pb_line_break_holder] --> </div><!-- [et_pb_line_break_holder] --></div><!-- [et_pb_line_break_holder] --><!-- [et_pb_line_break_holder] --><div class="widget-footer"><a href="#">See all sportsbook bonuses</a></div><!-- [et_pb_line_break_holder] --> <!-- [et_pb_line_break_holder] --></div>
<div style="width:340px; margin: 0 auto;"><!-- [et_pb_line_break_holder] --> <a class="twitter-timeline" data-width="340" data-height="500" data-link-color="#008156" href="https://twitter.com/PredictemPicks?ref_src=twsrc%5Etfw">Tweets by PredictemPicks</a> <script async src="https://platform.twitter.com/widgets.js" charset="utf-8"></script><!-- [et_pb_line_break_holder] --></div>