Boston Red Sox at Tampa Bay Rays Pick 8/5/20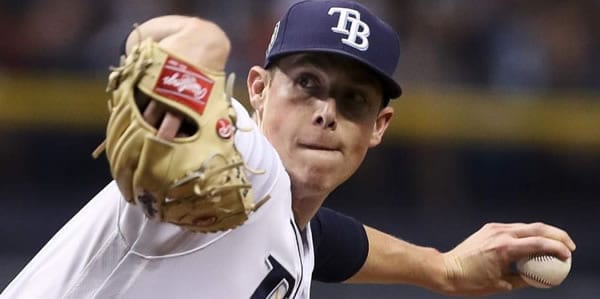 Boston Red Sox (3-8) at Tampa Bay Rays (5-6)
When: 6:40 p.m., Wednesday, August 5
Where: Tropicana Field, St. Petersburg, Fla.
TV: NESN, MLB Network
Moneyline: BOS +200/TB -175 (BetNow - 100% Bonus up to $250!)
Runline: Red Sox +1.5/Rays -1.5
Total: 8.5
Starting Pitchers: Martin Perez (1-1, 5.06 ERA, 1.31 WHIP) vs. Ryan Yarbrough (0-1, 1.54 ERA, 0.86 WHIP)
In Search of Power
One of the more surprising developments this season has been Tampa Bay's early struggles. The Rays snapped a five-game losing streak on Tuesday by beating the Red Sox, and the main reason that they've been losing is that they haven't been hitting. Before "breaking out" for five runs against Boston on Tuesday, Tampa Bay had been held to nine runs in its past four games, including managing just eight runs total in a three-game sweep at the hands of Baltimore.
The Rays' problems at the plate have existed all season, as they've only managed to top six runs once all season. Tampa Bay had no problems in that one game, a 14-5 rout of Atlanta, but otherwise, the Rays have been a light-hitting club, hitting just .210 on the season. Those are numbers expected from a team like Detroit or Pittsburgh, but not from a Tampa Bay team that expected to contend for both the AL East and the World Series.
The good news for the Rays is that they got Austin Meadows back after being without him for the first ten games of the season, and Meadows immediately made his impact felt with a pair of hits. Tampa Bay needs to feed off his performance and get the offense rolling.
More Picks: Dodgers vs. Padres Prediction 8/5/20
Wait It Out
When Martin Perez faces a squad that isn't all that patient, he's in his element. The pitcher has never been known for his control, but he's had plenty of success when teams get overanxious against him and try to do too much with his pitches. However, when a team is willing to wait him out and go after his mistakes, Perez starts to run into problems. Against the Orioles, Baltimore was able to tag Perez with five runs because it waited for its moments and took advantage of them when they came. The Mets were nearly able to do the same thing to Perez, but because the Mets have left a small country on the bases this year, Perez was able to survive walking four hitters with minimal damage.
He likely won't be so lucky against Tampa Bay. The Rays have had a world of problems with getting people on base, but when they do get on base, the Rays don't usually waste those chances. Tampa Bay has the same number of runs this season as Boston, despite the Red Sox having 20 more hits than the Rays have had. Plus, the Rays are unlikely to be all that tempted by Perez's offerings if he can't find the zone. Tampa Bay might be struggling to hit, but the Rays are a patient club with good eyes, ranking seventh in baseball in walks.
Running Out of Time
Could the race already be over for the Red Sox? Boston has really looked flat this season and enters this game having lost its past four contests. Plus, the Red Sox have even more offensive problems than the Rays are, scoring two runs or less in three of their previous four matches. Granted, Boston had to play the Yankees three times in that stretch and lost them all, but the Red Sox weren't playing all that well against either the Orioles or the Mets, two teams that are not on the level of the Bronx Bombers.
With eight teams qualifying for the playoffs this year, it seems strange to wonder if a team could find itself on the outside looking in already, but the Red Sox seem to be a ship without a port.
Betting Trends
The Rays have won eight of the teams' last nine meetings.
The Red Sox have lost their past four road contests.
The Red Sox are 8-24 in their previous 32 against the AL East.
The Rays are 36-16 in their past 52 home games.
The under is 4-1 in the Red Sox's previous five games.
The under is 3-1-1 in the Rays' past five games.
The over is 6-1-1 in the teams' last eight meetings.
Weather Report
The forecasted 88-degree weather won't have any impact on Wednesday, as the teams will be under the roof of Tropicana Field.
Dan's Pick
Tampa Bay seems to be ready to bounce back and make itself a factor in the AL East again, while Boston appears to be in major trouble. The Red Sox aren't hitting and don't seem capable of getting things turned around with how this club is constructed. A wild starter and a shaky bullpen is not a great recipe for success, especially for a team who isn't scoring in the first place.
I think the Rays have more to offer between these clubs. I'm going to take Tampa Bay to get the win and get back to .500. Where are you betting your baseball picks this season? Does your bookie offer you discounted odds? Can you bet on football/basketball at -105 instead of -110? NO! Dump your limited option sportsbook and start enjoying the benefits of wagering at reduced juice at 5Dimes Sportsbook!