[et_pb_dcsbcm_divi_breadcrumbs_module hide_homebreadcrumb="off" homebreadcrumbtext="Home" separator="sep-raquo" hide_currentbreadcrumb="off" homebreadcrumborientation="left" _builder_version="3.8″ fontsbreadcrumbs_font="Lato||||||||" fontsbreadcrumbs_text_color="#000000″ fontsbreadcrumbs_font_size="15px" fontsbreadcrumbs_line_height="16px" fontsseperator_font="||||||||" fontsbreadcrumblinks_font="||||||||" fontsbreadcrumblinks_text_color="#2567cf" custom_margin="25px|||" custom_margin_phone="30px|||" custom_margin_last_edited="off|desktop" custom_css_main_element="font-family: Helvetica Regular;" global_module="3641″ saved_tabs="all"][/et_pb_dcsbcm_divi_breadcrumbs_module]
Boston Red Sox VS Washington Nationals Pick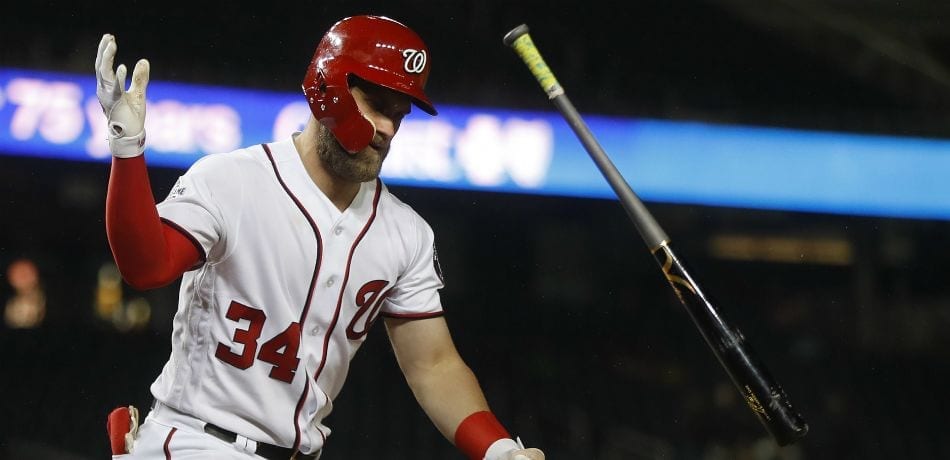 Time: 11:05 AM ET
Venue: Nationals Park
Location: Washington, D.C.
TV: MASN & NESN
Moneyline: Boston (-113) / Washington (+108) 5Dimes Overnight Special
Total: 9
Happy Independence Day to all my fellow Americans! On tap for a rare morning clash, the Red Sox and Nationals are set to wrap-up a three game interleague series at Nationals Park. So far, it's been all Boston as they've won back-to-back games 4-3 and 11-4. Boston's won seven of their last ten while Washington is amidst a four-game losing streak. Eduardo Rodriguez (9-3, 4.11 ERA & 1.30 WHIP) will take the hill for the Red Sox while Erick Fedde (1-3, 6.00 ERA & 1.63 WHIP) is set to start the series finale for the Nationals.
Boston is Best in the Bigs
With a 58-29 (.667) record thus far, the Boston Red Sox own the best record in Major League Baseball at this point in the season. They're first in the American League East Standings, just one game ahead of their arch rival New York Yankees. The road hasn't fazed the Red Sox as they've compiled a 30-17 (.638) record away from home thus far, which is second-best in the League behind only the defending World Series Champion Houston Astros. Having plated 454 runs this season, the Red Sox boast the most potent offense in the game averaging 5.15 runs per game. Boston's pitching staff has been quality this year too, posting a 3.59 ERA which is sixth-best in the League. The Red Sox plus-127 run differential is second-best in MLB behind Houston.
Boston's second in the League is batting average (.265) and slugging percentage (.455). Two big bats are largely to thank for the Red Sox monumental offensive output thus far: Mookie Betts (.336 AVG, 21 HR, 42 RBI, .429 OBP and .672 SLG) and J.D. Martinez (.325 AVG, 26 HR, 71 RBI and .391 OBP). Both players are MVP candidates approaching the All-Star Break. Betts leads the American League in batting average and slugging percentage while Martinez leads the AL in home runs and RBI. In his last five games, Betts is batting .333 with two extra-base hits, a homer, an RBI and five walks. Boston looks to continue their winning ways as they've won seven of their last ten decisions, losing only to the New York Yankees (twice) and Seattle Mariners (once).
Looking to extend their winning streak to three games, Eduardo Rodriguez (9-3, 4.11 ERA & 1.30 WHIP) will toe the rubber for the Sox. The 25 year old lefty from Venezuela was very good in his first 14 starts of the season, going 9-1 with a 3.62 ERA and 1.25 WHIP. However, in his last two starts he's been roughed up going 0-2 with an 8.10 ERA and 1.80 WHIP. Rodriguez has had success on the road in the winning department this year, compiling a 4-1 record with a 4.16 ERA and 1.19 WHIP. This will be Rodriguez's first career start against Washington.
Nats swatted down for fourth straight loss
Tuesday night's 11-4 drubbing by the Boston Red Sox makes it four straight defeats for the defending National League East Champions. The Nationals are heading in the wrong direction, losers in eight of their past ten contests. At 42-42 (.500) on the year, Washington's in danger of falling below the .500 mark for the first time since early May. With the recent run of futility, the Nats have fallen seven games behind the Division-leading Atlanta Braves in the NL East Standings and are currently in third place. Hoping to salvage one victory in the three-game interleague series with the Red Sox, the Nats hope the home crowd can propel them to victory in the Nation's capital. At home, Washington's accrued a 19-22 (.463) record thus far.
The Nationals once potent offense has gone dormant this season. Washington's averaging just 4.23 runs per game, which is 21st in MLB. Their mediocrity lies solely on the shoulders of their bats as the pitching staff has been solid overall. Washington allows 3.66 runs per game, which is ninth-best in the League and has a 1.17 team-WHIP (4th in MLB). With a team batting average of .240 and slugging percentage of .399, the Nats are ranked 21st and 18th in the League, respectively.
Two superstars are in a rut lately for the Nationals: Bryce Harper (.218 AVG, 21 HR, 50 RBI & .366 OBP) and Juan Soto (.308 AVG, 8 HR, 21 RBI & .421 OBP). In his last four games, Harper is batting .154 with one: extra-base hit, homer and RBI. He's also struck out six times during the slump. Rookie sensation Juan Soto has also struggled in his last four contests, batting .118 with five strikeouts and zero RBI. Washington's lone bright spot lately has been third baseman Anthony Rendon (.289 AVG, 12 HR, 37 RBI & .354 OBP). In his last five outings, Rendon's batted .348 with three extra-base hits, three homers and six RBI.
Washington sends young Erick Fedde (1-3, 6.00 ERA & 1.63 WHIP) to the mound Wednesday morning, hoping to stop the bleeding. The 25 year old UNLV product earned his first career win in his last outing versus the Philadelphia Phillies (17-7). However, his outing was less than stellar and he was the beneficiary of a rare offensive output from the team's bats. Fedde threw 115 pitches and lasted just five innings, allowing five earned runs on eight hits. He allowed two home runs, striking out three juxtaposed with three walks. The youthful right-hander has an opportunity to earn his first career victory at Nationals Park Wednesday Morning. In five starts at Nationals Park, Fedde is 0-4 with a 7.00 ERA and 1.74 WHIP.
Prudent Play
Sportsbooks almost have this one as a toss-up due to the fact that both pitchers have been abysmal in their most recent starts. If Boston had any other pitcher but Rodriguez on the mound, I'd be all over them on the money line. However, the matchup in the Nation's capital is Rodriguez vs. Fedde. In my opinion, this means a lot of runs will be plated and the oddsmakers think so too. With the over/under set at 9, there's value in taking the over here. Rodriguez is 0-2 with an 8.10 ERA and 1.80 WHIP in his last two outings, while Fedde is 0-4 in his career with a 7.00 ERA and 1.74 WHIP at Nationals Park. Boston's offense is the most explosive in the League, and Washington's struggled mightily. However, Washington has the talent and offensive firepower to put runs up on the board and are due to bust out of the slump they're in right now. Expect an entertaining slugfest in D.C. with double-digit runs plated. Get out here and celebrate your independence by laying down a bet because this is the United States of America and you can! MLB PICK: Over 9 
<div class="widget105"><!-- [et_pb_line_break_holder] --><h4 class="baseball">Baseball Sportsbooks</h4><!-- [et_pb_line_break_holder] --><table id="dimeline"><!-- [et_pb_line_break_holder] --> <tr><!-- [et_pb_line_break_holder] --> <th></th><!-- [et_pb_line_break_holder] --> <th width="110px">10¢ to:</th><!-- [et_pb_line_break_holder] --> <th width="110px">20¢ to:</th><!-- [et_pb_line_break_holder] --> </tr><!-- [et_pb_line_break_holder] --> <tr><!-- [et_pb_line_break_holder] --> <td><div class="col1"><a href="https://record.commission.bz/_BhTQDVOVie23_O3IiMN7EWNd7ZgqdRLk/1/"><!-- [et_pb_line_break_holder] --> <img src="https://www.predictem.com/wp-content/uploads/2018/06/SportsBettingDark.png" width="150" alt="SportsBetting" /></a><!-- [et_pb_line_break_holder] --> </div></td><!-- [et_pb_line_break_holder] --> <td>-200</td><!-- [et_pb_line_break_holder] --> <td>-279</td><!-- [et_pb_line_break_holder] --> </tr><!-- [et_pb_line_break_holder] --> <tr><!-- [et_pb_line_break_holder] --> <td><div class="col1"><a href="https://www.predictem.com/betting-sites/heritage-sportsbook/"><img src="https://www.predictem.com/wp-content/uploads/2018/06/heritage-xs.png" width="150" alt="Heritage" /></a></div></td><!-- [et_pb_line_break_holder] --> <td>-200</td><!-- [et_pb_line_break_holder] --> <td>-240</td><!-- [et_pb_line_break_holder] --> </tr><!-- [et_pb_line_break_holder] --> <tr><!-- [et_pb_line_break_holder] --> <td><div class="col1"><a href="https://affiliates.5dimes.eu/tracking/Affiliate.aspx?idBook=1&mediaTypeID=220&AffUrlID=80&LandingPageID=2"><img src="https://www.predictem.com/wp-content/uploads/2018/06/5Dimes_sm.png" width="150" alt="5Dimes" /></a></div></td><!-- [et_pb_line_break_holder] --> <td>-195</td><!-- [et_pb_line_break_holder] --> <td>-266</td><!-- [et_pb_line_break_holder] --> </tr><!-- [et_pb_line_break_holder] --></table> <!-- [et_pb_line_break_holder] --><div class="widget-footer"><a href="https://www.predictem.com/best-sportsbooks/mlb-dimeline/">See all Dimeline Sportsbooks</a></div><!-- [et_pb_line_break_holder] --></div><!-- [et_pb_line_break_holder] --><!-- [et_pb_line_break_holder] --><style><!-- [et_pb_line_break_holder] --> #dimeline {border: 0px;}<!-- [et_pb_line_break_holder] --> #dimeline th{color:#000;}<!-- [et_pb_line_break_holder] --> #dimeline td{padding: 2px; text-align: center;}<!-- [et_pb_line_break_holder] --> #dimeline td, #dimeline th{padding: 8px 2px; text-align: center;border-bottom: 1px solid #bbb;}<!-- [et_pb_line_break_holder] --> .img-hover {border: 1px solid #fff; padding:5px}<!-- [et_pb_line_break_holder] --> .img-hover:hover {background: #edeef0; border: 1px solid #008156; margin-top:1px; padding:5px}<!-- [et_pb_line_break_holder] --></style>
<a class="twitter-timeline" data-width="300" data-height="500" data-link-color="#008156" href="https://twitter.com/PredictemPicks?ref_src=twsrc%5Etfw">Tweets by PredictemPicks</a> <script async src="https://platform.twitter.com/widgets.js" charset="utf-8"></script>