Chicago White Sox vs. Houston Astros Pick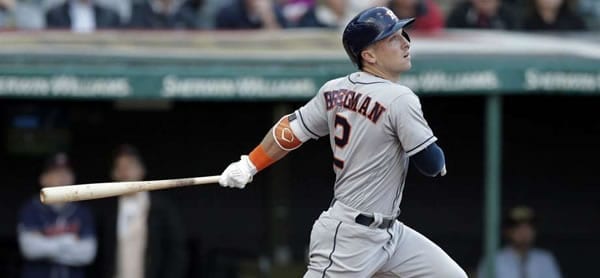 Chicago White Sox (21-26) at Houston Astros (33-16)
When: 8 p.m., Wednesday, May 23
Where: Minute Maid Park, Houston
Opening Line: CWS +175/HOU -195
Runline: White Sox +1.5/Astros -1.5
Total: 9
Starting Pitchers: Lucas Giolito, White Sox (5-1, 3.35 ERA, 1.16 WHIP) vs. Corbin Martin, Astros (1-0, 3.86 ERA, 1.39 WHIP)
All Right Without Altuve
When you lose a player who's two years removed from the American League MVP, it's supposed to be devastating. When you follow that up by losing your current best player at the same time, it's supposed to be disastrous. Yet the Astros keep getting the job done without Jose Altuve or George Springer in the lineup. Altuve hasn't played since May 10, and Springer sat for the third consecutive game on Wednesday.
It hasn't mattered. The Astros are 9-2 without Altuve and 2-1 with both of their big guns on the shelf. The counterpoint to that is that Houston has beaten several weaker opponents in Detroit and Chicago, but the Stros also took two of three in Boston, giving us the W, and swept a four-game set at home against Texas, which says this was no accident.
Wednesday was a bit of an aberration as the White Sox won easily, but even the best teams will slip up occasionally. For the Astros to do it down two starters is not a cause for concern.
Kid Corbin
Corbin Martin has adjusted fairly well to the big leagues so far, but his endurance isn't much. In nine innings, he's allowed four runs total, and one of his two starts was in Fenway Park, not exactly a place for a young pitcher to gain confidence. In his first start, however, he fanned nine Texas hitters and held the Rangers to a scant three hits. The difficulty level drops here in terms of the batting order he's up against, but he'll still have to be on because Lucas Giolito is pitching pretty darn well at the moment. The White Sox hurler has walked six batters against 20 strikeouts in his past three outings, and Chicago has won in each of his past four starts, including wins over Boston and Cleveland.
Back and Forth
With a young team like the White Sox, inconsistency is going to be a hallmark of their play. The Astros went through these growing pains a few years ago when they were learning how to play in the big leagues, and Chicago is going through the same thing as they struggle to put multiple wins together. For the season, only once has Chicago had a streak in either direction longer than three, as they dropped five straight back in April to Seattle and Tampa Bay but have played .500 ball since and have never gone too far off the pace in either direction.
More Picks: Raptors vs Bucks Game 5
Of course, part of that might not be the White Sox's fault, as Chicago has had some of the weirdest weather luck in the early goings of the season. It's pretty rare for a team to have more than one game a season shortened by rain but still counted. The White Sox have already had three games go fewer than nine innings, including Saturday's five-inning win over Toronto. They've also had two postponements, and it's hard for any team to build momentum that way, regardless of age.
The Historicals
The Astros have dominated the White Sox over the past year-plus, winning nine straight against Chicago before the White Sox finally broke through on Wednesday. Before that, the Astros had some problems with the White Sox, but Chicago is now in a full-scale rebuild, while Houston is still challenging for a World Series title.
Betting Trends
The White Sox are 4-1 in Giolito's past five starts on grass.
The Astros are 5-1 in their past six games following a loss.
The Astros are 5-1 in their past six games after allowing five runs or more in the previous game.
The under is 4-1 in the White Sox's past five games.
The under is 13-3 in the Phillies' past 16 games after scoring five or more in the previous game.
The under is 5-1 in the Astros' past six Thursday games.
Weather Report
The temperature is supposed to be a blistering 88 degrees at first pitch, so the Astros will likely close the roof in the face of the heat.
Dan's pick
I want to take the Astros here. They're the better team, they've not lost consecutive games since dropping a pair to Minnesota on May 1 and 2 and the White Sox are anything but a consistent squad. But there's just not enough in this line to get excited about. Like Kevin O'Leary turning down five percent on Shark Tank, a -195 price on the Astros isn't enough to get me out of bed because I'd have to put too much skin in the game with little reward.
Plus, I can't get past how well Giolito is pitching. He's been very solid in May, and he's doing this against some talented lineups. With the Astros not at full strength, he's a good bet to keep this going and possibly steal a win.
It's probably a bad idea given their inconsistency and I don't want to do it, but I need to have a shot to make money on this game. That means the only call is to go with the White Sox and hope that Giolito can have another sharp outing. I think the best bet on the table is the under, as this feels like a low-scoring affair. I'd go with that bet, but if you have to bet on a team, the White Sox are going to give you much more bang for your buck. I have to go with Chicago.
Who else wants $60 of FREE member picks & predictions?
(NO commitments. NO Credit Card. NO Salesman.)