Cincinnati Reds vs. Chicago Cubs Predictions 7/26/21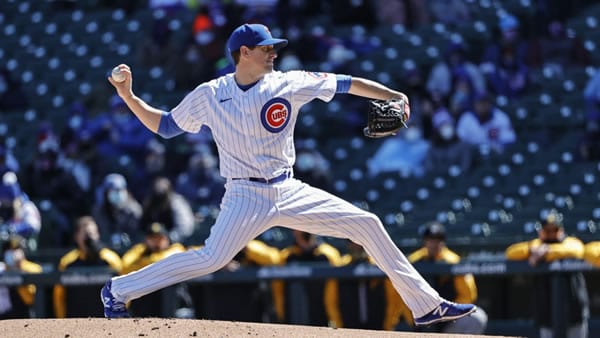 AT ACincinnati Reds (51-48) vs. Chicago Cubs (49-51
)
When:
8:10 p.m., Monday, July 26
Where:
Wrigley Field, Chicago
Moneyline:
CIN +115/CHC -125
Runline:
Reds +1.5/Cubs -1.5
Total:
8.5
(Risk less on each bet at sportsbooks offering MLB Dimelines - Betting on baseball at reduced juice means you pay less for favorites and get paid more on your underdog bets!)
Starting Pitchers: Wade Miley (8-4, 2.72 ERA, 1.18 WHIP) vs. Kyle Hendricks (12-4, 3.61 ERA, 1.26 WHIP)
Different Directions
With less than a week until the trade deadline, the Cubs are seemingly accepting of the reality that they've got little shot of catching the Brewers. Not so with the Reds, who seem to believe that they're going to find their way back into this and catch up to Milwaukee. Cincinnati might not be realistic with that, given that they now sit seven games back of Brewers, but their past weekend series featured two wins over the Cardinals, showing that they're still playing with enthusiasm.
Chicago, meanwhile, comes in as losers in five of their past eight, with two of those defeats coming to Arizona. The Cubs are obvious sellers at this point, and the biggest question at Wrigley Field is how much longer Kris Bryant and others continue to wear the blue and white uniforms. So far, Chicago is holding together, but it's a real question as to how well things will go for this team as they start to jettison some of their best players. In this case, the Reds' indecision might actually pay off for them because Cincinnati doesn't have to worry about changing up its clubhouse equation. The Reds look likely to stand pat, which could be helpful in this contest.
Slow Starters
The Reds win with hitting, not with pitching and defense, and that means that they tend to take their time getting into the contest. The Reds are just 39-41-16 in the first five innings, which has seen a significant negative return for bettors who have played on Cincinnati for the early bet. Meanwhile, the Cubs have proven to be an excellent first-five bet at home, having cashed in 25 of 45 home games with five pushes.
On top of that, the Cubs are sending Kyle Hendricks to the mound, and when you're talking first five bets, they don't come much better than him. Hendricks has held the lead after five innings in 14 of his 20 appearances with one push, a .737 winning percentage. In fact, nobody in the majors can match Hendricks' first-five record; he only ranks fourth in return because he's often pitching as a favorite, limiting the amount that bettors can get for backing him.
BEST BONUS: DEPOSIT $25 AND GET AN ADDITIONAL $50 FREE WHEN YOU REGISTER AT INTERTOPS, DEPOSIT AND USE BONUS CODE ROOKIE200
Keeping It In the Park
The big concern for Hendricks in this game is whether he can avoid giving up the long ball in this one because when the Reds can get it out of the park, they're tough to beat. Cincinnati isn't a great long-ball hitting team, but the Reds are about average and boast three legitimate power hitters in Nick Castellanos, Jesse Winker, and Eugenio Suarez. Of that group, Castellanos (the NL batting leader) and Winker are by far the most dangerous, as both are capable of creating runs without getting the ball out of the park.
But it's the home run ball that's a genuine concern for Hendricks, as it's one of the weakest parts of his game. For the year, only J.T. Brubaker has allowed more home runs among National League pitchers than the 20 moon shots Hendricks has conceded this year. On the one hand, the numbers are actually a testament to how well Hendricks has pitched this year, as he's allowed just 47 runs despite 20 home runs. On the other, against a team that can hit the ball hard, the tendency to give up the deep shot can be a real problem in a park like Wrigley.
Betting Trends
The Reds are 17-6 in their past 23 against the NL Central.
The Reds are 9-4 in their past 13 against a team below .500.
The Cubs are 0-6 in their past six Monday games.
The Cubs are 2-10 in their past 12 games against a left-handed starter.
The under is 5-0 in the Reds' past five road games.
The over is 4-1 in the Reds' past five against the NL Central.
The over is 6-2 in the Cubs' past eight home games.
The Reds are 4-0 in the past four meetings.
The under is 9-3 in the past 12 meetings in Chicago.
Weather Report
It's going to be a warm day on the North Side of Chicago, with temperatures pushing 86 degrees at the first pitch and a slight breeze going out to the left field at seven miles per hour.
Dan's Pick
The Cubs might have Hendricks on the mound, but they just lost to the Reds by a 3-2 count with Hendricks pitching on July 4. Other than Hendricks' strong season, it's difficult to see a reason why the Cubs are favored in this matchup, especially considering that they do not hit lefty pitching very well. The Reds have more motivation and should be able to hit better than the Cubs here. Give me Cincinnati to grind out a win in the late innings. Bet your MLB picks FREE this week by doubling any deposit from $100 to $500 at GTBets Sportsbook!