[et_pb_dcsbcm_divi_breadcrumbs_module hide_homebreadcrumb="off" homebreadcrumbtext="Home" separator="sep-raquo" hide_currentbreadcrumb="off" homebreadcrumborientation="left" _builder_version="3.8″ fontsbreadcrumbs_font="Lato||||||||" fontsbreadcrumbs_text_color="#000000″ fontsbreadcrumbs_font_size="15px" fontsbreadcrumbs_line_height="16px" fontsseperator_font="||||||||" fontsbreadcrumblinks_font="||||||||" fontsbreadcrumblinks_text_color="#2567cf" custom_margin="25px|||" custom_margin_phone="30px|||" custom_margin_last_edited="off|desktop" custom_css_main_element="font-family: Helvetica Regular;" global_module="3641″ saved_tabs="all"][/et_pb_dcsbcm_divi_breadcrumbs_module]
Los Angeles Angels VS Seattle Mariners Pick & Preview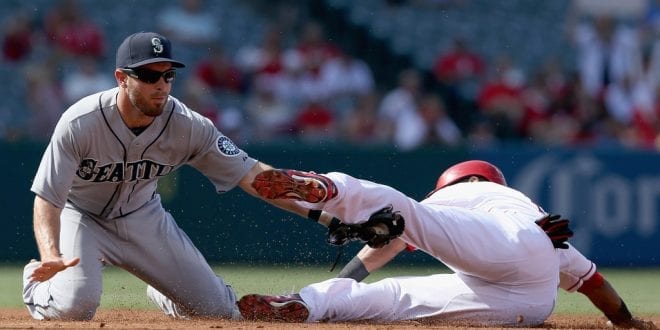 by Kevin West, MLB Handicapper, Predictem.com
When: Tuesday, July 3rd, 2018
Where: Safeco Field, Seattle, Washington
TV: Root Sports (687 on DirecTV)
Betting Odds: LAA +100/Sea -110
Total: 8.5
A pair of southpaw's toe the rubber tonight at Safeco Field in a matchup of two teams going in opposite directions. The Los Angeles Angels have dropped 7 of their last 10 games and scored 2 runs or less in 5 of those games. Winners of 7 in a row, the Seattle Mariners are catching fire and the oddsmakers are slow to react as evidenced by their nice price of -110 tonight.
The Starters
Andrew Heaney was a very highly regarded pitching prospect out of Oklahoma State back in 2012. The Miami Marlins thought enough about him to make him their first round draft pick. There were times in college and lower level minor leagues that he was close to untouchable. He's never really put it together on a consistent basis in the bigs though, and issues stemming from his inability to stay healthy are starting to rear their head. He's pitched "decent" this season (3.95 ERA/1.20 WHIP), but has a propensity struggle on the road (6.14 ERA/7 dingers allowed in only 36.2 innings). I have backed this guy a ton of times in the past, only to be let down over and over. Tonight I will be fading him and in all candidness, I kinda feel like the platoon in the movie Full Metal Jacket when they beat up Private Pyle. This guy has stuck it to me so many times that I'm grabbing my pillowcase and bar of soap lol. One is supposed to leave emotion out of betting, but I'd be lying if I said I wasn't chomping at the bit to see this guy get blown up tonight.
Lastly, Heaney hasn't thrown very well at Safeco. In his last 2 starts there, he hasn't gotten past the 3rd inning, allowing a combined 7 earned runs in only 5.1 inning pitched, including FOUR bombs!
On the flip side, the Seattle Mariners send Wade LeBlanc to the mound. Wade loves him some Safeco Field, as he's been filthy at the big forest green park that reeks of garlic fries. Over 33 innings at home, the lefty has been stingy with a 1.91 ERA and 0.97 WHIP. One might look at his last two starts and see that he's allowed 9 earned runs over his past 10.2 innings, but that needs to be discounted as this guy has always been sub par on the road.
The Hitters
There's a lot to like about tonight's M's vs. Heaney. Seattle's roster has hit a combined .341 with 4 dingers against him. Haniger, Cruz and Healy (lefty smasher) are a combined 7/19 with 4 homers. Seager and Segura have hit him well too, going 6-13 against him. While the Mariner's haven't been killing it during their 7 game win streak, they're doing enough to win games and the top to middle of the order guys have been producing with Segura setting the table at .385, Haniger at .348, Cruz at .313 and Seager red hot at .400.
On the flip side, the Angels have been struggling. One has to wonder if Mike Trout is banged up or just flat out tired going into the all star break as he's only 3 for his last 20. Over the past 7 days, Pujols and Kinsler are only hitting .240 as well. It should be noted that Pujols has 2 dingers in only 6 at bats vs. LeBlanc, so as much as I love Seattle tonight, a lunch money bet might be in order on a prop bet for Pujols to get a hit at -120 odds at Bovada.
The Angels are only 6-14 vs. LHP this season.
L.A. hasn't responded well after an off day, going only 6-16.
L.A. is only 3-11 in their last 14 road games.
The Angels are only 3-14 in their last 17 when vs. LHP, including 8 straight road losses.
Seattle has won 4 of the last 5 meetings at Safeco Field.
Seattle is 20-6 in their last 26 games at home.
Seattle is 38-16 in night games this season.
The Mariners are 12-0 in LeBlanc's last 12 home starts.
Kevin's Pick to Win
I'm betting the Seattle Mariners at -110.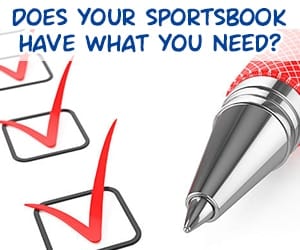 <div class="widget105"><!-- [et_pb_line_break_holder] --><h4 class="parlays">Best Parlays</h4><!-- [et_pb_line_break_holder] --><!-- [et_pb_line_break_holder] --><table id="parlay"><!-- [et_pb_line_break_holder] --> <tr><!-- [et_pb_line_break_holder] --> <th><span class="team"></span></th><!-- [et_pb_line_break_holder] --> <th>2 Team Parlay</th><!-- [et_pb_line_break_holder] --> <th>3 Team Parlay</th><!-- [et_pb_line_break_holder] --> <th>4 Team Parlay</th><!-- [et_pb_line_break_holder] --> </tr><!-- [et_pb_line_break_holder] --> <tr><!-- [et_pb_line_break_holder] --> <td><a href="https://affiliates.sportbet.com/tracking/Affiliate.aspx?idBook=2&mediaTypeID=220&AffUrlID=80&LandingPageID=55"><img src="https://www.predictem.com/wp-content/uploads/2018/06/sportbet-sm.png"></a></td><!-- [et_pb_line_break_holder] --> <td>2.74 to 1</td><!-- [et_pb_line_break_holder] --> <td>6.24 to 1</td><!-- [et_pb_line_break_holder] --> <td>13 to 1</td><!-- [et_pb_line_break_holder] --> </tr><!-- [et_pb_line_break_holder] --> <tr><!-- [et_pb_line_break_holder] --> <td><a href="https://record.bettingpartners.com/_5vfuDOH_H2wWPf2JTsWUjGNd7ZgqdRLk/1/"><img src="https://www.predictem.com/wp-content/uploads/2018/06/bovada_sm.png"></a></td><!-- [et_pb_line_break_holder] --> <td>2.64 to 1</td><!-- [et_pb_line_break_holder] --> <td>6 to 1</td><!-- [et_pb_line_break_holder] --> <td>12.3 to 1</td><!-- [et_pb_line_break_holder] --> </tr><!-- [et_pb_line_break_holder] --> <tr><!-- [et_pb_line_break_holder] --> <td><a href="https://record.webpartners.co/_jGZUKO3JWgwmunhzcKAZ62Nd7ZgqdRLk/1/"><img src="https://www.predictem.com/wp-content/uploads/2018/06/mybookie-sm.png"></a></td><!-- [et_pb_line_break_holder] --> <td>2.64 to 1</td><!-- [et_pb_line_break_holder] --> <td>6 to 1</td><!-- [et_pb_line_break_holder] --> <td>12 to 1</td><!-- [et_pb_line_break_holder] --> </tr><!-- [et_pb_line_break_holder] --></table><!-- [et_pb_line_break_holder] --><div class="widget-footer"><a href="https://www.predictem.com/best-sportsbooks/parlays-odds/">See all Sportsbook Parlays</a></div><!-- [et_pb_line_break_holder] --></div><!-- [et_pb_line_break_holder] --><!-- [et_pb_line_break_holder] --><!-- [et_pb_line_break_holder] --><style><!-- [et_pb_line_break_holder] --> #parlay {border-collapse: collapse;<!-- [et_pb_line_break_holder] --> width: 100%; border: 0px;<!-- [et_pb_line_break_holder] --> font-size: 14px!important;}<!-- [et_pb_line_break_holder] --> #parlay td, #parlay th {<!-- [et_pb_line_break_holder] --> border: 0px;<!-- [et_pb_line_break_holder] --> padding: 8px;<!-- [et_pb_line_break_holder] --> text-align: left;}<!-- [et_pb_line_break_holder] --> #parlay th {<!-- [et_pb_line_break_holder] --> padding-top: 5px;<!-- [et_pb_line_break_holder] --> padding-bottom: 5px;<!-- [et_pb_line_break_holder] --> font-weight: bold;<!-- [et_pb_line_break_holder] --> line-height: 14px;<!-- [et_pb_line_break_holder] --> text-align: center;<!-- [et_pb_line_break_holder] --> color: #000;}<!-- [et_pb_line_break_holder] --> #parlay tr {border-bottom: 1px solid #edeef0;}<!-- [et_pb_line_break_holder] --> .team {font-size: 16px;}<!-- [et_pb_line_break_holder] --></style>
<a class="twitter-timeline" data-width="300" data-height="500" data-link-color="#008156" href="https://twitter.com/PredictemPicks?ref_src=twsrc%5Etfw">Tweets by PredictemPicks</a> <script async src="https://platform.twitter.com/widgets.js" charset="utf-8"></script>