Minnesota Twins vs. Milwaukee Brewers Pick 4/3/21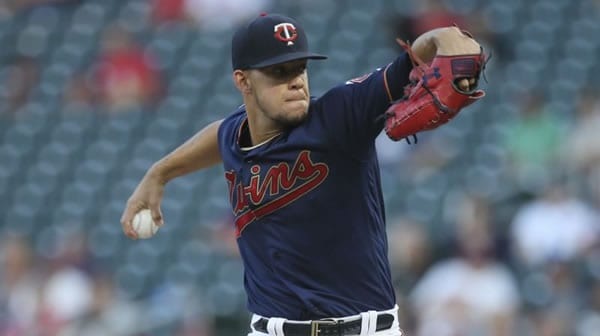 Minnesota Twins (0-1 vs. Milwaukee Brewers (1-0)
When: 7 p.m., Saturday, April 3
Where: American Family Field, Milwaukee
Moneyline: MIN +110/MIL -130
Runline: Twins +1.5/Brewers -1.5
Total: 7.5
Starting Pitchers: Jose Berrios (0-0, 0.00 ERA, 0.00 WHIP) vs. Corbin Burnes (0-0, 0.00 ERA, 0.00 WHIP)
In Search of Support
After the way last season ended, Berrios had to be wondering if he had done something to upset his team-mates because the run support simply was not there at the end of the year. In his final four starts of the year, the Twins failed to give him more than two runs of support in three of them, with all three going in the loss column.
Strangely, though, the lack of run support only happened against American League clubs, with just one ex-ception. When the Twins moved over to play against the National League teams in the COVID-challenged season, their hitters had no problem pushing across runs for Berrios. Of the five NL Central squads, only Cin-cinnati was able to keep the Twins under four runs with Berrios on the mound. Milwaukee pitching surren-dered seven runs to Minnesota, taking a 7-1 loss in the process.
Of course, in that game with Milwaukee, Berrios didn't need much in the way of run support. Other than one mistake to Justin Smoak, the Brewers never got started that day, as Berrios threw six scoreless innings and held Milwaukee to one hit. If the pitcher can get support in this game, Minnesota will be difficult to beat.
Get dimelines plus reduced juice on totals and runline bets at
BAS Sportsbook
! It's the ONLY way to bet on bases!
Flash In the Pan?
This is the time when Corbin Burnes starts proving two things. First, he's got to prove that he's healthy after a strained oblique ended his 2020 season a week early, cutting short a strong campaign that saw him average 1.5 strikeouts per inning. Second, he has to prove that what he showed in 2020 wasn't an aberration.
2020 was a disaster of a year for most of us, but not for Burnes, who shook off a truly horrific 2019 and emerged as a reliable pitcher for the Brewers. In 2019, he couldn't get batters out or keep runs from scoring, and it showed in a year that saw him post an ERA of 8.82. A year later, he became a quality strikeout pitcher and managed to cut his ERA to a fourth of what it had been.
However, he is in his first start of 2021, and you can bet that the Brewers won't be pushing him too hard or too far out of the gate. Milwaukee is an analytics-driven team that does not like its pitchers facing the same hitter three times and will generally only do it if it's up big and it's letting a pitcher try to complete a master-piece. That's why Burnes only made it to the seventh inning one time last season, and it happened in a game the Brewers won 19-0. Minnesota is likely to hang tight in this game, so the odds are that Burnes will be out of the game within six innings.
Problems At the Plate
One of the reasons the total is set low for this matchup is because Milwaukee couldn't hit all that well last year, and Minnesota's main outcomes were either home run or strikeout, with very little in-between. How-ever, both teams showed signs of breaking out of their doldrums from a year ago in the opener, as they com-bined for 11 runs and 21 hits in 10 innings of work.
That said, there is a concern here. The only reason the teams combined for 11 runs was the fact that the Brewers were able to force extra innings, as Minnesota held a 5-2 lead in the bottom of the ninth and could-n't hold on to the lead. The number is low, but with the Twins getting the job done until the ninth last game, it's a big risk to expect a gigantic number between these teams in the first few innings. You might want to make a first-five bet on this one rather than ride the entire total, as the Twins' bullpen doesn't look like it can be trusted at this point.
Betting Trends
The Twins are 5-11 in their past 16 road games.
The Brewers are 1-4 in their past five overall contests.
The under is 6-2 in the Twins' past eight games against NL opponents.
The Brewers have gone under in four of their past five interleague starts.
The Brewers are 8-for-17 when coming off a day off
The over is 5-1 in the past six meetings in Milwaukee.
Weather Report
Weather shouldn't play much of a factor in this one. Temperatures are expected to be 61 degrees at first pitch, with winds blowing toward center field at five miles per hour.
Dan's pick
I admit that the Twins' bullpen scares me, but Berrios on the mound against an NL squad puts Minnesota on the front foot in what shouldn't be a high-scoring affair. Plus, I'm a little concerned about Burnes and whether he's still the same pitcher that he was last year.
To me, this is a live-bet opportunity to see how the first couple innings play out, but if you want to go from the beginning, I recommend taking a shot with the underdog Twins. Berrios should be able to pick up where he left off, and that means missing bats. I think he does enough to earn a return to last year's form. I'll take a shot with the Twins. Bet your MLB picks FREE this week by taking advantage of the best sportsbook bonus on the web! Simply register for an account at BetNow Sportsbook, deposit $100 to $1000 and they'll match you with a 100% REAL CASH BONUS!