MLB Picks: Milwaukee Brewers at Chicago Cubs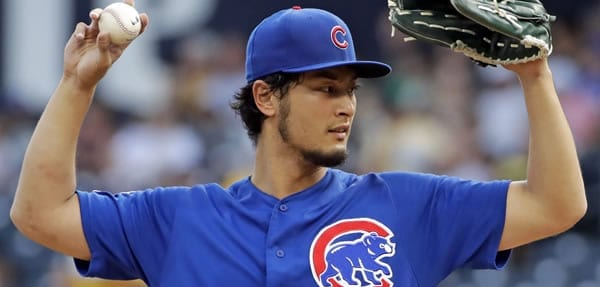 Milwaukee Brewers (0-1) at Chicago Cubs (1-0)
When: 1:05 p.m., Saturday, July 25
Where: Wrigley Field, Chicago
TV: FOX
Moneyline: MIL +130/CHC -143
Runline: Brewers +1.5/Cubs -1.5
Total: Off
Starting Pitchers: Corbin Burnes (0-0, 0.00 ERA, 0.00 WHIP) vs. Yu Darvish (0-0, 0.00 ERA, 0.00 WHIP)
Tale of Two Halves
Whichever Yu Darvish the Cubs get in, this game will have a significant impact on whether they're able to get a second straight win over their rival from Wisconsin. If it's the first-half Darvish, the Cubs are in trouble, because Darvish was a disaster in the first three months of last season, posting an ERA of over 4.50 in each one. But if it's the second-half version, this could work out very well for Chicago. After the All-Star Break, Darvish returned to the form that he showed in Los Angeles and put together three months of pitching with an ERA under 3.50, allowing him to finish with a somewhat respectable 3.98 ERA.
Now, can Darvish pick up where he left off? He doesn't have to worry about pitching in a cold Chicago spring this year, and the favorable weather was where he made his move a season ago. That second half included two starts against the Brewers, who could only scratch Darvish for a single earned run in 10 innings against him last year.
Bullpen Saver
Kyle Hendricks was huge for Chicago in the opener, as he went the distance to shut down the Brewers and keep the Cubs from having to get into their bullpen at all. That's just something that we're going to see in this season, as the implementation of a universal DH means that NL teams no longer have to worry about pinch-hitting in late games and can keep their pitcher in for much longer than they otherwise might have done.
Plus, with only 60 games being compressed into this schedule, it really pays off to give the bullpen a day off and go nine innings if you can. In a season like this, every day of rest that the bullpen can get will be critical, as there aren't going to be many reprieves in this schedule. Having saved the bullpen for a day, the Cubs can now afford to be quicker with giving Darvish the hook if it turns out that he doesn't have it. Given that Darvish hasn't always been comfortable at Wrigley Field, having that option is a major plus.
Missing In Action
To say that Hendricks was in control on Friday night against Milwaukee would be an understatement. Only Orlando Arcia managed to reach base against the Cubs' hurler, getting all three of Milwaukee's hits. Otherwise, 1-through-8 completely failed to break through against Hendricks, begging the question as to whether Hendricks was that good or Milwaukee just wasn't ready to go in its first real action since last year's wild-card game.
This matchup should help answer that question. Darvish is a strikeout pitcher, and Milwaukee whiffed nine times against Hendricks, which can't happen again if the Brewers are going to bounce back. Given that Hendricks threw just 29 balls out of 103 pitches, it's more likely that Hendricks was just in a zone all night long, but a repeat performance against Darvish will make it a real question.
Bad Beginning
Corbin Burnes is getting the ball for Milwaukee, making just his fifth career major league start after coming out of the bullpen for most of last season. It's a significant risk for the Brewers, given that Burnes has tried this once before, and it didn't go particularly well. In four starts, Burnes was tagged with 21 earned runs and never once went past five innings in a start.
The Brewers got slightly better results from moving Burnes to the bullpen, but Burnes was still a pitcher who finished with an ERA of 8.82 last season. The Brewers also lost in six of the past seven games that Burnes appeared in, a streak they'll be anxious to end.
Betting Trends
The Brewers are 14-4 in their past 17 against the NL Central.
The Brewers have lost five straight on the road.
The Cubs have lost their past six at Wrigley Field.
The under is 4-1-1 in the Brewers' past five games.
The over is 4-1 in the Cubs' past four games against the NL Central.
The Cubs have won seven of the last nine meetings at Wrigley Field.
Weather Report
The weather should be warmer than it was on Friday, with the temperature expected to be 87 degrees and partly cloudy skies in the forecast.
Dan's pick
Craig Counsell isn't likely to stick with Burnes for long if things go haywire, but that's a problem in this situation because Chicago has a rested bullpen, and Milwaukee used five pitchers in the opener. Chicago was able to better manage the first game, and I don't really love the idea of Burnes going for more than a few innings against this Chicago lineup.
I'll take the Cubs to get the job done for the second straight game. Bet this game and all your MLB games at reduced odds this season at 5Dimes Sportsbook! Spend five minutes registering and enjoy discounted odds for the rest of your betting life! You'll be so glad you did!