Oakland Athletics at Pittsburgh Pirates Pick 5/4/19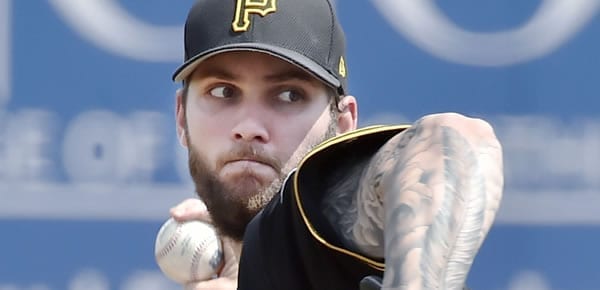 Oakland Athletics (15-19) at Pittsburgh Pirates (14-15)
When: Saturday, May 4, 2019
Where: PNC Park, Pittsburgh
Opening Line: OAK -113/PIT -103
Line at Time of Print: (10AM ET) Oak -115/PIT -105 (Bookmaker)
Runline: A's -1.5 (+160)/Bucs +1.5 (-180)
Total: 7.5
Starting Pitchers: Chris Bassitt (1-0, 0.75 ERA, 0.75 WHIP) vs. Trevor Williams (1-1, 3.38 ERA, 1.04 WHIP)
Sunken Ship
Well, that game certainly came out of nowhere on Friday night. The Pirates had been riding high while the Athletics were struggling, and yet it was Oakland who put up 14 runs and buried the Pirates. It was a reminder that Pittsburgh was never supposed to be that good this year, and its recent burst of success after an eight-game losing streak was more of a result of playing Texas than it was of the Pirates figuring things out. The good news for Pittsburgh is the Rangers visit PNC Park next week, but until then, they've still got to contend with an Athletics team that just battered them for 14 runs after scoring 15 runs in their previous six games combined.
Trevor Williams should do better than that. Even as his team has started to struggle, Williams has remained remarkably consistent. In five of his six starts, he's exited the game after completing six innings and gave up three earned runs or fewer in four of those five. The Athletics will get hits, but Williams' strength is keeping the small inning from becoming a big inning and keeping runs off the board. Don't expect the A's to get 14 again.
Lights Out
Chris Bassitt is really getting the job done. Granted, it was Texas and Toronto, two teams that aren't likely to be around when the pennant race starts to heat up, but he's given up just five hits in 12 innings, and a mere one run on a solo home run. What makes this start impressive is the fact that Bassitt wasn't even a starter a year ago, appearing as a bullpen arm at the end of the season. With a spot in the rotation there for him this year, Bassitt has been a pleasant surprise for Oakland.
Unfamiliar Faces
It had been a while since Oakland and Pittsburgh had faced each other, as most interleague matchups happen just once every three years unless there's a rivalry involved. Needless to say, the only thing that even remotely resembles a rivalry between Oakland at Pittsburgh is the history between the Raiders and the Steelers, which obviously has nothing whatsoever with either team. The Athletics are doing much better than they did in 2016 against the Pirates: they ended up on the wrong end of a sweep.
Searching for Runs
Outside of the explosion on Friday, these teams haven't exactly been the greatest at getting runs home as of late. Other than the brief resurrection against Texas, the Pirates have had just one game in 11 where they've managed more than four runs across the plate — and they lost that game to the Dodgers. The Pittsburgh offense isn't alone in struggling, as the Athletics had managed a mere 24 runs in their last 11 games against teams other than Texas, which apparently can't stop anyone. Oakland scored 30 runs in four games against the Rangers but hasn't been able to get anything going against anyone else.
The Historicals
There's just not a lot here between these teams. The last time they even played, Oakland was on its way to a 90-loss season, and the Pirates were coming off three straight trips to the Wild Card Game. Obviously, both franchises have seen their fortunes change.
Betting Trends
The Athletics are 5-1 in Bassitts' past six starts
The Pirates are 4-0 in their previous four interleague home games against a right-hander.
The Pirates are 8-1 in Williams' past nine home starts against a team with a losing record
The under is 5-1 in the Athletics' past six Sunday games.
The under is 5-1 in the Pirates' past six against a team with a losing record.
Weather Report
The temperature is supposed to be 68 degrees for the first pitch, an ideal night for baseball in the Steel City.
Dan's pick
I don't really mind laying the odds with the Athletics on the road here, as Bassitt has been very good this season and the Pirates look like they've come back down to earth. I think it's going to be very difficult to trust the Pirates moving forward after that long skid unless they play Texas, and Oakland seems to be a much better squad than that. I'll go with the A's to get themselves a step closer to getting back to .500
Take the Oakland A's -115
(NO commitments. NO Credit Card. NO Salesman.)