Oakland Athletics vs. Boston Red Sox Pick 5/13/21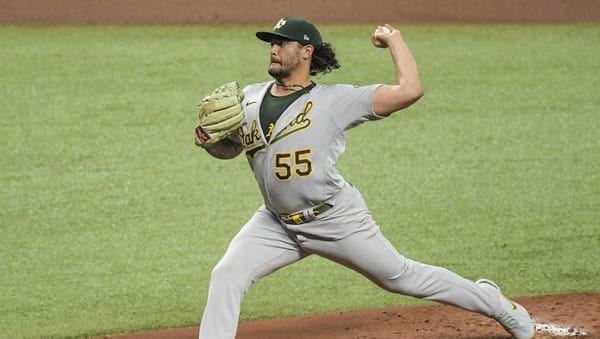 Oakland Athletics (23-15) vs. Boston Red Sox (22-16)
When: 7:10 p.m., Thursday, May 13
Where: Fenway Park, Boston
Moneyline: OAK +105/BOS -115 (BAS - Favorites cost less and underdogs pay MORE here!)
Runline: Athletics +1.5/Red Sox -1.5
Total: 9
Starting Pitchers: Sean Manaea (3-1, 3.07 ERA, 1.07 WHIP) vs. Garrett Richards (2-2, 4.54 ERA, 1.46 WHIP)
Road Warriors
Only one team can match Boston for success away from home, and of course, it's Oakland, which has compiled a 10-4 record on the road. Part of that might be because Oakland's home is such a dump that even play-ing on the road feels like a step up in terms of luxury, but part of it also might have something to do with the fact that this is a resilient team that's overcome a tough start to the year already.
The Athletics could have folded their tents after a 1-6 start, but they've bounced back and made themselves into one of the best teams in the American League. In a year where nobody else is really pulling away from the pack in the American League, Oakland has managed to put itself ahead of the rest of the league through its success away from home, something that doesn't come easy regardless of who you're facing.
Defense When It Matters
Take a look at the Athletics statistics this year, and you might be wondering how in the world they're sitting on top of the AL West. After all, they've managed to get outscored this season, giving up 163 runs and scoring 157. Usually, when you have a negative run differential, that says you're not a great defensive team, and you're probably not going to be in the playoffs, let alone at the top of the standings.
But for Oakland, it works because the A's have managed to bunch the runs they've given up into games where they had trouble scoring. Of their 15 losses this season, 12 of them have been by at least two runs, with three of their four most recent losses being by four runs or more. Oakland is a great team to live bet as far as their deficit is concerned, because of the Athletics get down by a good amount early, there's a good chance they're not coming back. That seems to fly in the face of the resiliency I mentioned earlier, but it's actually smart in baseball because even the best team will get beat 60 times during a season. Oakland recognizes when the game is lost and moves on to the next one quickly, which can make betting their games straight-forward if you get them at the right time.
Go the Distance
Not quite the distance, but going deeper into games has actually meant good things for Garrett Richards. When the Boston hurler pitches into the seventh inning, he's been the winner both times. When he doesn't, the Red Sox are 1-4 in his starts. Obviously, this is a bit of a self-fulfilling prophecy because the chances are that you're going to lose if your starting pitcher has a bad day on the hill, but it does speak to another live bet-ting opportunity: the Red Sox, really are not built to come from behind.
Like Oakland, Boston's a bit of an enigma. On paper, the Red Sox have an excellent offense, scoring five runs a game and hitting .258 as a team. Yet they've hit the under in five of their past six games, and they've only scored three runs in this series with Oakland. It's very possible that this is a case of the Red Sox either coming back to earth after a hot start, or it's a case of the schedule getting tougher. Boston has a strong 22-16 record, but 24 of their 38 games have come against Baltimore, Minnesota, Detroit, Seattle, and Texas, all of whom have a losing record.
Betting Trends
The Athletics are 10-3 in their past 13 road games.
The Athletics have won 22 of their past 30 games.
The Red Sox have won five straight against a left-handed starter.
The Red Sox are 7-3 in their past ten against a team above .500.
The Red Sox are 0-4 in their past four against the AL West.
The under is 6-0 in the Athletics' past six road games.
The under is 6-1 in the Red Sox's past seven against the AL West.
Weather Report
Weather won't affect this game much at all, with temperatures at 65 degrees and a south-southwest breeze blowing at four miles per hour to left-center.
Dan's pick
With these two teams, I want the under. Boston really isn't producing at the plate right now, and Oakland plays great defense when it has to. The Athletics have the advantage if they can hold the score down, and the Red Sox seem to have some kind of issue with facing the AL West right now. Throw in that Oakland is playing very well away from home, and there are plenty of reasons to take the A's to win this one. Need a boost to your bankroll? Deposit $100 to $300 and they'll match you dollar for dollar with a real cash bonus at MyBookie Sportsbook! (Must use promo code PREDICT100).