Oakland Athletics vs. Seattle Mariners Pick 7/22/21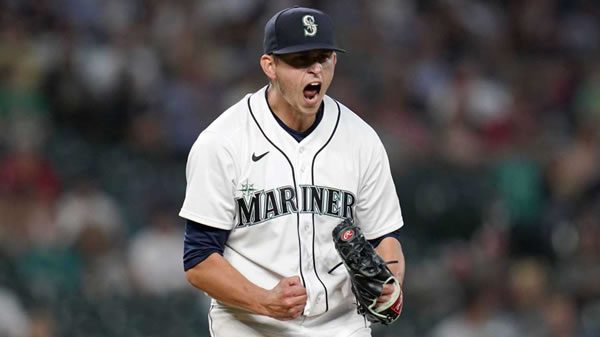 Oakland Athletics (55-42) vs. Seattle Mariners (51-45)
When: 10:10 p.m., Thursday, July 22
Where: T-Mobile Park, Seattle
Moneyline: OAK -135/SEA +125 (Bovada - BEST live wagering platform on the web! Your credit card WILL work there! They offer a 50% real cash bonus! Rebates on ALL bets!)
Runline: Athletics -1.5/Mariners +1.5
Total: 8
Starting Pitchers: Sean Manaea (6-6, 3.28 ERA, 1.20 WHIP) vs. Chris Flexen (9-3, 3.35 ERA, 1.20 WHIP)
Enjoying the Emerald City
When a player changes teams, they either really enjoy their new city and experience great success, or it takes them about a year to fully adjust to a new team, new location, new fans, etc. Count Chris Flexen in the former category, as he's done very well for himself at home this year, pitching to a 6-2 mark with a sparkling 1.76 ERA during his time at home.
There's only one team who's had any real success against Flexen in Seattle, and you probably already guessed who it is: Oakland. The teams haven't met since June, when the Athletics came to Seattle for a three-game series and left with two victories, including a 6-0 shutout of the Mariners against Flexen. While shutting out the Mariners' weak offense isn't exactly earth-shattering news, the fact that they scored five runs against Flexen at T-Mobile Park. Truthfully, Flexen was pretty solid for most of his time on the mound in that contest, as all five runs came in the third inning during one bad stretch where he couldn't get the third out he needed. It didn't mean anything because Seattle never scored but had he managed to escape only down 2-0, it could have been a different game.
Flexen arrives into this game looking for revenge, as the teams haven't played since that game and coming off three sparkling pitching performances, two of them coming at home.
Hope Defense
On the basketball court, there's a saying called "hope defense," which is basically leaving a player open and hoping that he would miss the shot. The baseball equivalent is allowing the batter to make contact and hoping that the ball will go to an area where a fielder can grab it, and that's mostly what Sean Manaea has been doing as of late.
At times, Manaea has been excellent at making batters miss, as evidenced when he recorded 11 strikeouts against the Yankees a month ago. But too often, he allows too many batters to make contact, which can lead to a lot of hits. The bigger problem is that in his most recent starts, those hits are starting to rise and land on the other side of the fence. In his past three starts, five of the 20 hits have gone for home runs, leading to 11 earned runs and four defeats for the Athletics in his past five trips to the mound. The one exception was his most recent start at home against Cleveland, but Manaea has been an excellent home pitcher all season. On the road, though, the A's have dropped his past three starts.
More Picks: Get world class handicapper Rich Crew's free picks >>>
Taking Wing
The Athletics have gotten to this point in the race because of one main reason: excellent pitching. Oakland has been an under bet for most of the year because the Athletics are just a middling team on offense but pitch pretty well and don't let teams into their bullpen. The A's rank second in the majors in quality starts with 50, leaving teams with limited swings against their relievers.
Seattle, on the other hand, has been an enigma. The Mariners don't really stand out as doing any one thing well, but they do just enough things not badly to find themselves on the positive side of the ledger. One thing they definitely do not do well is hit; Seattle's ranked 30th out of 30 in batting average for the year.
Betting Trends
The Athletics have won their past four against the AL West.
The Athletics are 3-8 in their past 11 after a win.
The Mariners are 7-1 in their past eight games against a left-handed starter.
The Mariners are 6-2 in their past eight as a home underdog.
The under is 6-1 in the Athletics' past seven against the AL West.
The under is 4-1 in the Athletics' past five Thursday games.
The under is 6-2 in the Mariners' past eight Thursday games.
The over is 8-3 in the Mariners' past 11 against a team above .500.
The over is 6-1 in the past seven meetings in Seattle.
Weather Report
The roof should be open for what should be a beautiful day in Seattle; temperatures are set to be 73 degrees, and winds blow at seven miles per hour toward the first base dugout.
Dan's Pick
The last meeting between these teams was an anomaly; Seattle just couldn't hit, and Flexen had one bad inning in an otherwise strong start. I can't see Manaea coming up big again on the road, nor do I think things go that badly for Flexen. Seattle needs this to prove it's a contender in the AL West, and I think they can get it. I'll take the Mariners here. Note: Football is coming! Week 1 pro football starts Thursday, September 9th! We're already studying offensive lines, defensive schemes and how all the new coaches will impact their teams! Be sure to bookmark this page and check out Kevin West's NFL football picks each week as he's bringing breakdowns/analysis that'll knock your socks off!